Auto Business
Electric
News
Ferrari aims to achieve breakthrough in EV technology
Ferrari makes very special vehicles. To some (like me), they are a symphony. So, naturally Ferrari want their future cars to be special too. Now, we all know the future is electric and hence, Ferrari feels that they will make fully electric cars once they develop a state of the art EV technology.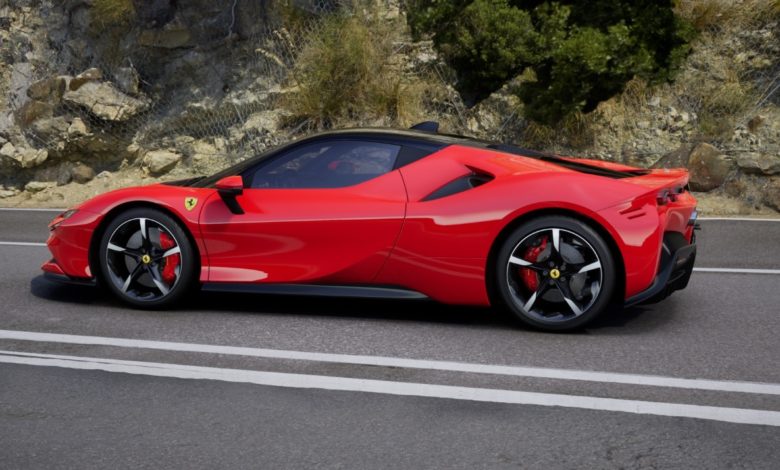 Ferrari recently applied for a patent application and this application has been filled for an unnamed Ferrari EV. YES, finally it seems that Ferrari will be making an EV, but just like me, if you felt that we would see this vehicle soon, then you are wrong.
Apparently we will have to wait for at least 5 years before Ferrari join the electric electric league. Currently EVs which have earned the high performance tag are cars like the Porsche Taycan, Rimac Concept 2, Tesla Roadster, Tesla Model X and a few others. Ferrari on the other hand is in no hurry to join this league, as they believe that the current battery technology is not developed enough for super cars. This makes me think, when Ferrari used the hybrid technology for the first time, they gave us the monstrous LaFerrari. Can you imagine what their EV would be capable of ?
While talking to Autocar UK, the Chief Marketing and Commercial Officer of Ferrari, Enrico Galliera, spoke about the EV subject, and he confirmed that there would be no EV launch in the coming 5 years. As per the patent filed by Ferrari, the application also suggested that a launch would take place nothing before 2025.
Galliera spoke about other competitors making EV sports cars, but he went on to say that that would not compel them to do the same. He further said that battery technology has not reached a level where they believe that it can be incorporated in EV sports cars, but that being said, Ferrari is not ruling out an EV sports car. I do agree with his ideology, Ferrari vehicles have always been tremendous, and they would not want to compromise, just in order to join the others.
In fact, Christian Von Koenigsegg had similar opinions back in March. When the Gemera was launched, he explained that the batteries made currently are lithium-ion. They are not only quite heavy but, also have serious temperature control issues. This means that cars need to be set up with additional equipment to keep both safety and all round performance in check. Obviously, more equipment means more weight and he isn't ready to make that sacrifice just for the sake of EV's  because it simply isn't worth it. The fuel cells for these are not advanced enough for their hyper cars. This didn't stop him from making a carbon neutral vehicle though! The Gemera is actually carbon neutral if you have ethanol available in your country. Read more here.
Ferrari clients would surely be glad to have Ferrari EVs though, and this can be proven by the attention the SF90 Stradale PHEV and LaFerrari has garnered. Galliera was also asked a question which is not strictly related to powertrain or technology, but it is more a question of 'engine noise'. Many people associate sports cars with loud engine notes, and Galliera agrees that engine noise makes the driving experience more special, and that Ferrari would be working on making their EVs sound 'sporty'.
As I have said before, the future is electric, and it is good to know that sports car and luxury brands are actively working on evolving their vehicles to adapt to this future powertrain. I can say for a fact that once the automakers crack the EV technology, we could see all our supercar records being uprooted and dusted. The time to come will see EV vehicles being capable of clocking high speeds, and while doing so, they will efficient at the same time, and that is what makes EVs so much better than ICE based vehicles. I look forward to this future.