Formula 1
Will Hamilton-Mercedes combo attack the Verstappen powered RedBull? 2023 Canadian GP Grand Prixview
With a "changed" and charged new W14 piloted by the 7-time world champion seemingly best of the rest, should we be ready for another battle of Verstappen and Hamilton?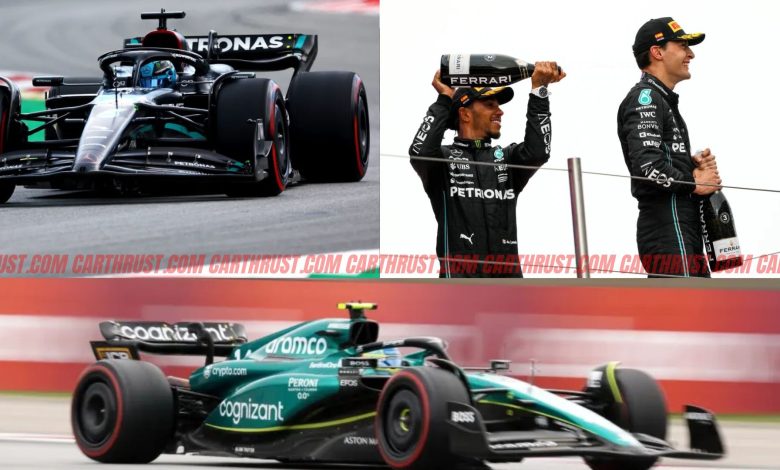 Max Verstappen and RedBull are unstoppable right now. The 2023 Spanish GP was a prime example of just how far ahead RedBull is and just how much does Perez lack to be a worthy WDC contender. At least for now. But, there was a ray of hope for competition as we saw the Mercs rage through the field to finish P2 and P3. Hamilton seemed in absolute mega form both in qualifying and in the race but it still wasn't enough to match the Bulls who scored a win, pole position and fastest lap all at this GP. Where does that leave us? Cattled? Yearning for a Perez V. Verstappen battle? Alonso V. Hamilton for P2 or can we realistically expect a Verstappen Hamilton battle again? Let's dive deep.
The Hamilton surprise
Before I even start, I know exactly what most of you are thinking. It's only one race that Mercedes have performed at. It does not mean much and cannot be used as a scale to measure their performance especially considering Barcelona is Hamilton and Mercedes' strong turf. Agreed! But, here's the twister. Even though Barcelona does not offer the ultimate test but it is a very comprehensive and complete test of a car's performance given its history of being used as a pre-season testing ground. Moreover, it was actually the first time in a long time that Hamilton even acknowledged that the car was actually good to drive and can challenge moving forward. He felt it! This is something Mercedes drivers haven't done even when they had the best car in 2020.
Adding to the above is motivation on Lewis' part. Lewis has been consistently performing better than George who, although driving great, hasn't really shown his full mettle and still relies a lot on strategies, safety cars and mishaps. His thorough rants on wanting a chance, lack of spatial awareness and an inferior car control has meant that Hamilton is ahead 5-3 in the races. What we are seeing is that as and when the Mercedes team is getting closer to becoming the top team, Hamilton is consistently unstoppable. At one point in Barcelona, he was P1. Looking at Canada, it is Hamilton's kingdom. Among so many of his super-fast kingdoms. Hamilton has won a total of 7 Canadian GPs which includes his very first win in his F1 career back in 2007 at the Canadian GP. Hamilton even stated that the Mercedes team is "buzzing with new energy" after a double podium finish at Spain. I'm sure his current driving streak, Mercedes' upgrades and his fantastic record has definitely put the Bulls in some alert.
Fernando Alonso and Aston Martin
The next logical reasoning for a somewhat challenging fight for the win is the Spanish driver with nothing to lose in a car that statistically is the second fastest this season. Fernando Alonso and Aston Martin have become somewhat of a messiah for the F1 fans. And with the new upgrade package coming to the AMR23, it seems as if Alonso might be coming fiercely to challenge for the top spot as Aston dropped from the top in Alonso's home grand-prix. All the talk heading into this weekend's Canadian Grand Prix has been going around Aston Martin's imminent upgrade package, which they hope will assert their authority as the second-best team on the grid and shut the gap to runaway leaders Red Bull. This is the team that has been the shock performer of the season, rising from seventh in the constructors' championship at the end of last year to a regular contender for the podium and chief rival to Red Bull – winners of every single race in 2023 so far.
They've done that with the minimum of upgrades so far hence, the drawn eyes of attention on their latest package. "Sources" say that the floor has seen the most upgrades which happens to be the biggest performance differentiator in the current iteration of regulations. Along with this are some additional bodywork improvements following along the general strategy from Aston Martin to play down expectations. That will surely not be the case this weekend as we see extremely glowing optimism around the Silverstone-based outfit to see just how good the Circuit Gilles Villeneuve should suit the AMR23.