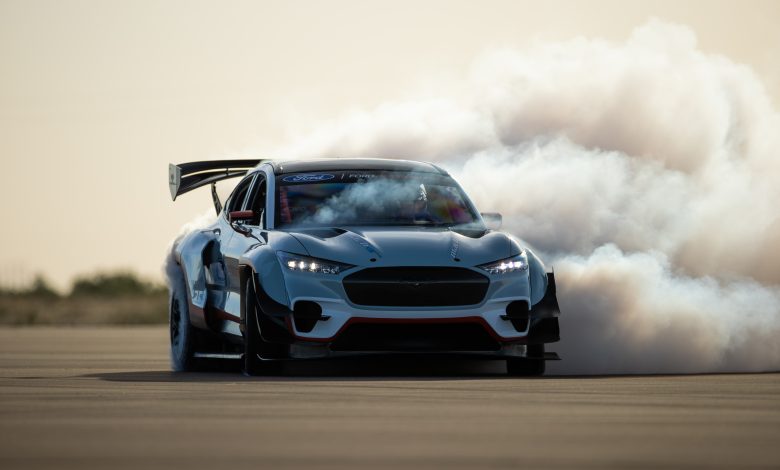 Out of Dearborn, Michigan emerges a new all electric speedster, the Mustang Mach-E 1400 prototype. The machine is the result of over 10,000 hours of collaboration between Ford Performance and RTR. This all-electric 4-wheeler uses not a single drop of gas and is built based on the Mach-E GT body. The Mach-E 1400 is the next in line following the earlier electric release- Mustang Cobra Jet 1400. It is set to make its first appearance at a NASCAR event sometime soon.
Chief program engineer for Mustang Mach-E, Ron Heiser, believes this is the right time to leverage and learn from electric technology and make applications to their productions
'Rocket' performance?
The Mach-E 1400 uses 7 electric motors.Ya, you heard me right, 7! That's 5 more than the Mach-E GT. That would explain the massive peak output of 1400 hp. These motors are seperated by attaching 3 to the front differential and 4 to the rear in "pancake style". The team apparently played around with RWD, FWD and AWD to see its effect on performance and consumption. Hence, the power can be split evenly to all 4 wheels or fully to either front or rear. These configurations would really allow for the driver to experiment different driving styles.
The racer comes installed with 56.8 kW/h battery. This battery is made up of 'nickel manganese cobalt pouch cells'  that are sure to improve performance and produce higher discharge rates.
Mustang Mach-E 1400 is built completely different in terms of style and aero. Its got a rear wing that seems slightly raised and curved along with some interesting trim lines. Though, it does have the classic bulky outline that is typically seen in Mustangs. The optimized aero targets a downforce of 2,300 pounds at 160 mph. Combined with series regenerative braking +ABS ( Brembo™ brakes) and a hydraulic handbrake system, the car can perform some jaw-dropping drift action.
Ford has invested a lot of time and effort into its electric push, not to mention $11.5 billion. This will be their first globally launched EV. The Mach-E 1400 has changed perceptions of what an electric vehicle can do and should be ressuring to those who were worried if EVs could compete with ICE vehicles in all out speed. Though exact specs like acceleration are yet to be revealed, we can expect some pretty good news soon enough. A video on their Youtube channel shows the car drifting around and I honestly must say the electric revving sound is pulse-quickening and triggers ASMR. Dare to question the racing potential of electric propulsion?