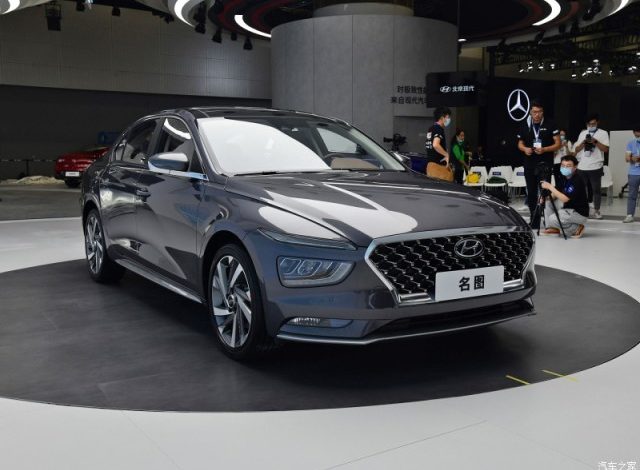 The second-generation Hyundai Mistra has just made its debut at the Guanghzou Auto Show, with some really head-turning looks. Now you may find it good-looking or ugly, but one thing you can't deny is that it certainly looks distinctive, and perhaps more importantly, distinctively Hyundai.
The split headlight design certainly reminds the eye of the front-end found on Creta subcompact crossover, while the taillight units look like a flipped version of those of the Sonata.
The model on display was the EV version of 2021 Mistra, completing the look with a closed-off body-coloured grille, with the charging port discreetly hidden behind the Hyundai logo. The EV has a 56.5-kWh battery pack powering an electric motor good for 181 horsepower and 310 Newton-meters of torque.
The mid-sized Sedan apparently has a range of 323 miles (520 kilometres) which isn't bad but it's based on the Chinese NEDC, so we would expect the number to be a bit optimistic. If you're running out of juice, it takes 40 minutes to take the battery charge from 30 to 80 per cent, while a full charge would take you nine and a half hours, so you're better off leaving the car plugged-in overnight.
However, if the EV is not your cup of tea then, you can go for the ICE version instead, which is powered by a naturally aspirated 1.8-litre unit that pushes out 141 horses and 176Nm of torque or a slightly beefier 1.5-litre turbo which puts out 168 hp and 253 Nm.
On the inside you'll find a lot of similarity to the smaller Elantra. There seems to be quite a bit of leg room, although the driver's seat  does seem to be positioned very close to the steering wheel. The centre console does away with most switches and dials by switching to touch-sensitive buttons, looking like a single piece of black plastic, instead of a jet-fighter cockpit when it's turned off, as in this video.
The 2021 Mistra is a baby of Beijing Hyundai, a joint venture established back in 2002 between BAIC Motor and Hyundai in China. The new Mistra will be joining a number of cars in the company's portfolio include the ix25, ix35, Tucson, Encino (Kona), Santa Fe, Sonata and the Celesta.