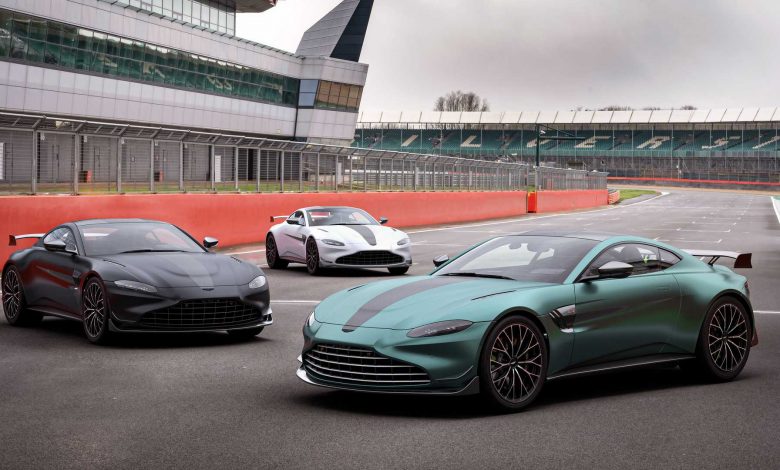 During early March 2021, we saw the Vantage being revealed as the official Formula 1 Safety Car for the upcoming season. Now this mean-looking F1 avatar of this high-performance coupe from Aston Martin is available for your garage. Not talking to "normal" wage earners here, am I?
Directly based on its F1 Safety Car version, the new road-ready Vantage shares the same twin-turbo 4.0-litre V8 AMG engine which makes it the most powerful Vantage generating a max power of 535PS. The peak torque is the same as the standard car at 685 NM, but the car-maker claims it is now sustained for a longer duration, improving the tractability and in-gear urgency of the vehicle.
The road-ready Vantage F1 gets the rest of the elements of its safety car avatar aside from the FIA instrumentation. It now flaunts a more aerodynamic chassis with stiffer suspensions and reengineered dampers. These results in a better body control and traction which will allow an improved high-speed steering with sharper turn-in.
The new Vantage retains the big spoiler (wing) of its circuit-based variant (coz the world is still not ready for flying cars), along with the front splitter & dive planes, and the underbody turning vanes. It'll also get the same circuit ready Pirellis tires wrapped 21-inch wheels instead of the standard 20s and the quad-exhaust.
Aston Martin will commence Vantage F1 Edition's deliveries in the UK and Germany by May 2021 with respective pricing of GBP 142,000 (around Rs 1.42 crore) and €162,000 (around Rs 1.40 crore). This eight-speed automatic transmission beast will be available in both coupe and roadster body styles. It will get the British car manufacturer's iconic racing green body shade along with the options of gloss or satin Jet Black and Lunar White.
"Performance is at the heart of every Aston Martin, but when it wears an F1 badge it has to be a truly exceptional car. Vantage was already the most focused sports car in our range but in the development of our official safety car of Formula 1, it had to be a true athlete: more powerful; more agile; more immediate and more exciting to drive. And – of course – quicker and more capable in a race-track environment." said Tobias Moers, Aston Martin chief executive officer, during the launch event.
Well, Aston Martin is taking its F1 comeback very seriously, no kidding. Recently we posted an article about our top five 2021 F1 Championship contenders (check it out if you haven't already) and no wonder Aston Martin made its place on that list.