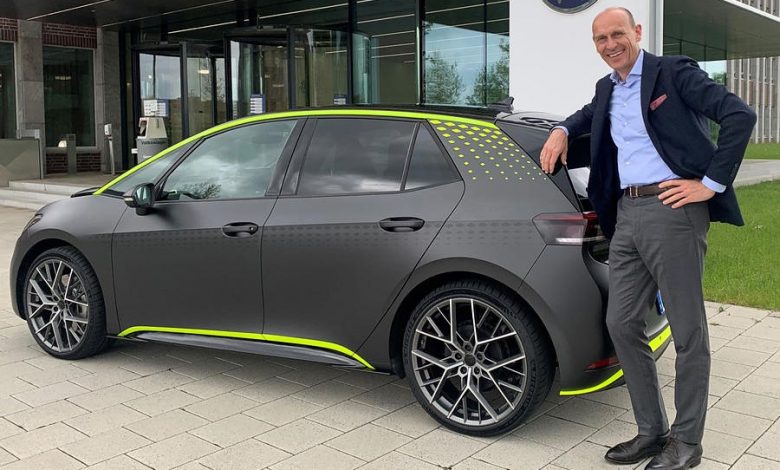 For you, LinkedIn is for your connections but, what if you're presiding over one of the most desirable jobs of the automotive segment. I only ask because Volkswagen's CEO Ralph Brandstätter recently used LinkedIn to tease the world with a potential AND ELECTRIC replacement for the Golf R. Enter the ID.X Concept.
If one was to make an electric hot hatch, well, it is silly to think that because all the automotive manufacturers are now focusing on SUVs, EVs, and electric SUVs. So then, why the sudden surprise with the ID.X Concept? Brandstätter says that while the ID.X isn't destined for production, Volkswagen will "take up many ideas" from the project. It was created, he said, because the engineers who worked on the ID.4 GTX "have discovered the fun of developing high-performance electric cars, and so we just let them do it". Fair-enough. Got to keep those folks happy.
The ID.X Concept happens to be based on the ID.3 hatchback from, you guessed it, VW, and features an 82-kilowatt-hour battery and a dual-motor, all-wheel-drive system. The power output is capped at 329hp, which, according to the maker's figures, is 13hp more than the latest-gen Golf R, and 26hp more than the ID.4 GTX.
Additionally, despite it being an all-electric model, it still weighs over 441 pounds lighter than the ID.3, which, in itself, is an achievement. Most of its weight-saving must've come from using lighter materials on the inside as well as using Alcantara for the seats. Also, according to the CEO, following a test run, the ID.X Concept can hit o-62 in 5.3secs and even has a Drift Mode, the same as the one found in the Golf R. Need any more hints?
The prospect of an all-electric hot hatch replacing the Golf R remains to be seen but considering the monumental success VW has had with its hatches so far, it would be a given that the company gives a green light to this hot hatch. Even more so when we already know that Mini is working on an all-electric JCW model.