Auto Business
Launch
News
Videos
Mercedes-AMG CTO takes the AMG-One hyper car for a spin on public roads
The production-spec of the F1-inspired hyper car is nearly ready.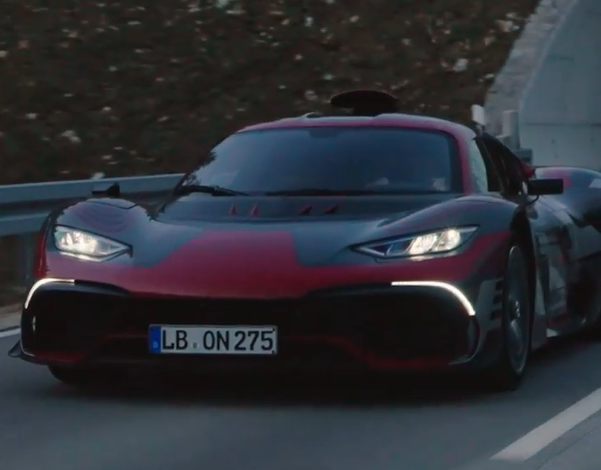 Four years ago, at the 2017 edition of the Frankfurt Motor Show, Sir Lewis Hamilton and the then-Mercedes-Benz Boss Dieter Zetsche, unveiled the Mercedes AMG One street-legal hypercar. Ever since that day, it's been a hit-and-miss for the maker as the ever-so-tightening emission regulations and the never-ending difficulties in homologating the F1-derived 1.6L V6 Hybrid engine for road use among others, have somehow halted the progress of the hypercar. However, that didn't stop the folks at AMG.
We have already seen images of the One prototype being thrown around the famous Nürburgring, but in this new, official yet short video, we can see the AMG One being driven on the public roads for the first time following a 'session' at Mercedes' Immendingen test center.
Mercedes-AMG has teased that you "might see it soon," which means that the One hypercar will be going on a world tour of all sorts. Well, almost. But, one must know that this is the only way by which Mercedes-AMG can learn about the One's capabilities of driving on the public roads because it has to be comfortable enough to drive for long distances.
The One hypercar will have an F1-derived 1.6L, V6 with four electric motors for a total output of 1,200hp, coupled with an 8-speed semi-automatic 'box, all-wheel-drive, to name a few. It is said that only 275 examples of the One hypercar will be made, with each one selling for $2.7 million. Oh, and yes, the 0-60 time is 2.7 secs, making it slower than the Bugatti Chiron, but faster than the mental McLaren Senna. Customer deliveries to begin later this year. More as we know it.