Auto Business
Launch
News
Porsche welcomes the all-new 911 GTS with 473hp, less weight, and more downforce
With the addition of the five new models, the 911 family now consists of 21 members. 21!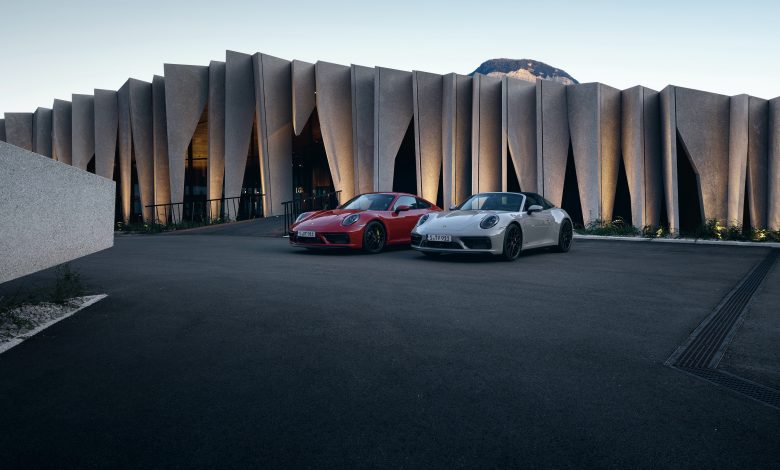 The 992 generation of the 911 was launched approximately 2.5 years ago, and soon, the range increased with time and demand. Roughly twelve years ago, Porsche introduced the first-ever GTS model to the 911 range, and today, it has received a substantial upgrade over its predecessor which, according to the maker, is "more powerful and visually distinctive, and with better driving dynamics than ever."
Those who wish to buy a GTS with an RWD setup can choose between the Coupe or Cabriolet body style for the regular 911 Carrera GTS. In case you want the Carrera 4 GTS, you get AWD in either a Coupe or a Cabriolet style, while the Targa 4 GTS offers AWD, only. Power still comes from a twin-turbo, 3.0L, in-line-6 motor producing 473hp and 420 lb-ft of torque, 30hp more than the Carrera S and 23hp more than the previous 911 GTS. The engine comes mated to either an 8-speed PDK or a 7-speed MT.
The new GTS models borrow several bits and pieces from the 911 Turbo like the modified version of the suspension with adaptive dampers, high-performance braking system. In Coupe and Cabriolet 'format', you get the Porsche Active Suspension Management (PASM) in which the dampers respond to dynamic changes at lightning speeds, as standard. 20-inchers at the front and 21s at the back with the black, center-lock alloys are also derived from the 911 Turbo. The standard sports exhaust system makes for an even more emotive soundtrack, thanks to its GTS-specific setup and the deletion of some interior insulation.
Porsche says that with help from a Lightweight Package which will be available from November this year, you can further save up to 25kg through lighter carbon fiber reinforced plastic (CFRP) full bucket seats, lightweight glass for the side, and rear windows, and lightweight battery. Further, the rear seats are also removed.
Focusing on the inside, the GTS has black Race-Tex material covering the standard Sport Seats Plus with electric adjustments, a standard GT Sport steering wheel as well as the Sport Chrono package with the mode switch, and a manual gear lever that is shorter by 0.4-inches which the company says "enables fast gear shifts". The latest-gen of Porsche's Communication Management (PCM) features additional functions and significantly simplified operation.
The 2022 911 GTS range begins with the RWD Coupe at $136,700 and goes to $149,500 for the RWD Cabriolet. The AWD Coupe can be had for $144,000 and at $156,800, you can have a go at the AWD Cabriolet. The Targa 4 GTS model costs the same as the AWD Cabriolet.