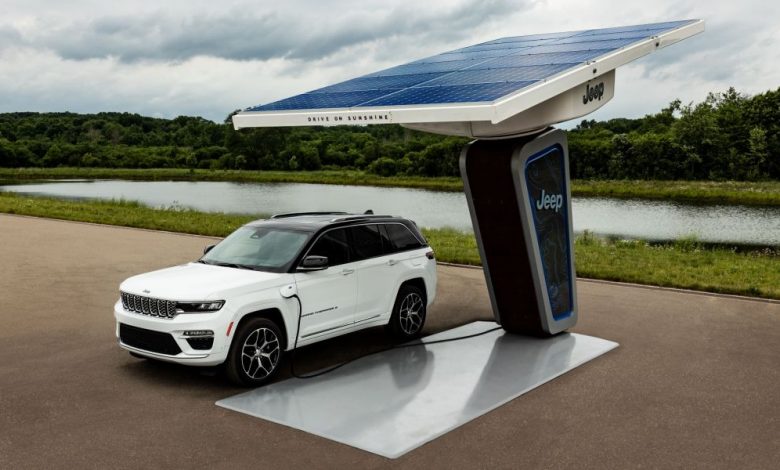 Cherokee is going electric! The American automaker has unveiled the all-new 2022 Grand Cherokee 4xe plug-in hybrid SUV during Stellantis EV Day 2021. The electrified Jeep Grand is the fourth plug-in hybrid vehicle from the Stellantis-owned American SUV maker after the Wrangler 4xe, Compass 4xe and Renegade 4xe. Showcasing the first glimpse of the Grand Cherokee, Jeep says it plans to have a zero-emission model in every SUV segment by 2025.
One of the most famous vehicles in the Jeep lineup, the Grand Cherokee, will be officially unveiled in its fifth-generation model at the 2021 New York International Auto Show. The lineup will include the full Cherokee range, including the plug-in hybrid version.
Jeep has not yet revealed the engine specifications and other features on the new SUV, and will most probably disclose them during its official unveiling next month. But we can expect the electric Cherokee to receive a new 4WD electric mode that is being offered on the new Wrangler 4xe. This feature allows the SUV to be used off-road purely on its electric charge, without the use of fuel.
"The introduction of the Jeep Grand Cherokee 4xe is another step toward expanding electrification and strengthening the Jeep brand's vision of Zero Emission, 100% Freedom in a year in which the Jeep brand celebrates 80 years of achievements and innovations," the US-based company said in a recent press release.
Carlos Tavares, chief executive officer (CEO) of Stellantis said that by 2025, 98 per cent of its models in Europe and North America will have electric versions. Fiat Chrysler Automobiles and Groupe PSA (Peugeot and Citroen), jointly known as Stellantis collectively own 14 brands under the joint umbrella.
The US venture is currently said to develop four electric vehicle platforms with ranges from 500 kilometres (311 miles) to 800 kilometres (497 miles). Besides the Jeep Grand Cherokee, the new models planned include an electric RAM truck and an electric Dodge muscle car both expected to arrive in 2024. The company also affirmed that it will use its electric commercial vehicle expertise from Europe to build EV models worldwide.
Stellantis is estimating 70 per cent of European sales and 40 per cent of car sales in the US to come from full-electric or plug-in-hybrid models by 2030. And Tavares said the American brand will spend USD 35.6 billion over the next five years on EVs. It will also build five battery factories in the U.S. And Europe.
Stellantis says the Opel brand will go fully electric in Europe by 2028, with 100per cent of its vehicles in China being electric. It will also bring back the Manta sports car with a fully electric version by the middle of the decade.