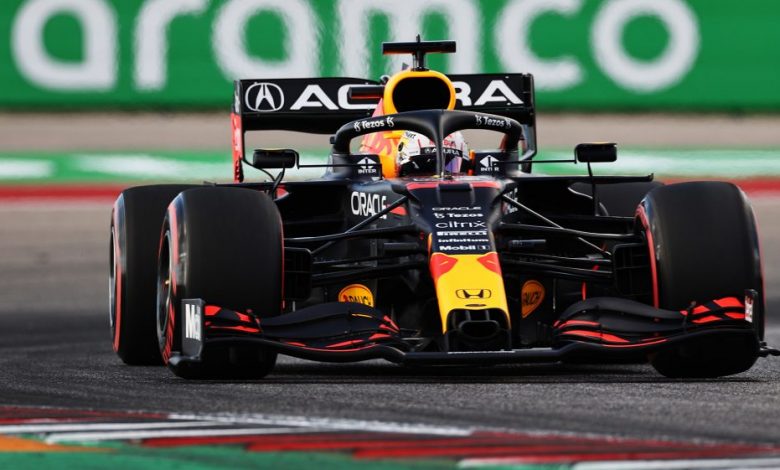 Saturday running at COTA was quote eventful! FP3 saw spins and time deletions, while the entirety of Qualifying was closely contested. The Red Bulls regained quite a bit of pace, and had the better car today. Whether Saturday's pace will translate into Sunday's race, only time will tell!
Let's get into the events of Saturday.
FP3
A few spins aside, not much happened in FP3. Many laptimes were deleted at Turns 9 and 19, where the stringency for track limits is quite strict! The initial 10 minutes of the session were very quiet, with not many drivers going out on track, instead opting to chill for a bit in their garages.
Our final practice is under way ahead of a sizzling quali Saturday ☀️

Follow along 👉 https://t.co/WEyoM7XZwD#USGP 🇺🇸 #F1 pic.twitter.com/wvTJJGQn6O

— Formula 1 (@F1) October 23, 2021
Once all the drivers came out on track, the quali runs started. Both Max and Lewis looked quick, but their laptimes were deleted multiple times due to track extensions. We had two major spinners- current Mercedes driver Bottas and next year's Mercedes driver Russell both found the twisty Sector 1 quite challenging indeed!
Warm up for qualifying with everything you need to know from the final practice session 🍿#USGP 🇺🇸 #F1

— Formula 1 (@F1) October 23, 2021 
High-speed slideeeeee for Russell 😬

But he styled it out 😎#USGP 🇺🇸 #F1 pic.twitter.com/y4a2g0G5Qk

— Formula 1 (@F1) October 23, 2021
No one else had such a major spin, and the only issue was with drivers impeding one another- Max was so frustrated he vowed to buy glasses for everyone after he was impeded! Not much happened henceforth, and the session ended.
Sergio is looking to be on form and strong around here, and so is the Ferrari. Most drivers opted to just run the soft tyre, as teams believe that it's durability and ability to retain pace will be horrible tomorrow. Drivers will also need to stay within the track limits- we don't want to see everyone's laptimes deleted and everyone getting a penalty, now do we?
Qualifying
Qualifying was a closely-contested battle all throughout, with Max pipping Lewis and even Checo at the very last moment to take his 12th career pole position, and his 9th of the season! Let's take a quick look at the events of quali now.
Q1
Q1 was rather uneventful, with the only issue being traffic. A few laptimes were deleted, but nothing too serious happened. As can be seen here with Bottas' onboard, the traffic in some parts of the track was nothing short of brutal!
The session ended, and a shocker was seeing Stroll eliminated in the very first quali session alone. He was joined by the Haas duo, Latifi and a somewhat shocking Kimi as well.
❌ OUT OF Q1 ❌

16 – Stroll
17 – Latifi
18 – Raikkonen
19 – Schumacher (📸)
20 – Mazepin#USGP 🇺🇸 #F1 pic.twitter.com/rP4d4G0H5E

— Formula 1 (@F1) October 23, 2021
Q2
Yet again, Q2 saw not much in terms of action, though many laptimes were deleted. Sergio's good lap on the mediums amounted to nothing when his laptime was deleted for exceeding limits at Turn 19, while Ricciardo's was deleted as well for exceeding limits at Turn 9.
Everyone did get through without issue on their next runs. Vettel and Ocon failed to make it to Q3, and Antonio didn't have the pace. Alonso, Vettel and Russell will take grid drops for tomorrow, so their progress will be certainly something to look out for!
❌ Out of Q2 ❌

11 – Ocon
12 – Vettel (📸)
13 – Giovinazzi
14 – Alonso
15 – Russell#USGP 🇺🇸 #F1 pic.twitter.com/C8XE0tU9j4

— Formula 1 (@F1) October 23, 2021
Q3
Q3 started well for Red Bull, with a surprise in the form of Checo taking provisional pole, followed by Max. Once everyone's first runs were done, it was obvious that Red Bull had the pace, though the second runs were left. And it definitely seemed like Merc had more pace. When it came time for the second runs, it shuffled up the order a bit!
Bottas stayed P4, though Lewis went onto provisional pole by going 6 hundredths faster than Checo's time. Max Verstappen then pulled a rabbit out of the hat by going two tenths quicker, and it was all down to Sergio, who unfortunately couldn't claim his maiden pole position, missing out due to a light drizzle in the final few laps of the session.
Max Verstappen takes pole! 👏

An amazing final flying lap means he will start ahead of Lewis Hamilton (P2) and Sergio Perez (P3)#USGP 🇺🇸 #F1 pic.twitter.com/oQI5cs2WA5

— Formula 1 (@F1) October 23, 2021
Both Ferrari's qualified well, and Daniel outqualified Lando as well. Gasly was a distant P9, while Tsunoda did well to get into Q3, though he was an even more distant P10, 8 whole tenths behind Pierre! After Valtteri's penalty, P5-P9 will move up one place each, with Valtteri being relegated to P9.
Takeaways: Now, even though we have the 2 RedBulls ahead of the two Mercs, we have to keep in mind Merc's advantage. Bottas' penalty will shift him down though, it won't be hard for him to crawl back up on this Mercedes favoured track. What's more is that Hamilton had a terrible final quali lap when he went wide after sector-2. Sector 1 time was also pretty bad and yet, he secured a provisional pole. That shows serious pace and Max will definitely have a fun and well-deserved victory if he manages to stay ahead.
All those with grid penalties will have a challenge tomorrow, namely Alonso, Vettel and Russell, all of whom will start at the back of the grid. Valtteri's comeback will also be an interesting watch, as the team is currently in a bid to stockpile his ICE collection to a new record by the end of the year!
Races in the American continent are a test for most of the Asian fans. So, for those of us watching from India, the timing of 12:30AM-2:30AM is not too good. The race is past midnight of a Sunday for an office day so you must know how it feels.
Even as I write this, it's well past 4AM, though I have a saying which I will adhere to for those races I have to stay up late to watch or wake up early for, and that is- "There's no wrong or right time to watch F1, ever!" Bring it on, MONDAY! I can't wait.