Formula 1
News
Verstappen recovers from P10 as Hamilton and Russell round up the podium at the Hungaroring! 2022 Hungarian GP Highlights
Verstappen breezes through to win the race as Ferrari bungle their strategy yet again. Mercedes is now only 30 points behind Ferrari in the constructor's championship!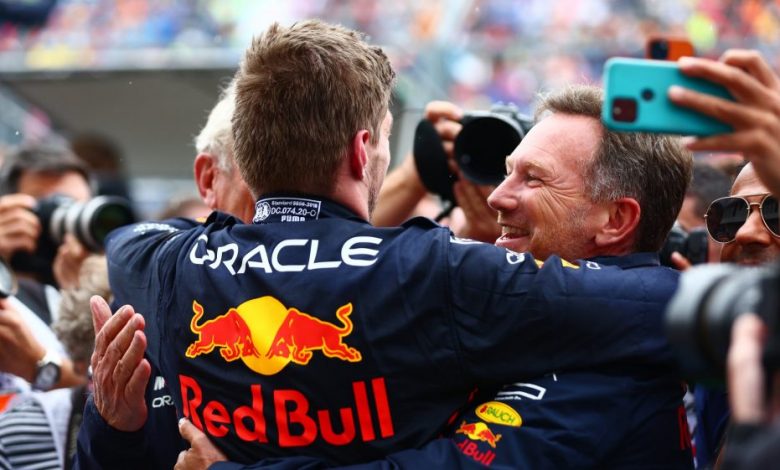 All the accomplishments Ferrari developed over the weekend was rendered moot as none of their drivers were able to claim the podium. Sounds familiar? Well, this has been the theme for this year at Ferrari after finally having a championship winning car but not a championship winning mindset! Their strategists have yet again fumbled with their mindless tire tactics. A stupendous drive from Verstappen along with an on-point pit strategy from his team made sure that he would stand at the top of the podium. The Mercedes duo also came through strongly to follow the Dutchman for the 2nd and 3rd spots respectively as Hamilton made a lunge to grab P2 from George.
Race Start and Initial Few Laps
With a hint of forthcoming rain, the drivers and teams prepared for a cloudy race. Russell had a good start and led the race easily with the Ferraris of Sainz and Leclerc on his tail. Hamilton starting P7, had a brilliant start as well as he overtook both the Alpines ahead of him. Both the RedBull drivers had a decent start as well, with Perez having a slightly better start overtaking a bunch of cars around the outside. Verstappen did not have that good of a start but a collision between Ricciardo and Magnussen ahead of him helped him gain position again. In the back of the pack, Vettel and Albon also had contact that ended with Albon having to pit for a new front wing.
In the next few laps, the RedBull drivers cut their way through the Alpines, overtaking them one at a time respectively. By Lap 13, Verstappen and Perez had gained 5 positions already and hunted away at the Mercedes and Ferraris ahead of them. Leclerc and Sainz meanwhile chased after Russell but were unable to catch up to him.
A Game of Tire Strategies
The Hungaroring circuit being very short in length does not offer a lot of overtaking opportunities. As such, teams brainstormed to calculate the best time to pit their drivers to beat their competitors. The Ferrari team particularly tried to outsmart the Mercedes by calling in their drivers early to box for new tires. However, that just led their own drivers competing for position. Russell maintained his position as Hamilton, Verstappen and Perez steadily closed the gap between them.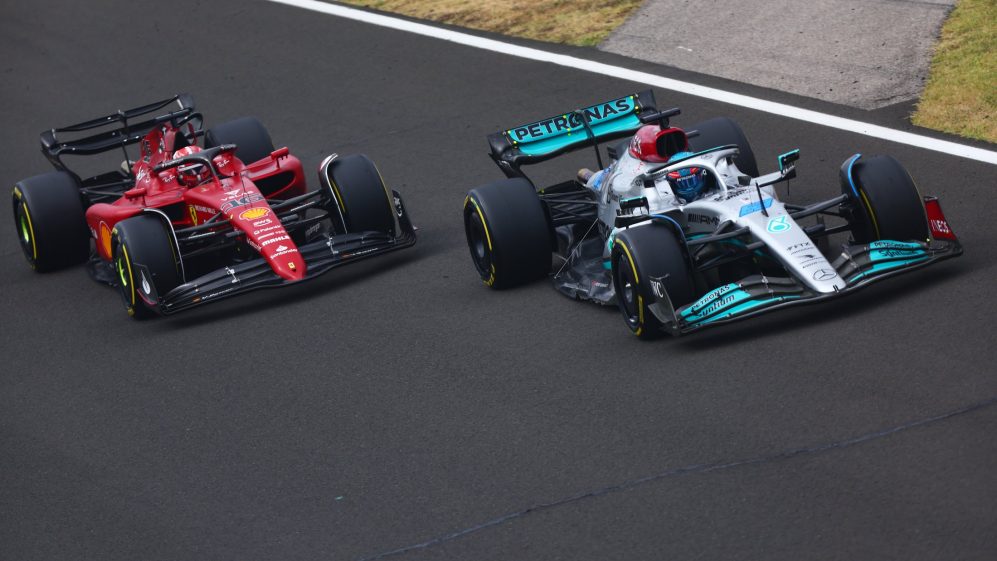 A few brilliant overtakes also entertained the viewers in the meantime. Remember Danny Ric's famous triple overtake in 2018? Well the Australian reminded us of it yet again, with a super overtake on Lap 24, getting ahead of both Alpines at once! On Lap 31 Leclerc was able to overtake Russell with a superior move at the end of the long main straight using the extra speed of the DRS. Old rivals Vettel and Alonso also fought it out bravely for a few corners, with Vettel ultimately getting the better of the Spaniard.
Scuderia Ferrari does not have a winning strategy team
On lap 40, Leclerc's engineers decided to fit the Hard tires on his car. This was inspite of the fact that Alpine were performing significantly worse on them and that Ferrari had already set a two-stop in motion with two sets of mediums. The natural thing to do would be to go on softs as we saw Hamilton dangerously fast on the softs in a much worse car than the Ferrari. Ferrari's hard tire strategy gamble, especially on championship contender Leclerc, raised many questions yet again on the strategists as it was already established that the drivers had found no pace on the hards. This was almost immediately apparent as Leclerc was overtaken by Verstappen within the next 2 laps.
Verstappen had his own mini incident as he had a short spin from which he immediately recovered. During this time RedBull strategists had also managed to undercut Russell with Verstappen. Russell however went on to overtake a struggling Leclerc who, as expected found no pace with his hard tires. On Lap 54, the Ferrari engineers decided to pit him yet again for soft tires, but by then all gaps had been recovered and they fell behind Perez to P6 with a 10-second margin.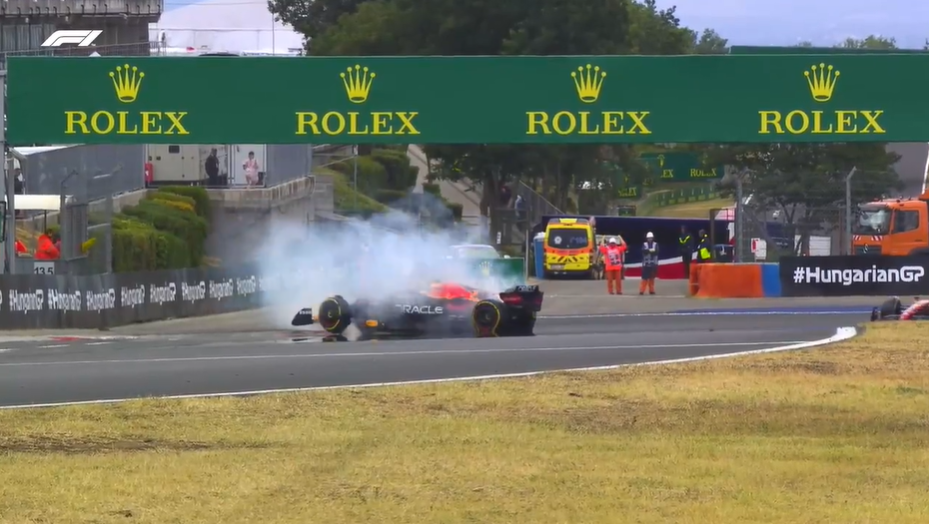 The final laps and a late VSC
In the final 10 laps, Hamilton overtook Sainz and his teammate Russell in two successive overtakes down the main straight proviong time and again that for some people, age really is just a number. This includes the likes of Messi, Ronaldo, Alonso, Federer and Hamilton. With just 3 laps to go Bottas, became the first and only car to retire from the race. The VSC was deployed and drivers closed up for one final lap of racing. Abu Dhabi nightmare to no one this time. By this time Verstappen, had climbed up to P1, followed by Hamilton and Russell respectively.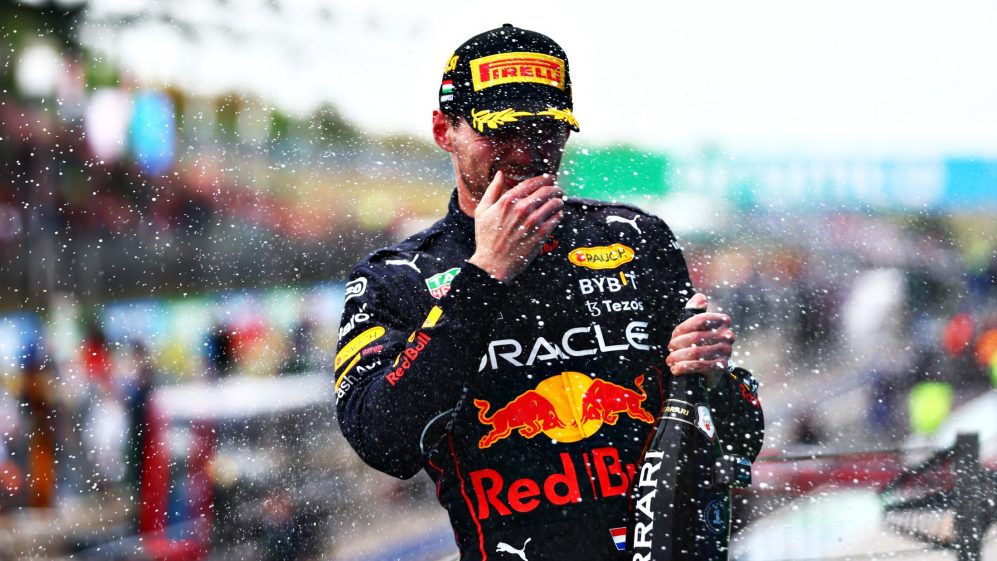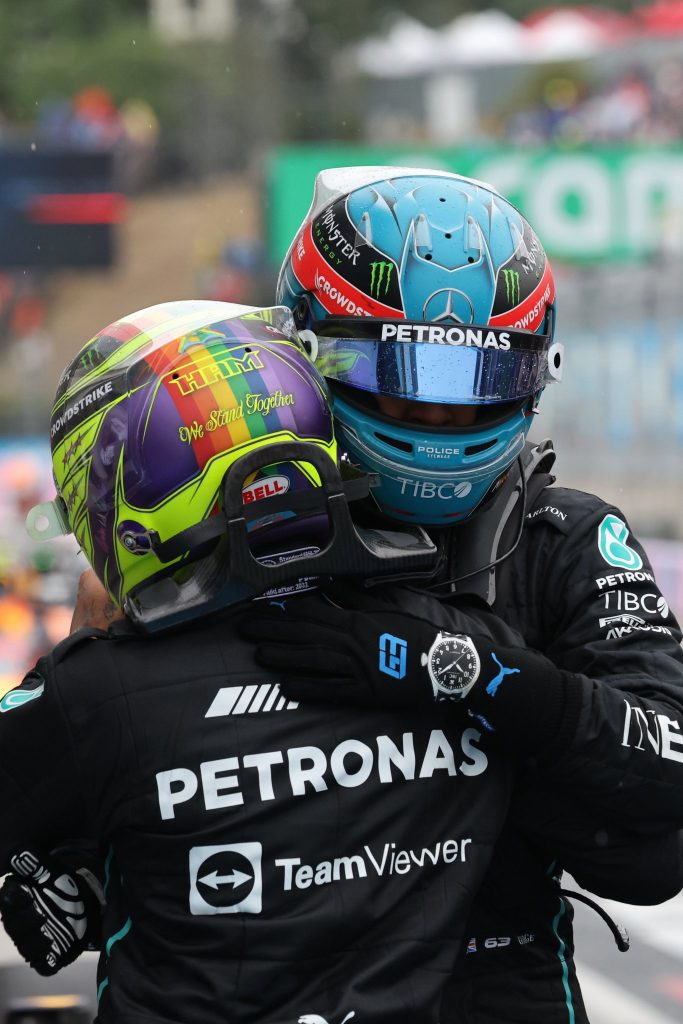 The Ferrari team realized that their folly was their own strategy, as they came in to finish the race P4 and P6. The complete driver standings from the race and the constructor's standings after the race are as below:
POS
DRIVER
CAR
LAPS
TIME/RETIRED
PTS
1
1
 
RED BULL RACING RBPT
70
1:39:35.912
25
2
44
 
MERCEDES
70
+7.834

s

19
3
63
 
MERCEDES
70
+12.337

s

15
4
55
 
FERRARI
70
+14.579

s

12
5
11
 
RED BULL RACING RBPT
70
+15.688

s

10
6
16
 
FERRARI
70
+16.047

s

8
7
4
 
MCLAREN MERCEDES
70
+78.300

s

6
8
14
 
ALPINE RENAULT
69
+1

 lap

4
9
31
 
ALPINE RENAULT
69
+1

 lap

2
10
5
 
ASTON MARTIN ARAMCO MERCEDES
69
+1

 lap

1
11
18
 
ASTON MARTIN ARAMCO MERCEDES
69
+1

 lap

0
12
10
 
ALPHATAURI RBPT
69
+1

 lap

0
13
24
 
ALFA ROMEO FERRARI
69
+1

 lap

0
14
47
 
HAAS FERRARI
69
+1

 lap

0
15
3
 
MCLAREN MERCEDES
69
+1

 lap

0
16
20
 
HAAS FERRARI
69
+1

 lap

0
17
23
 
WILLIAMS MERCEDES
69
+1

 lap

0
18
6
 
WILLIAMS MERCEDES
69
+1

 lap

0
19
22
 
ALPHATAURI RBPT
68
+2

 laps

0
20
77
 
ALFA ROMEO FERRARI
65
DNF
0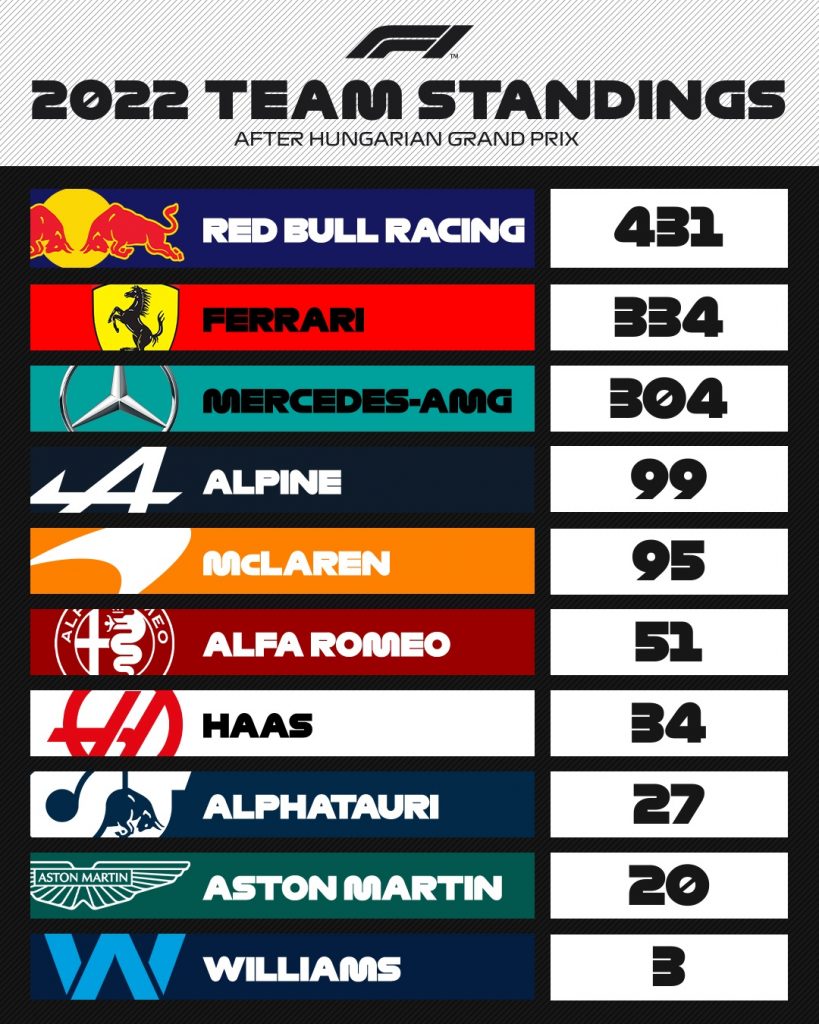 Post the 2022 Hungarian GP, going into the summer break, Hamilton has scored more points than anyone in the last five races except for Verstappen. He's had 3 P3 finishes and 2 times on P2 continuously. Mercedes are now only 30 points behind Ferrari and Russell now has more points in the driver's championship than Carlos Sainz. The Ferrari team built a car that could breeze past the RedBull even now in the championship if it wanted to but it'd need Mercedes to really step it up and snatch some points for Redbull while also perfecting every move that Ferrari makes. Let's hope Ferrari really change themselves after the summer break or we might not see a long future of Leclerc here. At this point, it is extremely hard to imagine Ferrari going 5 star from their 1 star performances but let's hope they do. They need to now!