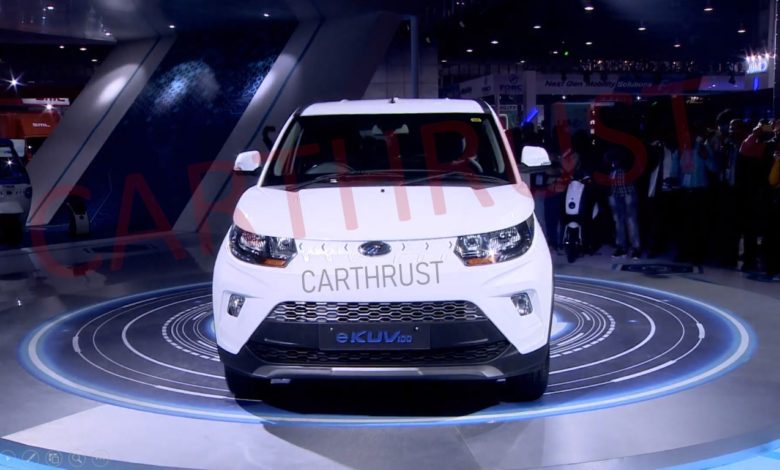 Mahindra suffered a setback after it showcased the eKUV100 at the Auto Expo 2018 in its near production-spec form. Following the showcase, the model couldn't be launched owing to the industrial slowdown and hardened market conditions. However, the brand is now back with a bang and has launched the model at the Auto Expo 2020. 
First, let's take a look at the battery pack. The model comes equipped with 15.9kWh pack, which not only supports fast charging but also can reach a peak of 80% charge within an hour. This pack enables the micro-SUV to provide a range of almost 147kms. Furthermore, the model is capable of providing a power of 54PS along with a torque of 120Nm. 
Not only is the battery-pack providing a good range, but the interiors also come with excellent features as well. For example, there are connected-car features such as location tracking, cabin pre-cooling, monitoring driver patterns, and remote diagnostics. These are the same features that were seen at the Auto Expo 2018's version. However, keeping these features aside, the model comes with rear parking sensors, front seat belt alert, dual front airbags, ABS with EBD, and over-speeding warning. From an Indian Market viewpoint, these safety features are essential for today's consumers. 
Mahindra launched the eKUV100 at a price starting from ₹8.25 lakhs. This price is the commercial cost. This exact EV model will cost almost over ₹12 lakhs if purchased by a private buyer. So if you're a private buyer and looking to make a purchase, you might as well be aware that the eKUV100 could undercut the price of the Tata Tigor EV by ₹1 lakh, getting the price somewhere around ₹11 lakhs. 
At this very moment, the eKUV100 does not have any direct rivals but knowing the competitive automotive industry; this will not be the case for very long.