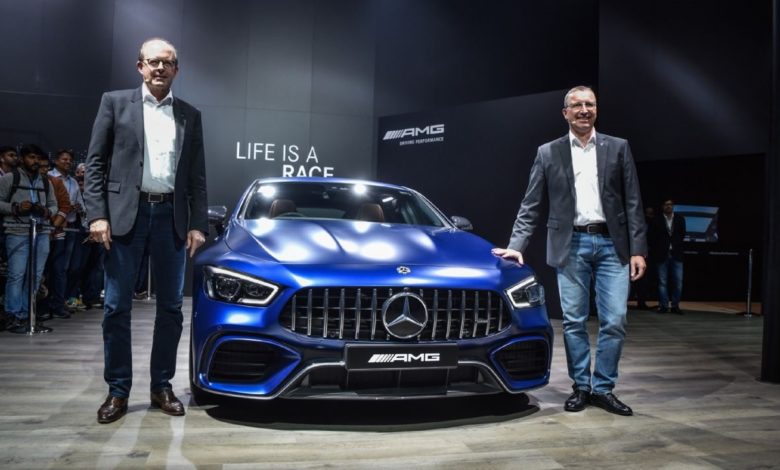 Mercedes launched the world's fastest series production, four-door coupe, and the fastest AMG for the Indian market, the AMG GT 63S 4MATIC 4 Door Coupe. YES! THAT IS A MOUTHFUL! But, so is this car.
The 6-cylinder in-line V8 petrol powerhouse produces a punishing range of power from 435HP(320kW) to 639HP(470kW). The accelerator retaliates by pushing the car to a mind numbing top speed of 315 Kmph. The experience from driving this model is a combination of modern efficiency, effortless steering, and a whole lot of inertia. Back when we got a chance to drive it, it was phenomenal. There wasn't one input lag in the steering and the suspension was literal magic. Firm when it's needed to be and a cushioned ride for the road. The exhaust grunt from the V8 and that SPORT+ mode will make you drool. And so will the price. It's 2.42 crore INR (ex-showroom) but, those looking at it as an option won't even blink twice.
The four-door variant of the beastly GT-R coupe shows-off a muscular body with convex surfaces. And usually after all those figures from the motor, I don't even want to look at the car, this one is different. I never thought anyone could make a more beautiful sports sedan than the BMW 6-Gran Coupe but, Mercedes did it. It is still not as good as the 8 series gran coupe but, I am so not complaining. The beast of the green hell AMG GT-R looked like it was designed to vanish and this one, carries that over. So, if you have to spend over 2.5 crore rupees on a car, please do yourselves a favor and get this masterpiece.