Auto Business
News
MG India provides 100 Hector SUV's to the frontline workers!
Lately, Morris Garages has ticked every box, whether it was providing support to the country by helping in their own way, maintaining launch dates or making life convenient for their customers, MG has done it all.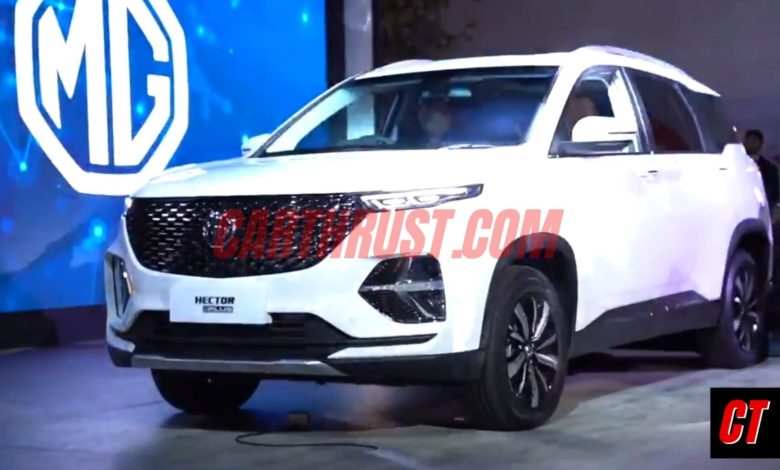 Coronavirus has brought a halt to our life, production and supply lines in industry's have been disrupted and it has made the lives of the frontline personnel very difficult.
Apart from how well mother nature has been able to recover even that slight bit, the only good that has come out this situation is, the fact that it has brought people together, different corporations have joined hands with Governments (not for profit) and are trying to find ways in order to either curb the spread.
They are also taking steps to equip the frontline workers with the necessary equipment to fight this disease. Amongst the many companies who are helping out, Morris Garages has been very consistent and keeps adding new ways of helping out in India, and in the United Kingdom as well.
In March, Morris Garages India pledged to donate 2 crores to the Government hospitals in Gurugram (Haryana) and Halol (Gujarat). In both these cities, MG has their manufacturing facilities and headquarters, thus making them feel responsible towards the people of the city. This contribution is broken into 2 parts, 1 crore will be provide by Morris Garages India and the rest will be given by the employees of the company.
The latter half will be provided in the form of masks, ventilators, medicines, masks, gloves, PPE (Personal Protection Equipment) products like these which are the need of the hour will be delivered to the hospital staff in Halol and Gurugram.
Furthermore, MG announced quite early on that none of their employees will not be laid off and salaries will not be deducted or canelled, and this is heartfelt support will always be remembered by the employees. In times like these, the last thing you want is to lose your only source of livelihood, and Morris Garages has done the right thing by not cutting remuneration or firing their staff.
MG also began the 'Disinfect and Deliver' initiative, whereby they would be sending test drive vehicles to customers, at their doorstep, and the cars sent would be completely disinfected and sanistsed. This would allow the customer to have some sort of peace while driving the car, and these kind of simple yet important steps taken will help them widen their customer base.
The list of steps taken by MG to help goes on, as they also started the 'Affordable Ventilator Challenge' which is basically a method to encourage individuals and other companies to try building affordable and easy to produce ventilators. Coronavirus as a disease particularly attacks the respiratory system of an individual thereby making it very difficult to breathe, and in such a scenario, a ventilator can help deliver fresh air and help the patient breathe artificially.
The most recent support provide by Morris Garages was in the form of issuing 100 Hector SUV's to doctors, Govt officials, police and other frontline workers. In each Hector, MG has provided a driver who would be trained in practising social distancing, and these vehicles will be sent to the dealerships, from where they would be assigned to the different frontline personnel.
This allows the frontline personnel to be transported safely and comfortably, and I hope other automakers are inspired by MG and take similar steps. In the United Kingdom, MG has contributed 100 ZS EV's to the National Health Services, and I am indeed very impressed and at the same time thankful towards MG for doing their bit.
While MG has helped on a humanitarian ground, MG has also stayed true to aspiring customers, as the Hector Plus and Gloster which were initially claimed to release by mid-June and Diwali season, will continue to maintain those launch dates. MG has really done it all, and kudos to them for performing so very well in these different spheres.