Auto Business
Electric
News
2021 BMW 5 Series officially teased! – Launch in 2 weeks
A few images of the upcoming 5 Series had been leaked 2 weeks back, and now it has been confirmed that a new 5 Series is coming in 2 weeks.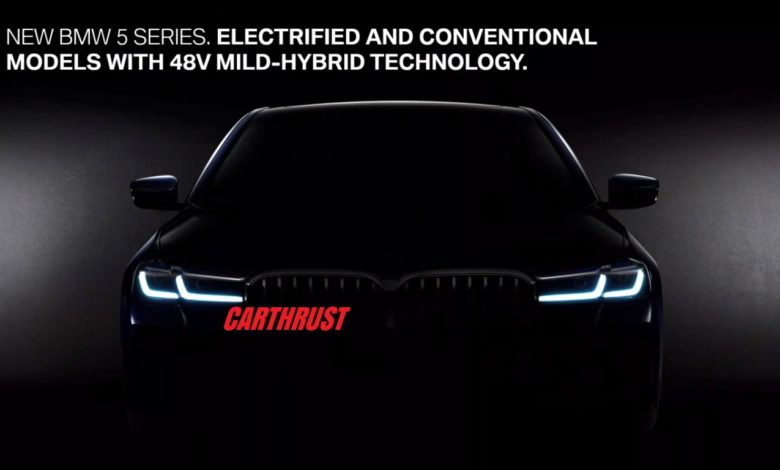 During the latest Annual General meeting held by the Bavarian Motors Works (aka BMW), the eventual launch of the refreshed 5 Series has been made official. The times are currently gloomy, movie halls are closed, not much new content is available on streaming apps, and in times like these, watching this video of a BMW official, talking about car launches brought me happiness.
Recently, we had access to a few leaked photos of the new 5 Series (The 2021 BMW 5-Series facelift has been leaked), these images were not official images although, they were pretty accurate. Now though, it seems that the leaked images were legitimate as the pictures seem to match. BMW has officially teased the 5er by displaying the vehicle with its DRLs, while the rest of the body appeared to be blacked out. A very faint metallic blue shade of the car could be seen, making it quite similar to that of 5 Series which had been seen in the leaked images.
BMW announced that in 2 weeks, they would be debuting the new 5er, in its sedan and touring versions, both of which would be powered by a 48V mild-hybrid technology. BMW hopes to introduce this type of power train as an option, for most their entire range of vehicles. And why would they not, BMW quiet speedily is heading towards moving from the ICE (internal combustion engine) powered vehicles to hybrids and EVs. A great feature of this 48V mild-hybrid engine is that it saves about 9 gms of CO2 per kilometer driven.
The leaked images, then this teaser image seems to suggest that the different power train offered with the new 5 Series would include a hybrid variant and an EV as well. This not something which is entirely new, as we saw the same technology being sported in last year's 5 Series as well. A 545e plug-in hybrid is also believed to be included in the 5 Series lineup, and expect this variant to be blistering fast, as it is being rumoured that this vehicle will be powered by a V6 engine delivering almost 400 ps. This is just speculation at this point, but I would very much like this to become a reality.
Apart from the powertrain, this 5er brings good news for the Android operating system fanbase, and this because BMW has finally integrated Android Auto with the vehicle's infotainment system. Apart from this technological upgrade, the new 5 Series owners will have an option to choose the 'M Sports Brakes' with red calipers, and this is something which the 5 Series is being equipped with for the first time. Beyond their utility, there is just something about colored calipers which just boosts the overall sportiness of a car.
Thanks to BMWBLOG, we have come to know that the 2021 5 Series will be available in 3 colours, Aventurin Red Metallic, Phytonic Blue Metallic and Bernina Grey Metallic. Even though I have not seen it, the simple idea of a 5 Series in the red shade with red calipers and a V6 engine makes me the chills (in a good way). Apparently, an M5 CS has been spotted, and once launched, expect this to be the range topping variant with the strongest numbers, and the most advanced features as well.