Auto Business
Connected Car
Electric
Drool alert! The 7th gen 2021 BMW 5-series debuts as the sexiest sedan EVER
This new 5-series has been updated to the 7th Generation of BMW's 5 Series Sedan and it now comes with a new 48V mild hybrid system for the 540i xDrive.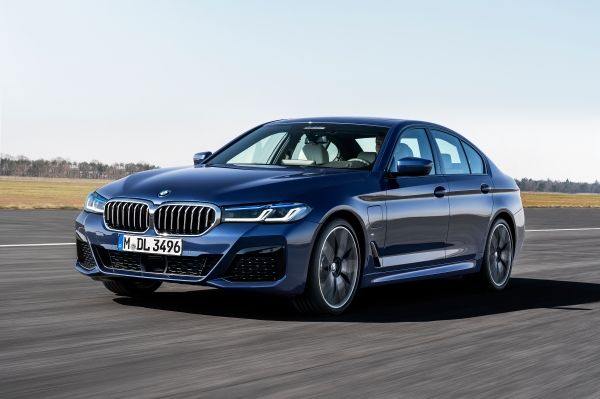 Whenever we talk about luxury sedans, it has been fairly obvious that BMW has seldom nailed it with their offerings. When BMW's interiors were critiqued for their blandness, they were also greeted with praise for their unfathomable and impeccable quality. The level of fit and finish of a BMW has ALWAYS passed any other German automaker's and also, Lexus. I might get a lot of boos for this but, that is how I feel.
Ever since BMW teased the 2021 5-series and we caught some leaked photos of the car, we were desperate to see it fully because it looked like BMW had finally perfected the 5-series. And now when it is here, I can assure you all, they have. Oh! they so have. Welcome the 2021 BMW 5-series.
But, before all that, if you have rich parents and are planning to ask them to buy it, it comes fit with a drive record feature that records how you drove from ALL camera angles and can be reviewed later. So, good luck!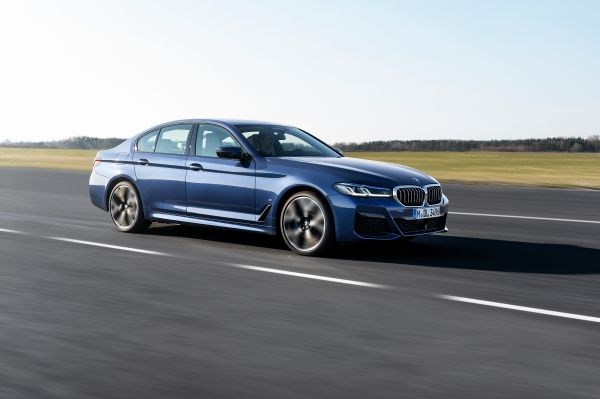 Exterior
As you can see, the shape and overall design is still very BMW and even similar to the older generation car, I think it is now much sleeker and more in line with the new BMW design. This new 5-series resembles the 3-series but in no way is it hard to differentiate. This one just screams CLASS. The side lines, that stroke on the rear haunches running all the way from the front, the tapered end blending in the boot and of course, those new set of lights. While I loved the older car, the lights weren't exactly my favorite. In fact, its lights were the only eyesore and now, BMW has made them as the center of attraction. I mean apart from the grille which is surprisingly sleek. Although, the front end from this side view does resemble a Jag. Or is it just me?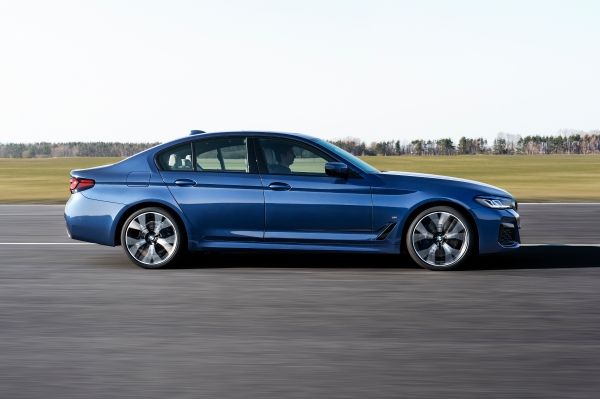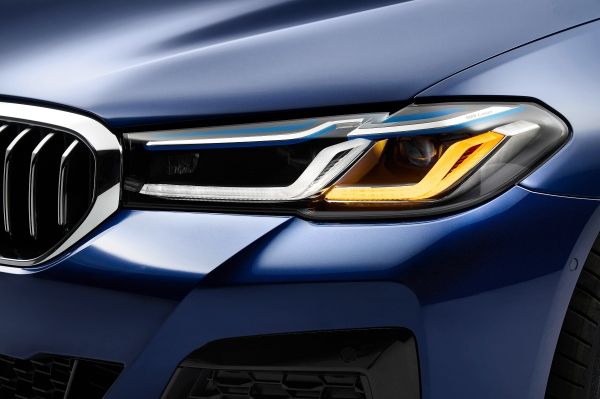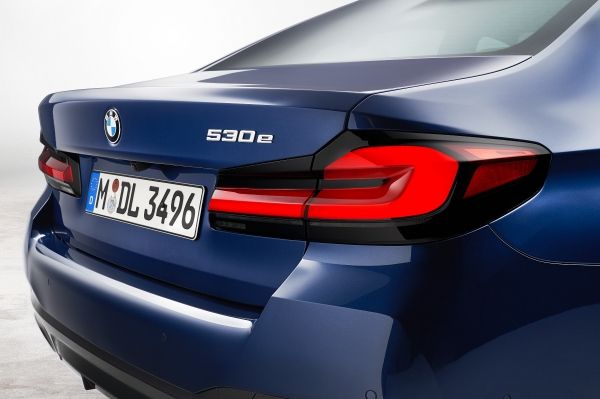 Talking about the grille well, BMW finally found the perfect size for it. It is neither inspired from their Rolls-Royce division nor is it a MINI grille (Pun intended). It is a pure BMW kidney grille with chrome vertical slats that shine beautifully in these launch photos. While most exterior and interior dimensions remain unchanged, the length grows by 30 mm to offer a more sweeping profile. The aerodynamics of the new 5 Series Sedans benefit from the carefully drawn lines, with the 530i xDrive Sedan achieving a Cx as low as 0.27. The M Sport Package benefits from redesigned front and rear bumpers, larger front air intakes with mesh inserts and a re-sculptured rear diffuser panel.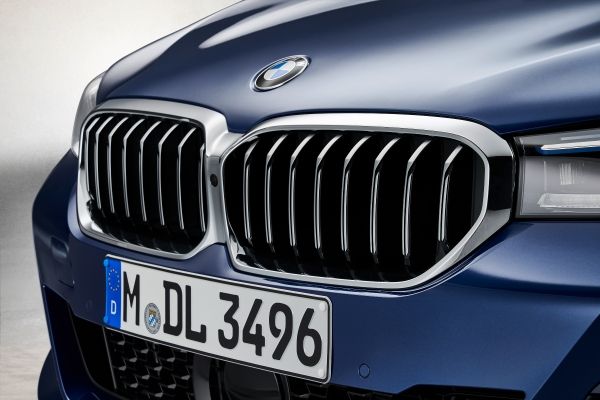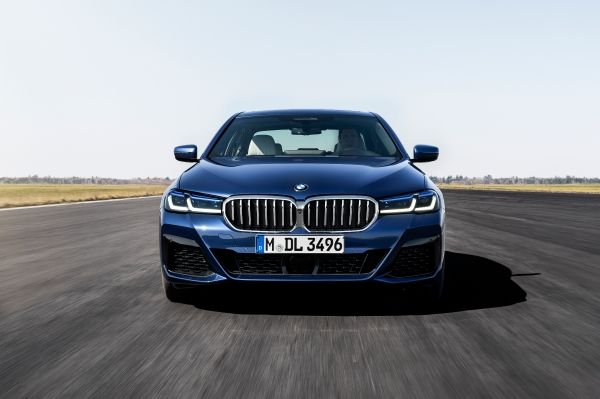 The M550i xDrive Sedan includes the new Aerodynamic kit from the M Sport Package and adds to some functionality but more of an appearance with the addition of a rear trunk lid spoiler and with a Cerium Grey finish to the side mirror caps. This finish is also in the BMW Kidney Grille, inlays in the front air intakes, Air Breathers & grille surround and model lettering. The dual trapezoidal exhaust finishers are black chrome while window surrounds are in high-gloss black. And OMG those rims. BMW FINALLY gave better alloys than even Audi.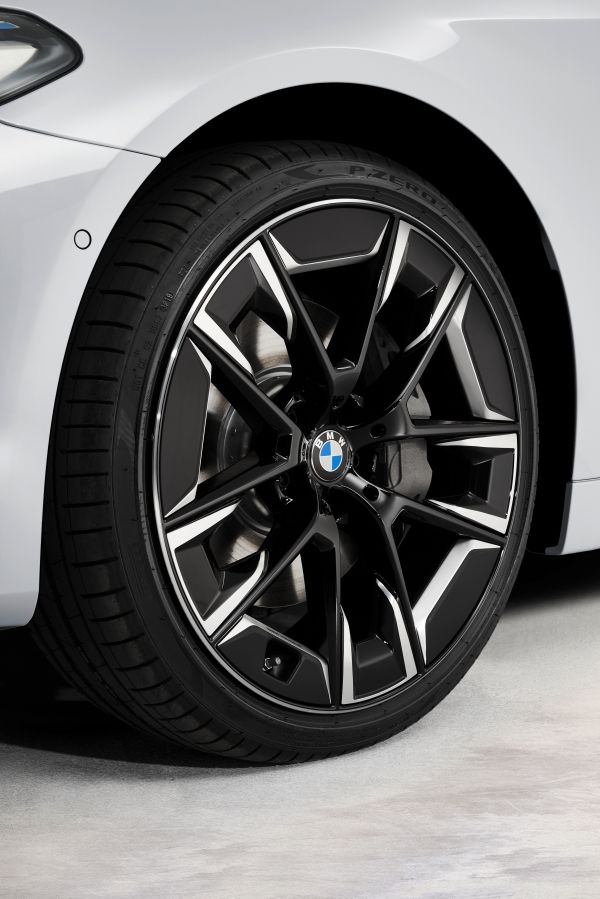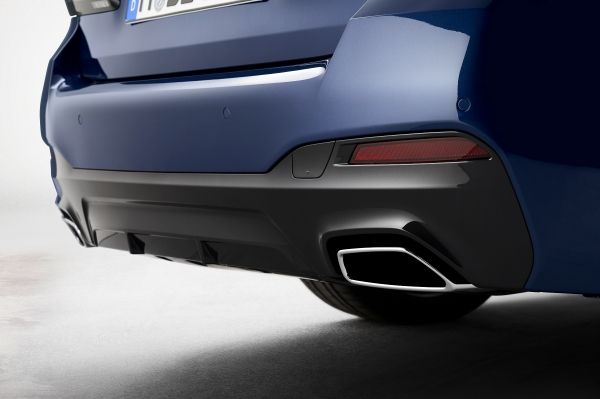 Alas there is one thing that is an eyesore to me, BMW's launch color. The blue is just too dull for me. I didn't even intend to post the pictures of the blue one. Anyway, they showed it off in white as well which is gorgeous so feast your eyes.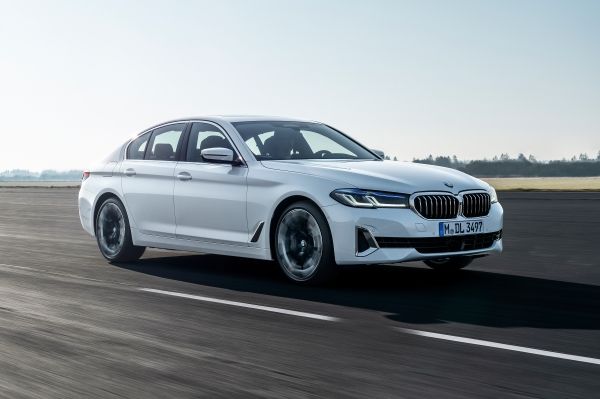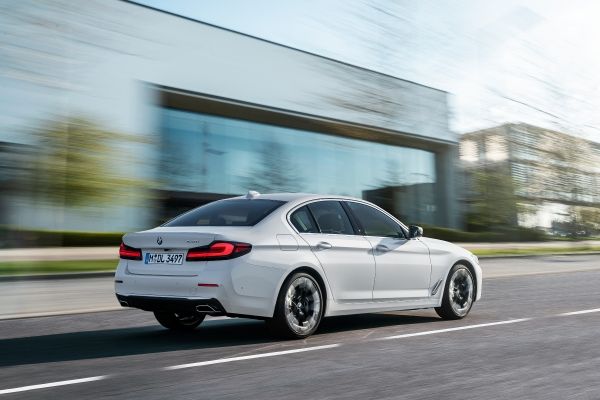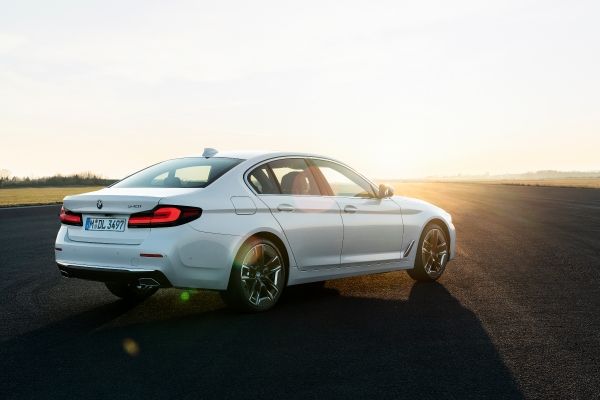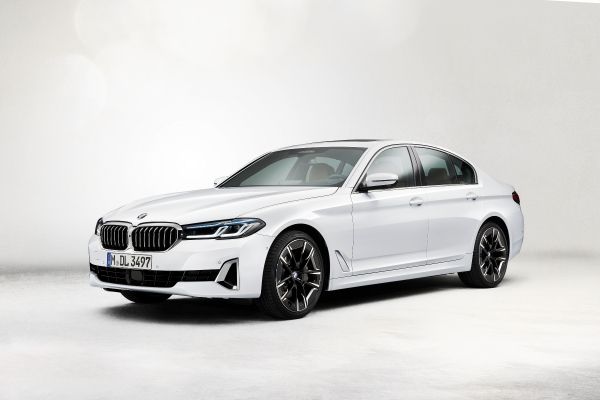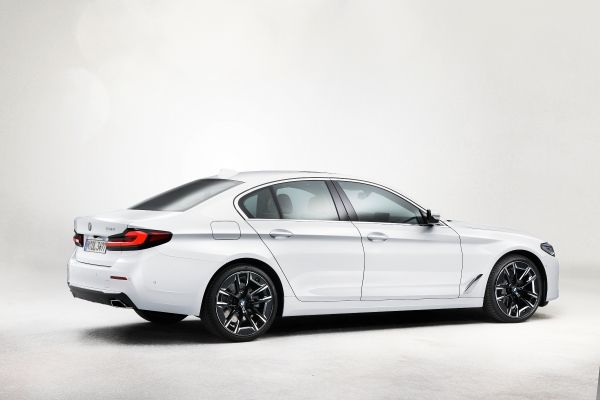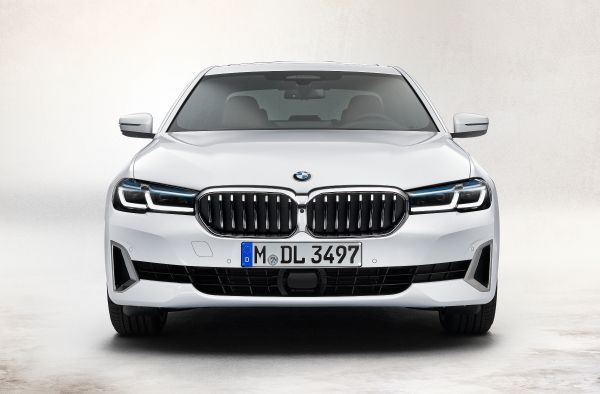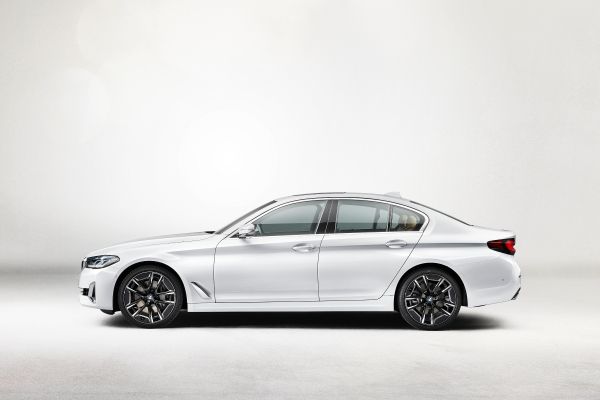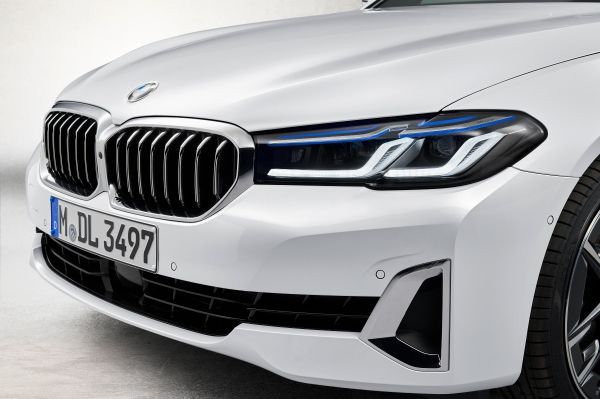 Interiors
As per BMW, the interior of the 2021 5 Series Sedan is highlighted by the standard Live Cockpit Professional with iDrive 7, a 12.3" digital instrument display and a 12.3" digital central touchscreen control display (up from previous 10.25"). What they mean is this one has all the updated software and screen ware that you'd expect from a newer BMW much like the 8-series or the 7-series. The good thing is that this appears to be a toned down version of the 7-series rather than an upgraded 3-series both in terms of quality and finish.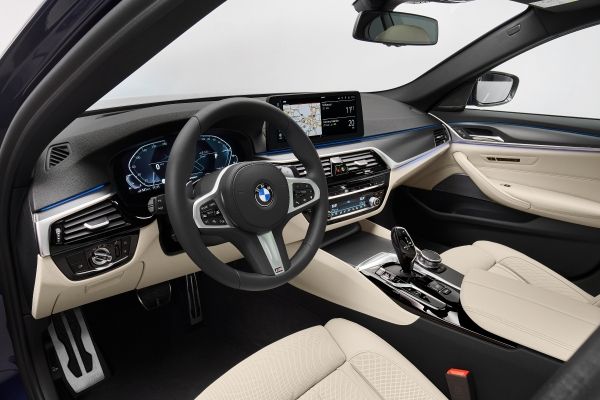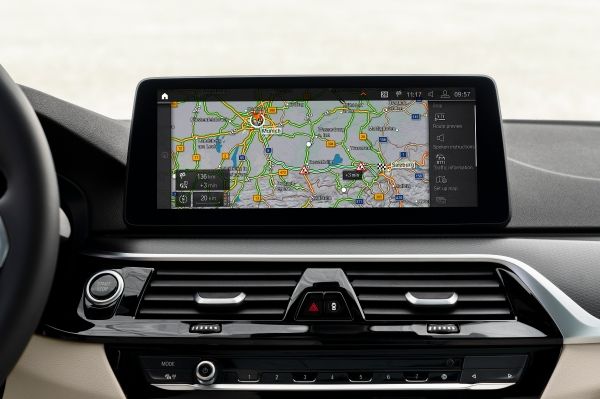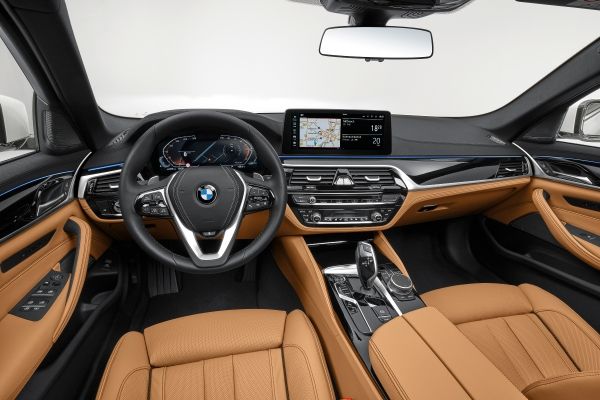 Standard Navigation, Apple CarPlay Compatibility and Android Auto Compatibility are included. The buttons on the center console are now finished in a high-gloss black. Dakota Leather is standard on all 5 Series models, as is the SensaTec Dashboard. Nappa Leather is an option on all models. All models feature standard Sport seats and a 40:20:40 split folding rear seat.
48V Hybrid system
BMW says that a new mild hybrid system with a 48V starter-generator offers enhanced performance, better fuel economy and improved driving comfort in the six-cylinder BMW 5 Series. A powerful 48V starter-generator and a second battery can actually increase the ways in which Brake Energy Regeneration can be utilized. When the driver releases the accelerator pedal, the generator transforms that kinetic energy into electricity to be stored inside the 48V battery.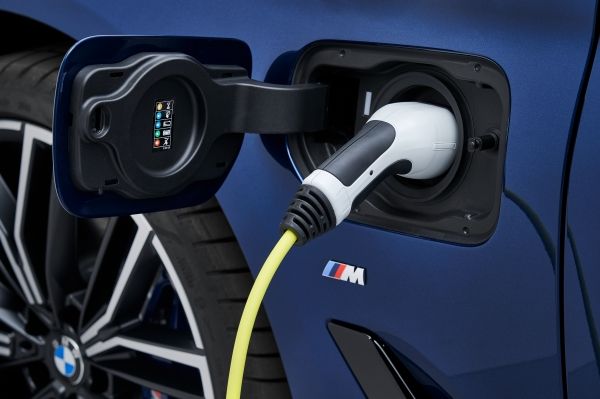 Energy recuperation benefits more when the it is set to SPORT mode. The additional deceleration generated over and above the normal engine braking effect is also harnessed when the brake discs are stopping the car. A specially designed braking system found in previous BMW plug-in-hybrid models enables the combination of electrical and mechanical deceleration to be deployed as required and with maximum efficiency at all times.
The recuperated energy accumulating in the 48V battery is supplied to the 12V electrical system and powers the lights, steering, power windows, ventilation, audio system and seat heating. In addition, the stored energy can be used to provide additional drive power when it is fed back to the 48V starter-generator.
The starter-generator then acts likes an electric drive unit that assists the engine, allowing it to operate within a more efficient range as frequently as possible and ensuring there are fewer peaks in fuel consumption. When the car is accelerating, the 48V starter-generator is able to offer the driver an electric boost effect that can instantly put an extra 11 hp on tap for more dynamic power delivery. The result is a sharper response off the line and quicker bursts of speed when accelerating.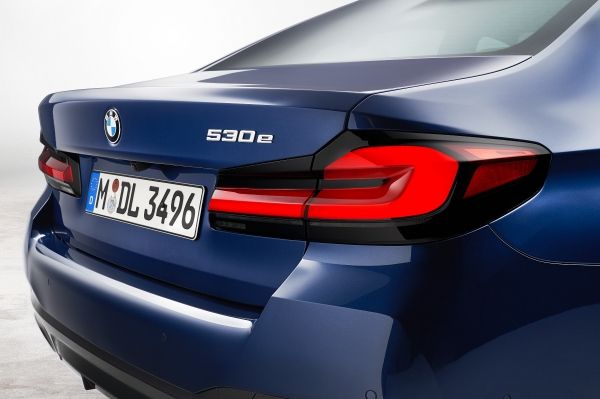 A special feature of the mild hybrid system is the ability to charge the 48V battery from the generator while driving at a constant speed. This method of generating electricity by raising the engine's load point is only employed when the battery charge is low and during phases when it does not have a detrimental effect on engine efficiency.
The German engineering
The 2021 BMW 530e xDrive Sedans receive enhanced performance from the latest generation of eDrive technology. A 180 hp 2.0-liter gasoline engine is complemented by a 111 hp electric drive unit, integrated into the 8-speed Steptronic transmission.
When the Driving Control switch and transmission are set to SPORT, a new XtraBoost feature offers an additional 40 hp for up to 10 seconds when the throttle is depressed to the kickdown position. The combined power and torque of the new 530e xDrive Sedans is 288 hp and 310 ft-lbs of torque, an increase of 40 hp over previous 530e models. A high-voltage 34 Ah / 12 kWh gross (9.09 kWh net) lithium-ion battery module provides the storage capacity for electric-only and performance oriented driving.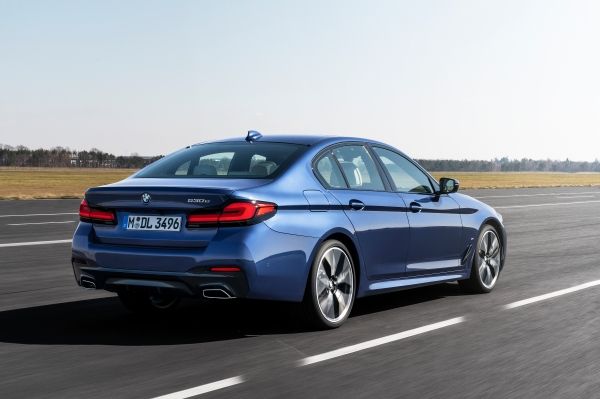 The 530e xDrive Sedan also features Acoustic Protection for Pedestrians, which uses an exterior speaker system to generate an unmistakable sound created specifically for electrified BMWs operating in electric-only mode at speeds up to 30 km/h. That is so cool! With the addition of XtraBoost functionality, the 530e xDrive Sedan can accelerate from 0 to 100 km/h in 5.8 seconds and reach a top speed of 210 km/h when equipped with all-season tires and 235 km/h when equipped with performance tires.
But, I know what every enthusiast is interested in, the M models. The BMW 540i xDrive Sedan is powered by a 3.0-liter six-cylinder TwinPower Turbo engine producing 335 hp and 332 ft-lbs. of torque. This iconic inline-six engine variant allows the 540i xDrive Sedan to sprint from 0 to 100 km/h in 4.7 seconds and reach a top speed of 210 km/h when equipped with all-season tires and 250 km/h when equipped with performance tires.
The 4.4-liter V8 TwinPower Turbo engine in the M550i xDrive Sedan produces 523 hp and 553 ft-lbs. of torque propelling the sedan from 0 to 100 km/h in a scant 3.8 seconds and allows it to reach a top speed of 210 km/h when equipped with all-season tires and 250 km/h when equipped with performance tires.
BMW has equipped these machines with an equally capable 8-speed steptronic transmission. The latest version of BMW's quick-shifting automatic transmission features a new, optimized hydraulic control system for improved response and efficiency.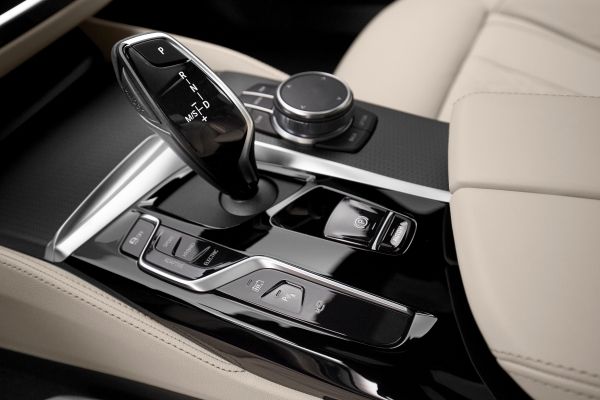 Apart from all this, the car has a load of autonomous driving and intelligent technology some of which I am not even qualified to talk about. But, it is safe to say that BMW has enough gadgetry packed into this car that you won't need to do much when you are cocooned inside the strong and safe chassis of this car. The suspension is also the proven double-wishbone front and five-link rear suspensions to deliver the best combination of excellent handling and long distance comfort.
Lightweight and carefully tuned suspension components and bushings work in unison to prevent road irregularities from disrupting the steering and isolating the body while providing the agility expected of the BMW 5 Series sports sedan. I mean BMW own Rolls-Royce so it is impossible to believe they do not share info within themselves. Rolls used BMW 7-series chassis. Point being that you must not doubt the ride quality of a car produced by the parent company of Rolls Royce.
Features
It will be a shame if I start talking about it's features so I will just post whatever details BMW sent regarding their superior tech that my puny mind can't properly convey.
All 2021 BMW 5 Series Sedans come equipped with standard Assist features designed to deliver peace of mind and improved driving comfort. Included systems are Lane Departure Warning with steering correction – to keep you in the lane, Frontal collision and pedestrian warning with braking function – which allows for reaction to vehicles, stationary objects, cyclists and pedestrians, Blind Spot Detection, Rear Cross Traffic Alert – which warns of possible crossing traffic when backing up, Rear Collision Preparation, Automatic High Beams and Speed limit information.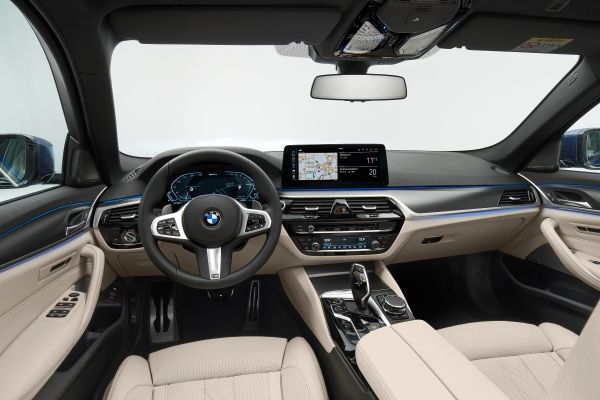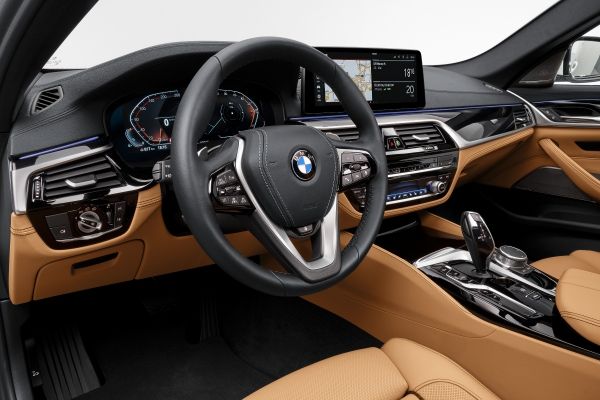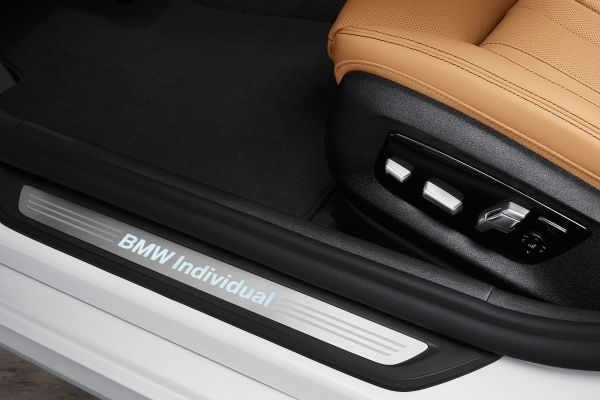 Optional on the new 5 Series is the Driving Assistant Professional which adds Active Cruise Control with Stop & Go, Extended Traffic Jam Assist for limited access highways – a Level 2 autonomous assist system which helps to reduce fatigue in stop and go freeway traffic by allowing for extended hands free vehicle operation, Lane Keeping Assistant with side collision avoidance, Evasion Aid, Front Cross-Traffic Alert, and Emergency Stop Assistant – which can help guide your BMW to the shoulder and bring it to a halt in a medical emergency situation.
As part of the standard Live Cockpit Professional, the Navigation system is enhanced with 3D visualizations of the surrounding area, depicting all of the cars, trucks and motorcycles registered by the cameras and sensors in the driver's current lane as well as those in any adjacent lanes. They are shown in the central section of the instrument display. Vehicles within a critical distance are highlighted. Graphics indicate maneuvers which can be carried out with the help of the assistance systems. This ensures the driver has an overview of the situation and relevant courses of action at all times. If route guidance is activated, the screen also shows a panel with navigation instructions above the 3D view.
The Navigation has also been improved with a new digital cloud-based feature called BMW Maps. The benefits are faster route calculations and dynamic recalculation based on precise real-time traffic data. The optional Parking Assistant Plus includes a panorama view and 3D surround camera views to assist with parking. The system helps identify suitable parallel and perpendicular parking spots and can guide your 5 Series into and out of your selected spot. The included Back-Up Assistant records the last 50 metres driven at speeds below 35 km/h and can automatically reverse your 5 Series along the exact path take to help navigate narrow or winding driveways for example.
The Remote 3D View function gives drivers the ability to call up a three-dimensional live image of their parked vehicle and its immediate vicinity on their smartphone. The Drive Recorder, a new feature to the BMW 5 Series, uses the cameras of the various driver assistance systems to record video footage from different points around the vehicle, before storing the recordings so they can be either watched later on the Control Display when the car is stationary or exported via the USB port.