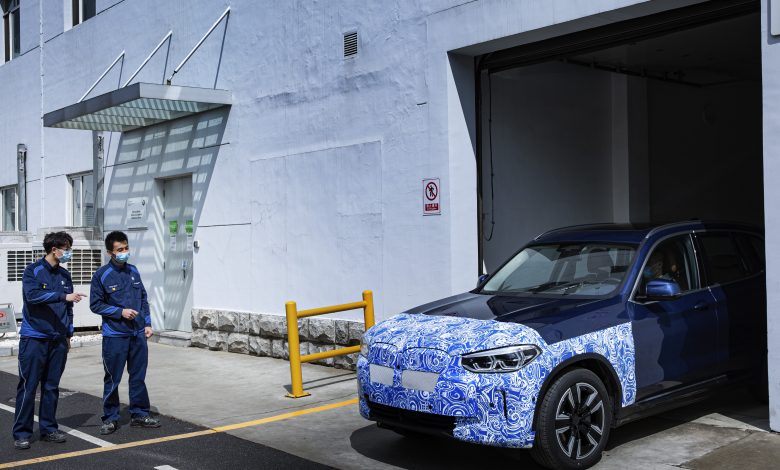 The first few official images of the pre-production iX3 are out, and it does not look very different from the regular X3, but then again, this is not news. It is not the first time that we have seen the iX3 in all its skin, in fact a while back, thanks to a leak, we pretty much had an idea of what the electric X3 was going to look like. However, with these pre-production images, one thing is for sure, the production of the BMW iX3 is still on schedule, and despite the Coronavirus pandemic, the production of the iX3 will soon begin in China. Furthermore, by late summer, production of the iX3 will be initiated at BMW's BBA Brilliance Automotive Joint Venture.
The homologation and testing procedures of the iX3 have already been completed which goes on to suggest that the iX3 is almost ready to be sold. The results of the homologation tests have been sent to the different markets, and once the approval has been received, the sales can also begin. Arno Keller, head of development for the BMW iX3 said "This is the first time we have completed the entire homologation process for a fully electric model in China and Europe at the same time. The staff on our testing team mastered this unique challenge with tremendous dedication and efficiency."
340 hours of testing and more than 7.7K kilometers of test drives have been conducted, and this was completed in almost 24 days. Recently, the 200th pre-production version of the iX3 was also sent for testing. This speaks volumes of the efforts that have been put into making sure that the production schedule pattern of the iX3 is not hampered. The BBA plant director, Robert Küssel said "We are right on schedule with our BMW iX3 pre-production vehicles and will launch standard production in late summer, using state-of-the-art technologies such as custom installation of the new high-voltage battery and artificial intelligence for monitoring parts." Impressively, the production line on which the BMW iX3 is being built, is also being used to manufacture the ICE based X3, talk about being efficient.
It has been rumoured that the BMW iX3 will be using 74 kWh battery which in theory would be able to provide for a range of 440 kilometers. The electric suv will also be able to deliver a total power output of 286 ps, making it quite powerful. Despite this power, it is still a green vehicle, isn't this the perfect combination?
BMW hopes to begin deliveries for the iX3 by the end of this year, but for citizens based in the US, I bring bad news, this electric suv will not be launched in your country. Once released, the BMW iX3 will be taking on the Jaguar I-Pace and Mercedes Benz EQC.