Auto Business
News
Prepare yourself for the savvy new MG Hector Plus
MG Motor India launches the all new MG hector plus. I wondered if 'Plus' refers to all their additional features. But, it means additional seating.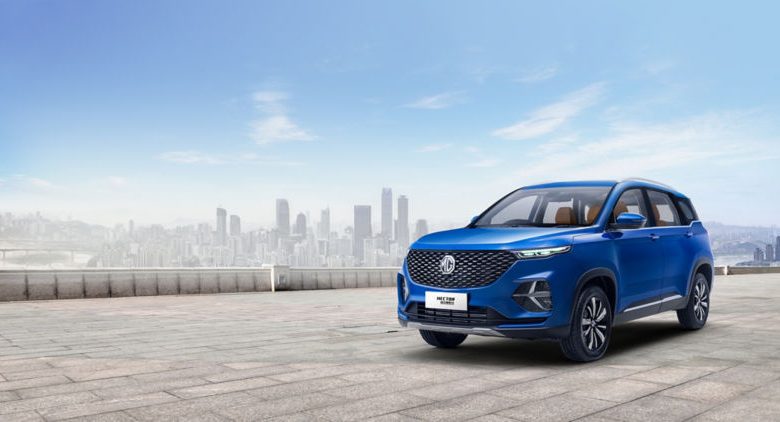 Earlier today, MG Motor India had their official launch of the MG Hector Plus. Morris Garages introduced 'India's first internet SUV' with their initial launch of the MG Hector, which performed remarkably well and made a successful debut here. Today, the company takes a step forward with their launch of the MG Hector Plus. The launch was streamed live on their Youtube channel.
The presentation had an introduction by Rajeev Chaba, the President and Managing Director of MG Motor India. It was then taken over by Gaurav Gupta, Chief Commercial Officer of MG Motor India to showcase the MG Hector Plus in all its glory.
A breakdown of the essentials:
Appearance
The MG Hector Plus tweaks some elements from its predecessor. The minor upgrades include a new front grille,bumpers(front and rear) and of course, the MG badge. The SUV also features improved DRLs, headlamps, foglamps and a floating indicator.
The interior is adorned by 'Smoked Sepia brown' leather seats.
Tech
Some key features stand out among the rest, though ironically, the car has a smart 'keyless-entry'. The first is the 'Smart Swipe' feature. This enables the driver/passenger to unlock the boot of the car with a single foot swipe. That ought to come in handy for those days you have your hands full. Irony followed by more irony, huh. The second is a fun new feature called 'Chit-Chat'. The Chit-Chat feature is a smart program with almost human-like wit. Think of it as the automotive cousin of 'Siri'.
Safety, safety, safety!
The MG Hector Plus hosts a vast array of safety features designed with the customer in mind. This includes thicker door panels, 6 airbags, ABS, hill-hold control and 360° camera view. Not to forget the Traction Control System(TCS) and Electronic Stability Program. This list compiles almost 25+ standard safety features including these mentioned.
Specs
BSVI 1.5L Turbo charged petrol engine: Power- 143ps, Torque- 250nm.
BSVI 2L Turbo charged diesel engine: Power- 170ps, Torque- 350nm.
Prices( in Lacs)
The SUV comes in 4 variants and each variant has its own base price. These are introductory prices and are subject to change after the 13th of August.
Diesel:
Style- 14.44
Super- 15.65
Smart- 17.15
Sharp- 18.54
Petrol:
Style- 13.49
Smart DCT- 16.65
Sharp hybrid- 17.29
Sharp DCT- 18.21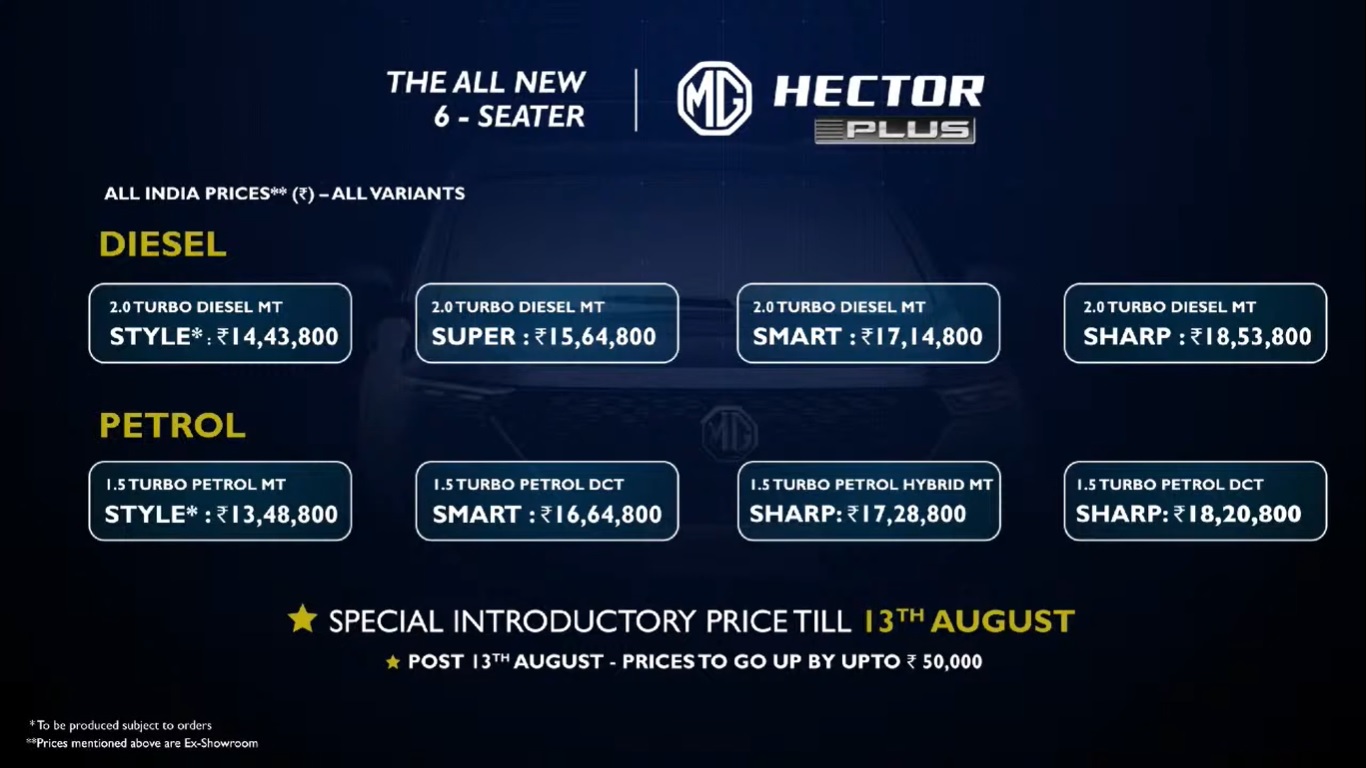 The main focus of MG was to create a car that uses innovative tech and optimizes space. This 6-seater SUV is extremely family-friendly. Complete with new exteriors, luxury interiors, safety features, 55+ internet connectivity features and captain seats in the second row as well, the MG Hector Plus is all set to cruise through the markets. Although, with the ongoing boycott China movement in the country, automakers like Tata have really gained a lot of much needed momentum. Will it be able to perform and beat the likes of the Seltos, Creta and Harrier and thus, mark its own territory before the launch of Gravitas and Creta 7-seater? Only time will tell.