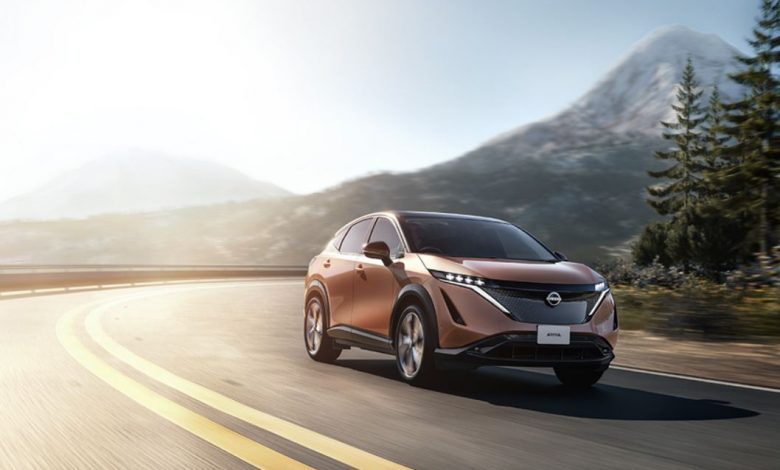 Following up to last year's glimpses and teasers, the Nissan Ariya is officially revealed. The 2WD model comes with a 300-mile range, just a few miles short of its Tesla competitor, the AWD  Model Y. The designers have gone lengths to make this car stand out with a look of futuristic and cutting-edge appeal. This includes the Nissan logo on the new grille that lights up using LEDs and sleek, angular lines that pull the whole look together. The SUV is expected to go on sale later in 2021.
Engine and performance
The Ariya offers both front-wheel drive as well as a new AWD. The new AWD is achieved through a twin electric motor setup which uses the torque-split system as seen in the GTR sports car (dubbed by Nissan as the 'e-4ORCE' system). There will be two battery sizes available- a 63 Kwh battery and a 87 Kwh alternative. The expected range for the 2WD is predicted to be 300-miles. The entry level is supposed to output approx. 214 horsepower and 221 lb.-ft of torque and the more powerful model should be able to produce 388 horsepower and 443 lb.-ft of torque.
Safety features
The EV will feature the new ProPilot assist 2.0 (semi autonomous driving), an updated version of the previous one, which will keep the car at a suitable distance from others ahead, stay lane-centered and even allow the driver to take their hands off the steering under specific circumstances. Other features include lane-keeping assist and automated emergency braking with pedestrian detection.
Interior and Connectivity
Nissan has drastically reduced the visible buttons on the dash and opted for a sleek design to get a futuristic look and feel. Not to mention a spacious cabin complete with zero gravity seats.
When it comes to tech, they offer dual 12.3 inch displays that work as both the gauge and the infotainment screen. The connectivity options include the standard Apple CarPlay and Android Auto.
This will be Nissan's first major launch after last year's executive turnover and the drama that followed with the exit of previous boss, Carlos Ghosn. Also coupled with a worldwide drop in sales due to the epidemic, this will be a steping stone that hopefully leads them into a new era. The Ariya will be in the ring with tough competitors like the Model Y (and Model X) and also upcoming releases like the Audi e-tron and the BMW iX3.