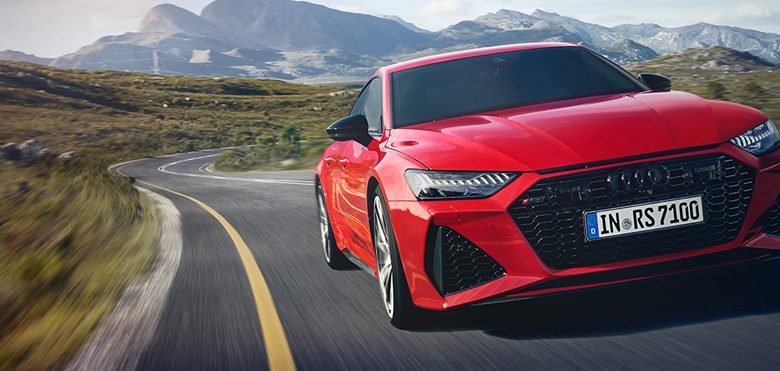 The market for hot sleeper sedans has always been there. There has always been an enthusiastic business class which wants to smoke people off the traffic lights and also have enough space and comfort for their 9-year-olds. Most of the luxury brands understand this and have a separate division which takes a standard car, juices it up with power, and boom, you have all the practicality and all the fun in one car.
Mercedes with their AMG division and BMW with their M division has always dominated this segment with masterpieces like the C63 AMG Black and the E46 M3. Audi has always tried to catch up and in the process, has also produced some great cars like the RS3 wagon and the S8. But it wasn't at the level of the Mercs and BMWs, until now. They have their latest weapon ready. Is it time for redemption?
Presenting the all-new second-gen Audi RS7 Sportback and from what it looks, Audi has totally hit the right notes.It is almost identical to the A7 which is also a very beautiful and sporty car but what Audi has done with it, is made it look much more aggressive, like a speed demon.
It has a blacked-out single-frame grille with an RS-specific honeycomb finish, a redesigned bumper with larger air intakes and Matrix adaptive LED headlights. It sits lower than the standard A7, and has wider front and rear tracks, too. Wheel choices for the RS7 Sportback include standard 21-inch alloys, with 22-inch wheels available as an option. At the back, the LED tail-lights are linked by an LED light bar; there's an electronically-operated spoiler that pops up at speeds over 100kph, and a new rear bumper that incorporates oval tailpipes – a signature RS touch.
On the inside, it has all the bells and whistles of the modern luxury sedan with a slight hint of sportiness evident by the steering wheel and paddle shifters.
But most importantly, what is the situation under the hood? It has a 4.0-litre twin-turbo V8 paired with a mild 48-volt hybrid system producing peak power @600 BHP and torque @800Nm which is 50 more than the previous version. it is mated to an eight-speed automatic gearbox along with the renowned Audi all-wheel-drive system 'Quattro' which is capable of shooting it to the 100 km mark in a breathtaking 3.6 seconds. The top speed is electronically limited to 250 kph. If you have a gigantic set of testicles then go for the Dynamic Package which shoots it up to 280 kph and if you are really a daredevil and want to go all out, the Dynamic Package Plus package has a top speed of 305 kph.
At ₹1.94 crores the only competitors it has is the E63 S AMG and the M5, both shooting up 600+ BHP. Would Audi steal the show or remain the underdog? We'll see when the bookings start in August this year.