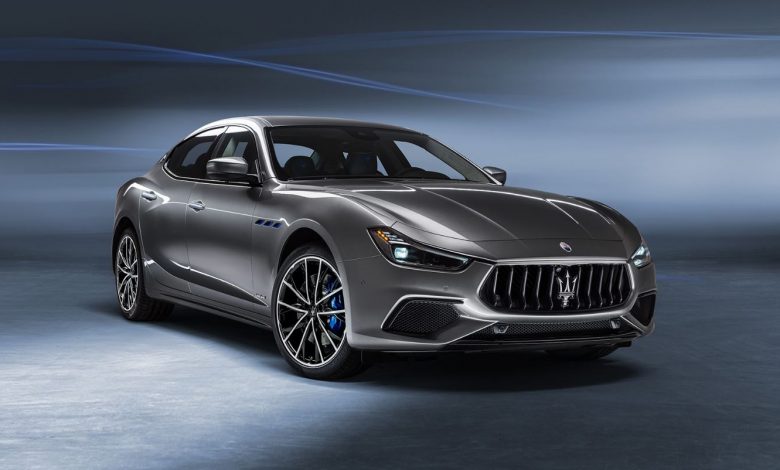 The new Maserati Ghibli is truly a glorious sight, though it may look familiar as it is an updated version, not a second gen. Maserati follows the global switch to electric with this new release, the first step in their Eco-friendly campaign. The Ghibli will be a 'performance charged' machine, using a hybrid powertrain. With a thundering roar and an electrifying design, it will be able to take you on casual cruises as well as heart-thumping bursts of speed.
The heart of the machine
The base petrol model utilizes a 2979 cc V6 that has a power output of 350hp. The top speed of this version is 267 Km/h. The most notable is the hybrid with a 2.0-litre turbocharged L4, a 48-volt alternator and a battery in the rear. The hybrid outputs 330hp and 450 Nm of torque with a top speed of 255 Km/h. The hybrid also carries a ZF 8-speed automatic transmission. Apart from this, we have the V6 diesel with either 250 hp or 275 hp options. Though it's pretty decent, it's not as eco-friendly as the other. All versions are RWD except for the Ghibli S Q4.
External package
The 2021 Ghibli draws flowing lines along the sides for an updated look. In the front, it hosts redesigned headlamps and a new grille whereupon sits the coveted trident.The rear adapts "boomerang" taillights as seen in the 3200GT. Quad-tip exhauts and mettalic rims outfit the car perfectly.
Interior
Italian handiwork on natural silk adorns all the interior for a luxurious outlining. A 10.1 inch frameless HD screen acts as the infotainment right next to a redesigned, all digital instrument cluster. The connectivity services used, termed as 'Maserati Intelligent Assistant' (MIA) uses a powerful Andriod Automotive OS.
Another key feature that stood out was the Advanced Driver Assistance System – the Traffic Jam Assist.
The Ghibli is only a stepping-stone for Maserati's electric campaign. The fully electric GranTurismo and GrandCabrio are set for late 2021. There's also the exciting release of the 'MC20' yet to be revealed.
The car will have have to perform extremely well in order to beat its more affordable rivals- the likes of Audi A6 and the Mercedes-Benz E-class.