Auto Business
News
The 2021 Audi Q5 sportback caught sweating it out at the Nurburgring
Will sportier looks and a trimmed back be enough to compete with its competitors ?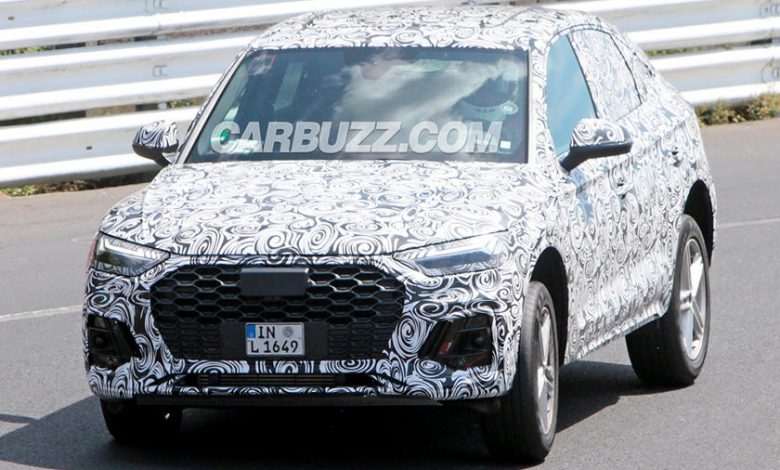 The concept of 'coupe SUV' started with the launch of the BMW X6. It almost ticked all the requirements of an SUV and yet looked stylish and sexy doing that. It was a car for all. From adventure enthusiasts to art lovers, it fitted in almost every subset. Perhaps that's why it was a hit. Fast forward to today and we have Sportback SUV's everywhere. From Mercedes offering us with the GLC and the GLE coupe to BMW pitted their X4 and the X6 against them. But what about the third cousin Audi?
Last month when Audi debated their refreshed Q5 with updated exterior and as well as interior, they announced that a more sportier variant of the car will be launched soon. And this project wont be a long ass one because spies have caught testing a Sportback version of the Q5,though camouflaged at the Nurburing.
In a report published by Carbuzz, spy shots of a camouflaged Audi Q5 Sportback, sweating it out in Nurburgring, have appeared. Though Audi tried hiding it from the world, the design from the updated Q5 gives us a fair idea of what this sports SUV will be like.
For 2021, the Audi Q5's exterior was updated with a slimmer and wider Singleframe grille, larger side air intakes, and redesigned side sills, so these changes will carry over to the Sportback. A sloping roofline will give the Audi Q5 Sportback a sportier appearance than its standard sibling, but this could affect headroom for rear passengers. This isn't the first time Audi has capitalized on the coupe crossover craze, as the German automaker also sells Sportback versions of the e-tron and Q3.
There are no photos of the cabin and interiors but we can expect something on the lines of the Q5. Talking about the heart of this SUV, it will most likely have a
On the technical side, we expect the Audi Q5 Sportback will utilize the regular Q5's 2.0-liter four-cylinder turbo engine producing 261 hp and 273 lb-ft of torque. Audi also sells a plug-in hybrid version of the Q5 pairing a 2.0-liter turbocharged four-cylinder engine with an electric motor to generate a combined 367 hp and 369 lb-ft of torque. Look out for the Audi A5 Sportback later this year.