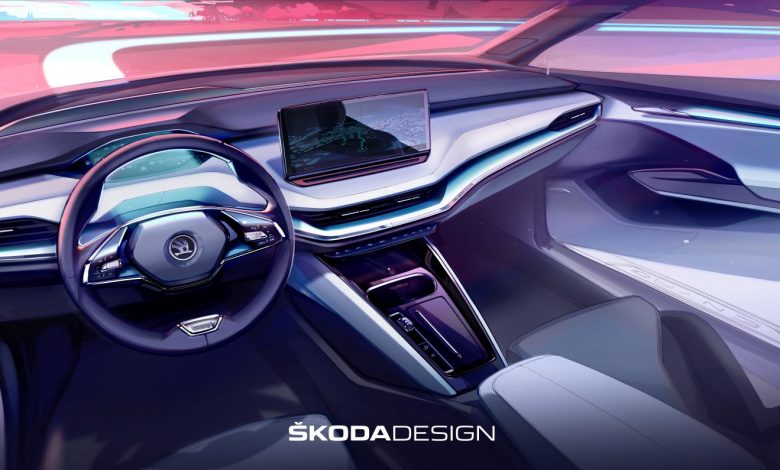 The Skoda ENYAQ iV has been creating some buzz ever since it was teased and people have been wondering what this striking new machine will bring to the show. Following up with their initial teaser featuring a dark silhouette of the car, a new picture of the interior is revealed alongside an interview with the Head of Interior Design at Skoda. And let me tell you, the dashbord is beyond description. I guess a picture really is worth a 1000 words, huh.
First look
The first thing you'll notice about the front cabin is its futuristic appeal. The new design, placements and structure all scream "I'm too cool for you." The steering looks much nimbler and the display has a curved, rounded look. Something like when a phone gets an upgraded model. This multi-level dash and exquisite interior are most likely to match what we'll see in the production model based on the interview that follows.
The interview highlights how Skoda is 'breaking new ground in interior design' in order to reflect modern living. This includes the use of sustainable leather and recycled wool in their cabins for a combination of eco-friendly as well as blended comfort. They have made sure to emphasize on space and luxury, thanks to the MEB platform's extended wheelbase. Oh that's right, the ENYAQ will be the first in Skoda's lineup to use the Volkswagen MEB platform for electric mobility.
The lack of a central tunnel enabled the designers to utilise space efficiently for more room as well as the new dash with multiple levels. Don't forget the ample boot space of 585 litres, which is pretty sufficient for that car. Skoda aims at creating a 'lounge feel' in the ENYAQ iV. They're also willing to offer various themed packages(optional) for the interior to make it more unique and personalized.
When asked to describe the interior of the ENYAQ iV, Head of Interior Design, Norbert Weber said: "Clear, airy, innovative and sustainable. Clear thanks to how easy it is to configure the Design Selections and the theme packages, airy thanks to its roominess and excellent sense of space. Innovative thanks to features such as the 13-inch central screen and the new head-up display, including augmented reality, and sustainable thanks to the use of natural and recycled materials."
The Czech automaker plans to hold the world premiere of the hot new release in Prague on the 1st of September this year. This launch will also be commemorative of the company's 125th anniversary. With a fancy new dash, spacious interiors, upgraded tech and design, the ENYAQ iV is all set to make a grand entry into the market.