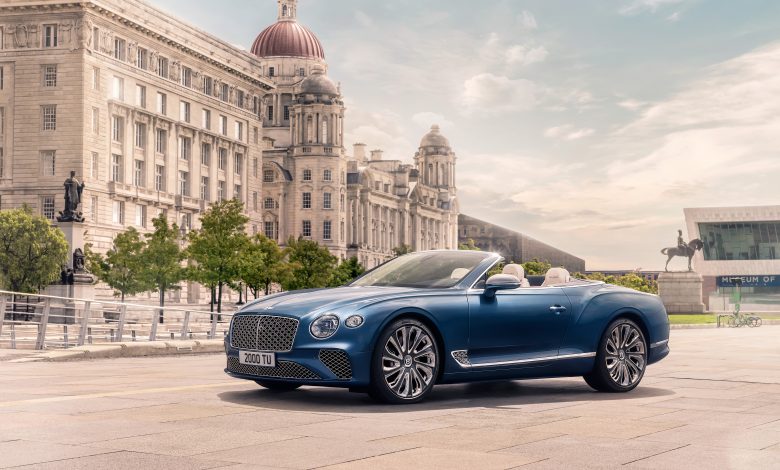 Today, Bentley has announced that the new GT Mulliner Convertible, which they call "The luxury pinnacle of the Continental GT family", is set to make its global debut. The reveal will happen at Cheval Blanc in St Tropez, as part of a European Summer Tour that Bentley is hosting. The Convertible will also be the first member of the new Collections portfolio introduced by Bentley Mulliner. With this hot new release, Bentley plans on setting new standards for luxury open-top Grand Touring. As a side note let me just add, that this car, will make your jaw drop in awe.
A grand tour
Let's start at the core and work our way out, shall we? The Continental GT Mulliner Convertible will be available in 2 epic powertrains:
The first is equipped with Bentley's 6.0-liter, twin-turbocharged W12 engine with a quick sprint rate of 0-100 km/h in 3.8 seconds. It is also capable of a peak speed that touches 333 km/h.
The second is a new-generation 4.0-liter, twin‑turbocharged V8 engine that can dash 0-100 km/h in a decent 4.1 seconds. This one has a top speed of 318 km/h.
The interior holds true to the word 'Grand'. The standard veneer is Grand Black walnut while customers can also opt for others from an extensive range of 88 different piano-finished wood veneers via the Bentley Mulliner Personal Commissioning. An example would be the hand-sanded Burr walnut veneer. And let's not forget, the piano veneers have eye-catching chrome details embedded, which includes a silhouette of the Convertible in the passenger fascia and a B-motif in the door waistrails. You know, just in case you forget what you're driving or who made it.
All 4 seats, door casings, rear quarters and the tonneau cover (for the first time), adorn Bentley's exclusive Diamond-in-Diamond interior quilting design.  The Diamond-in-Diamond interior quilting was tailored with almost 400,000 precision stitches overall. It took them 18 months just to develop the embroidery process alone!  The centre console is touched up with a Diamond Milled Technical finish and sports a Breitling for Mulliner clock with bejewelled hour marks. Talk about well-detailed.
The outside looks just as magnificent.This includes a strong Double Diamond front grille with cut-crystal inspired headlamps on either side. Another component you can't miss are the new 22" 10-spoke wheels with floating, self-levelling wheel badges. This means even as the wheel rotates, the Badges stay upright. The British luxury brand has really gone above and beyond to make this Convertible stand out.
Other little features that the Covertible encompasses are illuminated Mulliner tread plates, LED welcome lamps that project the Bentley wings to the ground from the door mirrors, an optional Naim for Bentley audio system, an LED-display driver's instrument panel,and mood lighting of seven unique themes.
The Continental GT Mulliner Convertible also comes in eight custom-made, 3-color combos for the interior. And to top it all off, customers will receive their keys in a lavish, handcrafted Mulliner presentation box.
This opulent new convertible is going to be a game changer and will raise the standards for grand tourers everywhere. The Mulliner Convertible will be available to order only later this year. When it does hit the markets, it will be a formidable foe to other Grand Tourers like Porsche's Panemera and the Mercedes S-class Coupe.