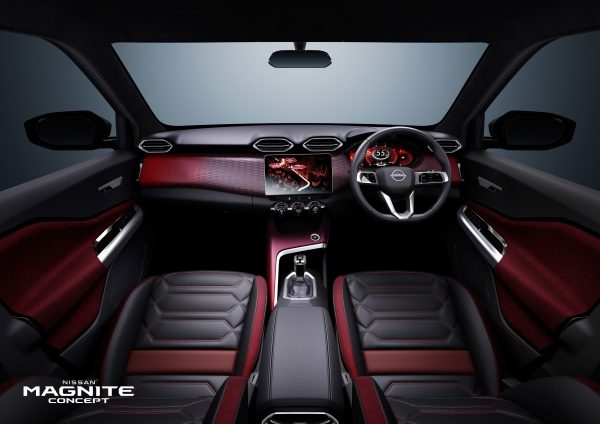 Nissan India unveils a more in-depth look into their Magnite concept SUV. The much anticipated car has been inducing curiosity among customers and enthusiasts alike since its initial reveal and now we get a better look at the interiors. Though this is merely a concept and the production-ready model will be better equipped, the renderings do look promising and surprisingly roomy for a compact.
The main focus happens to be the front cabin,  with contrasting colour schemes and decent leg room. The steering is three spoke and seems a tad bit small, though it should be beneficial while controlling a sub-four-meter car. The seats look ergonomically designed, but I'm not so sure about the curved headrest. The dash features a touch-screen infotainment system, digital instrument cluster and hexagonal AC vents. The rear cabin does not yet show anything significant and seems to have decremented leg room. Hopefully the production spec rectifies these small details as it will effect the driver's and passenger's experience.
The Managing Director of Nissan Motor India, Rakesh Srivastava said: "The Nissan Magnite concept is an evolutionary leap in Nissan's SUV history. The exteriors and the interiors exude modernity, premium-ness, sophistication and roominess. These core elements of design philosophy will be succeeded to the production model which is under development, coupled with superior technology on-board to be a game-changer in its segment."
But I must say, in terms of being sophisticated, the Magnite concept does look the part.
Upon its initial reveal, Nissan did promise that the B-SUV will be 'technology- rich' , so we can look forward to that when further specs are revealed. The Japanese automaker does have a lot of hope riding on this release as they have had troubled times recently in both the Indian and global markets. This new launch, along with the Ariya, will mark their entrance into a brand new era.