Auto Business
Electric
News
2023 Cadillac 'Lyriq' electric SUV revealed
With over the top luxury and impressive range, the Lyriq can become the king of the eSUV segment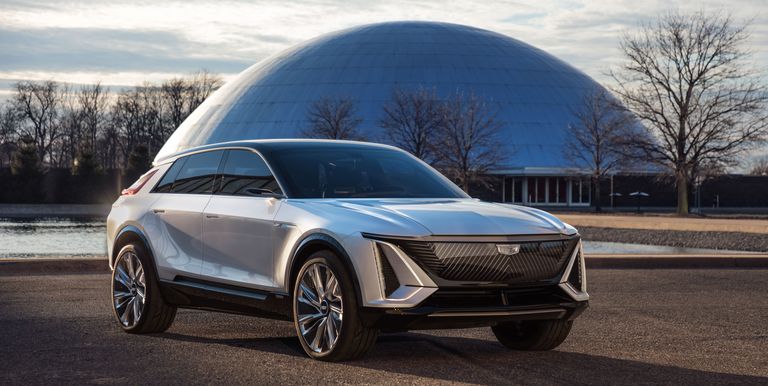 The first word which comes to our mind when we see or read or even hear the brand name 'Cadillac', is 'Luxury'. Since the dawn of the automobile industry, the American automobile giant has given us some of the most luxurious and futuristic cars. From the big ass Eldorado to the even bigger Escalade, Cadillac has had one philosophy clear, the bigger, the flashier, the in your face, the better.
One place where they have been absent is the electric vehicle segment. Until now. Cadillac has now revealed their first-ever electric vehicle, the Lyriq and we have one word to describe it, ABSOLUTELY MAGNIFICENT.
They have once again gone over the top to make a vehicle which doesn't compromise in any aspect and is made to rock the lives of people. It is the first GM car to use the new modular electric platform, powered by the company's Ultium long-range batteries. The Lyriq's 100-kilowatt-hour setup gives it 300 miles of range, level 2 charging rates of up to 19 kilowatts, and DC fast-charging of more than 150 kilowatts.
They have made sure that the Lyriq isn't some lousy old SUV that takes a light year to push through the mark. Cadillac says the Lyriq will come in both a standard rear-wheel-drive configuration and a "performance" all-wheel-drive option. And with the Ultium battery pack positioned low to the ground and a near 50/50 weight balance, the Lyriq should handle decently well, too. The company doesn't say how much power the Lyriq produces just yet but we can be sure that it will be more than enough.
It is quite visually appealing and very futuristic too. The Lyriq wears the brand's new design language, which incorporates a unique "grille" with distinctive lighting elements, multiple vents within the bumper, and very slim, vertical headlights. There's also a pretty interesting lighting element in the rear, with traditional taillights on the upper half of the body and angular LEDs down low. From what we can tell, some of those features – like the headlights and mirrors – aren't production-ready. Cadillac says that the Lyriq pictured here is a prototype that's about 85 per cent finished.
Inside it is filled with luxury and plush interiors with the latest bells and whistles. It has the largest infotainment screen ever.  A 33.0-inch-diagonal LED display sits front and centre, and it's a single, massive screen that extends from behind the steering wheel to the centre of the dash. That massive screen can display over 1 billion colours, and offers readouts for things like battery charging and monitoring, an augmented-reality head-up display, remote parking, and the latest version of Super Cruise.
Talking about the release date, no specific date has been given but 2023 will be its debut year and we are very excited for it to hit the roads and rule everybody's hearts.