Auto Business
Launch
News
Porsche launches the 718 Cayman GT4 Coupe and Spyder in India
With a NA straight 6 engine, power is dialed up to 400+ German horses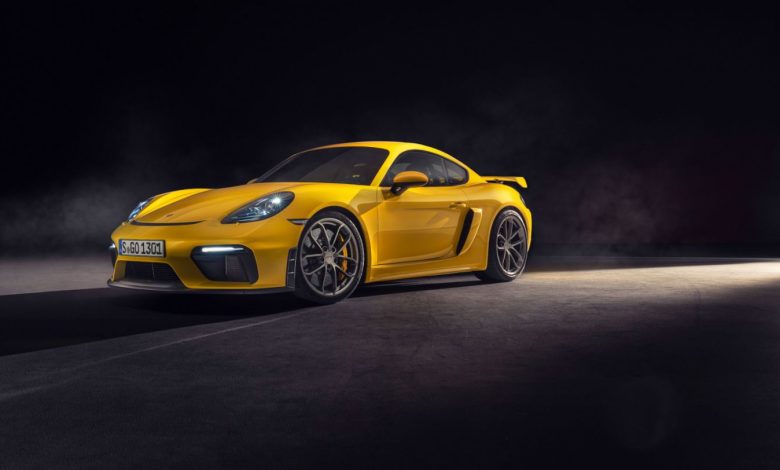 Porsche is arguably the most established performance car manufacturer in India and there are many important reasons to it. A major reason is their high practicality with good ground clearance and overall dimensions to tackle Indian roads.
Continuing on the path of excellence, the German manufacturer has added two new arms to its arsenal in the India line-up viz. the Porche 718 Cayman GT4 coupe worth Rs 1.63 crore and Porsche 718 Cayman GT4 spyder which are the crazy fast versions of their regular Cayman.
So what makes it so special? Well firstly it is a performance-focused version of the regular car so it is pretty raw. Powering these beasts is a 4.0-litre, naturally aspirated, flat-six engine that puts out 420hp and 420Nm of peak torque. Another sign that is an enthusiasts' special is that the gearbox duty is done by a six-speed manual transmission which is honestly a delight to see in a world full of stupid automatics. It makes a sprint from 0-100 in just 4.4 seconds with topping out at 301 kph for the Spyder and 303 kph for the coupe.
And it's not just a bigger engine in the same car, Porsche has made sure that their 'GT' symbol symbolises more. The 718 Cayman GT4 and 718 Spyder both feature the same chassis, worked on by Porsche's GT division, underneath. They also feature race-inspired springs and struts at their front and rear axles, along with Porsche's Active Suspension Management damping system that's 30mm lower than standard variants. It's claimed to be "specifically designed for use on the racetrack".
The Porsche Stability Management (PSM) system is tweaked to be less obtrusive, and an improved torque-vectoring system is also part of the package. Both, again, have the option of ceramic brakes, along with the standard track-focused calliper system. The 718 Spyder also uses the same Porsche-specific Michelin-made high-performance tyres as the GT4.
All these tweaks are worth it as this model is a blistering 10 sec quicker around the Green Hell than the previous model.
The cabin is also stripped out and all the bells and whistles have been thrown out to make it lighter and nimble. You still get an option of getting the infotainment system installed at no extra cost ( so generous of them) but that's it. Even the door opening handles have been replaced with fabric door pulls. That's Ferrari F40 level stuff. Though nothing new is introduced in the interior,you can still see a lot of racy Alcantara all over.
You also have an extra option of the Clubsport package which makes it a pure racetrack car which includes a steel roll bar at the rear of the cabin, a small fire extinguisher and a six-point seatbelt for the driver's side.
It has no direct competition in India and although its a 400 BHP car in under 2 crores, is it worth the money? Why not go for something like the C63 or M3? Well that's just my view, ultimately its all up to what your preferences are.