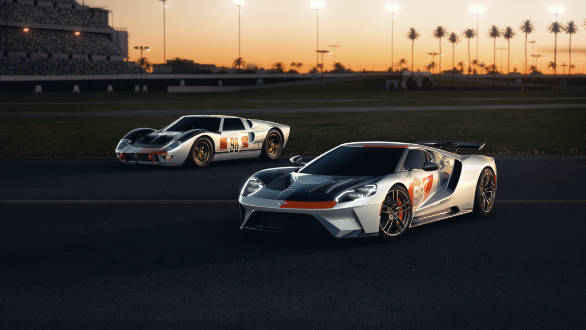 Ford is arguably the most significant automobile company in the world. It gave us the first people's car (long before the Beetle) — the Model T, and is the leader of the pickup truck segment. The American automaker altogether made automobile manufacturing much more efficient with the invention of the assembly line project. And then came the racing surge.
Until 1966, no American company managed to win the most prestigious race of all time, the gruelling 24 hours Le Mans, but Ford with the tuner legend Caroll Shelby and one of the most gifted drivers of all time, Ken Miles managed to pull it off. And they kept the pace by also winning the Daytona and Sebring events. Its been 54 years and Ford has come a long way, so why not celebrate it?
The Blue Oval has launched a special edition of their flagship supercar, the Ford GT and its called the Heritage edition. Its closely resembles the 1966 Ford GT which went on to win the Daytona endurance race, their first-ever win.
The 2021 Ford GT Heritage Edition dons a  Frozen White exterior paint with a contrasting exposed carbon fibre bonnet. There are also asymmetrical red accents on the front bumper, roof, driver-side door and rear wing. Other unique touches are the 98 competition number etched in exposed carbon, classic Ford lettering near the rear wheel arches and the gold-finished 20-inch forged-aluminium wheels with red Brembo brake callipers.
On the inside, the Heritage Edition comes with anodized red paddle shifters and red Alcantara performance seats. The instrument panel, headliner and steering wheel is also finished in Alcantara. Also available is a Heritage Upgrade Package. This adds 20-inch exposed carbon fibre wheels with a gloss red accents, with the brake callipers finished in black with red Brembo lettering. Inside, ghosted 98 roundels on both door panels.
No mechanical changes have been made to the car and honestly, they are not needed. The American beast is powered a 3.5-litre EcoBoost V6 engine producing a breathtaking 656 BHP and 749 Nm mated to a Seven Speed DCT gearbox.
Also if this doesn't make you feel special enough, Ford has got you covered. Ford is offering a graphic package called the studio collection.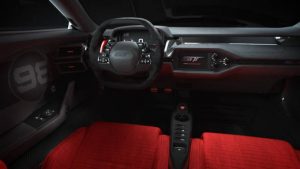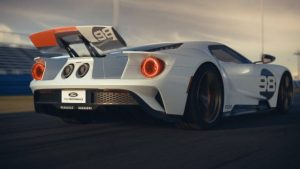 Only 40 cars will receive this upgrade, developed in collaboration with the Ford GT's manufacturer, Multimatic. This package will be available in seven standard or a slew of customizable shades that will highlight various sections of the Ford GT.