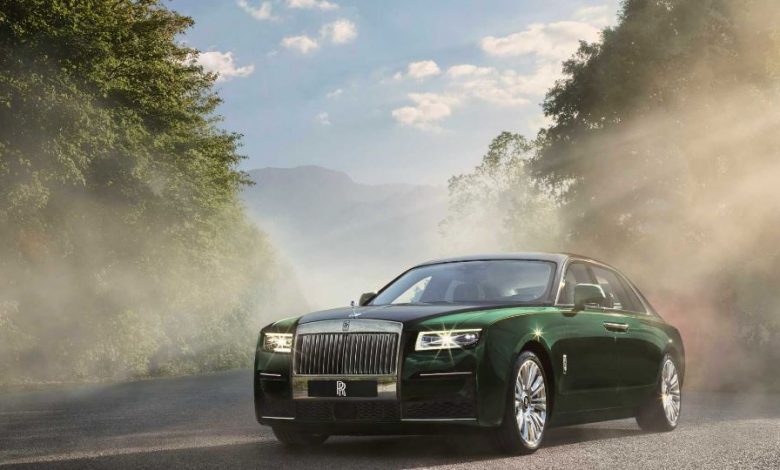 It was just the dawn of this month that we saw the good ol' folks at Goodwood reveal the new 2021 Ghost, and already Rolls Royce has revealed the Ghost Extended, Extended stands for Extended Wheelbase obviously.
The standard Ghost is already a big car, but the Extended provides unmatched rear legroom, triumphed only by its elder sibling, the Phantom Extended. Despite the stretch, Rolls Royce has managed to keep the timeless design and strong character lines of the standard ghost, extending only the rear doors and the body panels around the rear door apertures. Indeed, you see the real apparent difference inside the cabin where the Ghost Extended can be equipped with a reclining "Serenity Seat" for the first time, which apparently "provides that type of comfort you'll only find in the cabin of a high-end business jet". Usually, when carmakers use such sort of language to define their cars it's just marketing jibber-jabber, but with Rolls-Royce, you can be damn sure they mean it.
Look between the rear seats and you'll find a fridge to store your fancy champagne, a feature developed together with a Master Sommelier, now you can also find that in a BMW 7-series, but being a Rolls-Royce, this fridge has two cooling modes with optimal serving temperatures to suit both vintage and non-vintage champagne.
Apart from the 100kg of Acoustic Damping Material stuffed in it and high-class features, the Ghost Extended is the most technologically advanced Rolls-Royce ever. It comes with a sophisticated air filtration system, heads-up display, self-parking tech, and laser headlights offering more than 600 meters of illuminated range.
The Ghost Extended is built on the Architecture of Luxury platform and has a beating heart in the form of a twin-turbo 6.75 litre V12, which makes 563 of the finest horses and 850 Nm of torque. The gentle beast is married to an automatic gearbox beauty with eight speeds, while All-wheel-drive and All-wheel-steering make their debut on the Ghost Extended
The Ghost Extended also gets a new suspension set up, with variable shock absorbers, an industry-first upper wishbone damper, and self-levelling air strut assemblies for an "oh it rides just like a magic carpet, you know"
No pricing details have yet been revealed but you don't need to be a rocket scientist to understand that the 2021 Ghost Extended will definitely be more expensive than the standard 2021 Ghost, which by the way, starts at $320,000.