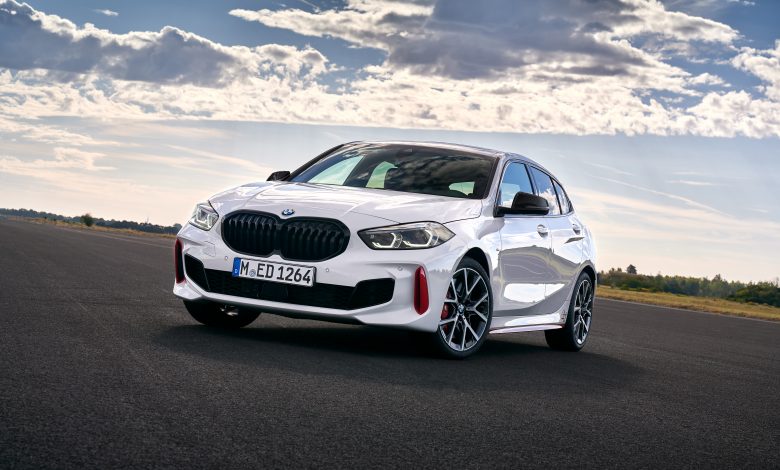 This is one for the BMW nerds. the Bavarian automaker is bringing back the Turismo Internazionale badge. First used in the 1960s, the badge has been used on models like the 1800 TI, 2000 TI and the 2002TI before BMW switched to lowercase for the 323ti Compact and 325ti Compact from the naughties.
The new 1-series made quite the headlines as it made a shift to front-wheel-drive from rear-wheel-drive, with many saying it just couldn't be exciting.
Apart from the drive system, the new 128ti gets many upgrades also used by the flagship M135i xDrive including the eight-speed Steptronic Sport auto gearbox, firmer anti-roll bars and anti-roll bar mounts, M Sport brakes, and a detuned version of the same turbocharged 2.0litre gasoline engine. The four-cylinder unit now produces 262 hp and 400Nm of torque, launching the Beemer from 0 to 62mph in 6.1 seconds and a top speed of 155 mph.
The 2021 BMW 128ti comes with an M Sport suspension lowering the ride height by 10mm to improve handling and equips with a Torsen limited-slip differential for better traction.
You also get visual upgrades to distinguish the "ti" from non-ti models, including an aggressive body kit, blacked-out grille and mirror caps and retro-ish "ti" decals along with red accents inside and out. The 128ti rides on exclusive two-tone 18inchers and can be wrapped with Michelin Pilot Sport 4 tires as a free option. BMW also offers another set of 19inch wheels which can be equipped as an option.
The Hot Hatch is will go head to head against the Volkswagen Golf GTI, and specifically the upcoming GTI TCR.
Bookings for the 2021 BMW 128ti will be open in Europe starting next month and if you want one, be prepared to shell out €41,574 (price in Germany.)