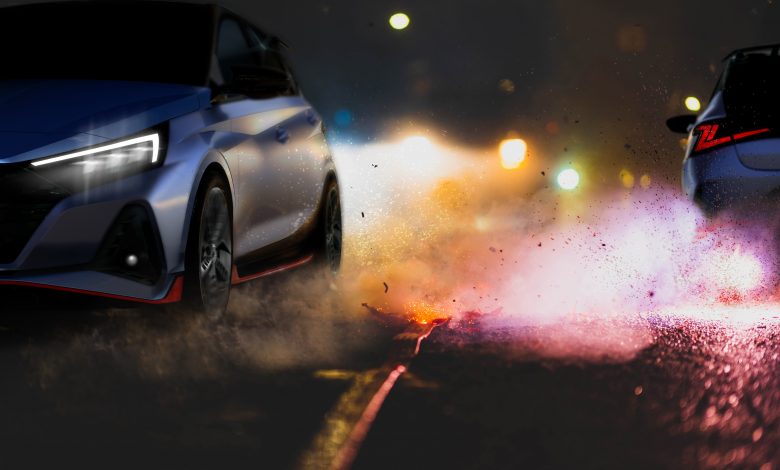 It's a predominant concept in the automotive world that Hot Hatches are cool. In fact, if you think otherwise you're a prehistoric ape and plain wrong.
Now, it was just last month that Hyundai revealed it's lukewarm i20 N Line, leading us to think that there would soon be a proper piping hot N version of the i20. And indeed, there is. Ahead of an official reveal expected in the coming weeks, Hyundai has just dropped a couple of teasers of what is going to be the true hot hatch i20 N.
Visibly, the styling is much more aggressive than what is seen on the i20 N Line, with large air intakes to feed the engine and a prominent front splitter. The i20 N also gets chunky side skirts and bigger brakes made by Hyundai's N division itself. There will also be a roof-mounted spoiler and larger exhaust tips as we know from previous spy shots.
The i20 N, being the most sporty version of the subcompact hatchback, will ride lower than other version and get a unique set of 18-inch wheels. There will also be an N specific two-tone paint finish with Performance Blue paint contrasted by a Phantom Black roof.
Inside, there are expected to be sportier body-hugging seats as well as a sportier steering wheel and other similar upgrades to give the cabin a "sportier" feel.
The most important upgrades are bound to be under the hood, with the i20 N deriving 201 hp and 203 lb-ft of torque from a 1.6litre gasoline engine which will be offered only with a six-speed manual gearbox. A limited-slip differential will also be offered as an option or as standard depending on the market. Weighing only 1,200 kilograms, the i20 N will hit 0-62mph in 6.7 seconds, and top out at a respectable 143mph.
The four-cylinder turbo unit is said to have little turbo lag, and have its power peak at 6,000rpm, with Torque kicking in at around 2,000rpm. With that stick-shifter offering silky smooth gear changes, the i20 N is bound to be a giggle around a track or your daily commute to work, whichever you prefer.
it's not all go-go, however, the 320-mm N branded front discs will provide the stopping power, and handling will be improved with reinforced Macpherson strut setup at the front axle and a beefier torsion beam arrangement. There will also be removable low bracing behind the seats.
The Hyundai i20 N is bound to go on sale in Europe next spring and will give the Ford Fiesta ST and VW Polo GTI a run for their buck.