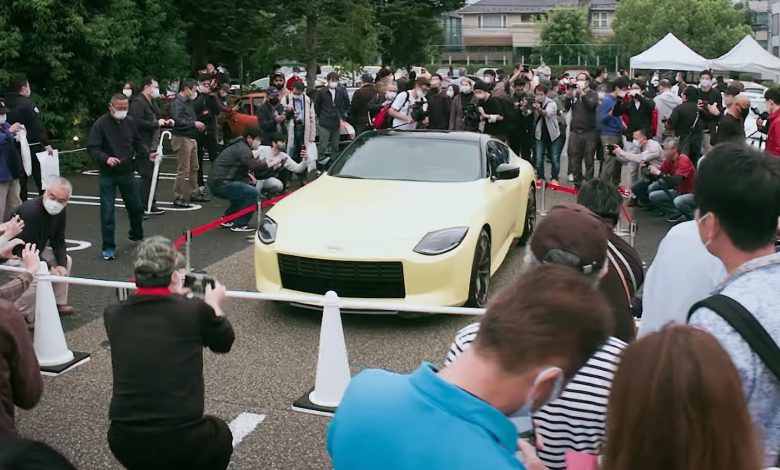 After years of wait, a new Nissan Z is finally on its way, much to the pleasure of petrolheads and Japanese sports car lovers around the globe. So it should be no surprise then that when the Z proto made its first public appearance in the flesh at a fan event, it made a lot of enthusiastic faces smile, as seen in this video.
The Morning Cruise event in Tokyo saw fans showing up in their Classic Zs (or Fairlady Zs as they're called in Japan), to check out the youngest member in the Z family. The juxtaposition of the old and the new made for an interesting glimpse into the Nissan Z's history, especially since the Z proto's design has been greatly influenced by Z cars of the past, with the front end and silhouette especially sharing a resemblance to the 240Z, 260Z, and 280Z. Meanwhile, The boxy taillights are reminiscent of the rear lamps from the 300ZX.

The Z432 even made a brief appearance. This rare variant of the first-gen 240Z shared its 2.0-litre inline-six engine with the third-generation Skyline 2000GT-R. The model's name references four valves per cylinder, three carburettors, and two camshafts.
The interior of the Z Proto is fairly simplistic and bland as compared to the beautiful and exciting body. It has all the modern tech that you'd expect to find, but perhaps it's not as exciting as you'd like a Z sports car's interior to be. However, the production version could feature some more exciting and detailed changes.
Lifting the bonnet reveals a twin-turbocharged V6 that sends power through a manual gearbox to the rear wheels. It is very likely that this is the same power unit currently found in the Infiniti Q60 Red Sport 400 that puts out 400 horsepower and 350 lb-ft of torque.
The production version of the new Z is rumoured to arrive in the US for the 2022 model year. European customers however, will sadly miss out on the latest Nissan performance offering. Nissan is also Hinting at introducing a convertible version which would come later.