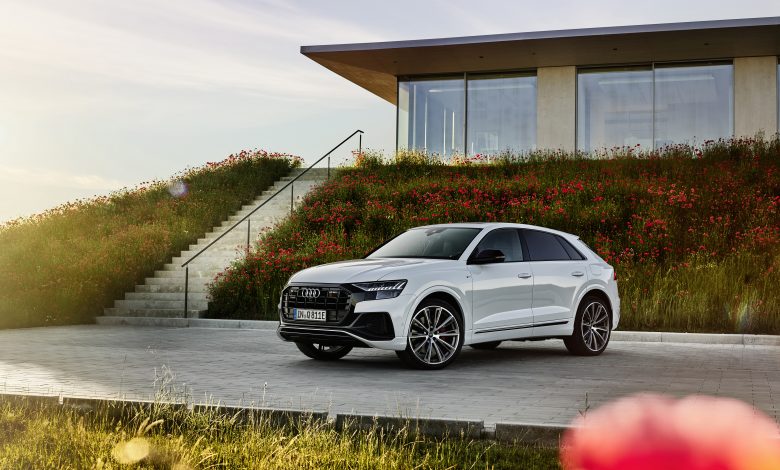 The Audi RS Q8 is already on sale to offer Audi's racing expertise and technology in the shape of a large, practical (but stylish) SUV. The model sits at the top of the Q8 hill as the undisputed champion in terms of power with 591 Horsepowers and 590 lb-ft of torque, but there is a new Q8 version that comes pretty close.
We're talking about the new Q8 TFSI E Quattro, Audi's plug-in hybrid version of the coupe-SUV. Depending on the power output, the model comes in two variants- Q8 55 TFSI E Quattro and Q8 60 TFSI E Quattro.
Both versions use a powertrain that employs two power units. The combustion engine is a 3.0-litre turbocharged TFSI V6 with 340 hp and 332 lb-ft of torque. The engine meets Europe's latest Euro 6 AP emissions standards and is supported by a permanently excited synchronous machine (PSM) electric motor and a 17.8-kWh lithium-ion battery pack.
The battery is a new-gen package that has a 0.5 kWh larger capacity than its predecessor and is 88 pounds lighter. The previous version was introduced with the Q7 TFSI E Quattro, which is since also been updated with the latest-gen battery pack.
The new plug-in Q8 will come in two power outputs that differ in terms of their boost strategy. The more powerful Q8 60 TFSI E Quattro has 462 hp and 516 lb-ft of torque, good to send this baby 0 to 62 miles per hour in 5.4 seconds. The lower-powered Q8 55 TFSI E Quattro has 381 hp and 443 lb-ft of torque and is 0.4 seconds slower in the 0-62 mph sprint. Looking for remote Front-End (React) developers ? Contact us.
Europe's WLTP cycle says that the Q8 60 TFSI E Quattro can travel up to 28 miles at a single charge of the batteries, while the more affordable 55 version offers 29 miles of autonomy between two charges.
For now, the new Q8 E TFSI Quattro will be available only in Europe with prices in Germany starting at €75,351 for the Q8 55 TFSI E Quattro. The more expensive and more powerful Q8 60 TFSI E Quattro version gets the S line exterior package as standard, as well as LED headlights, adaptive air suspension sport, and 21-inch wheels.