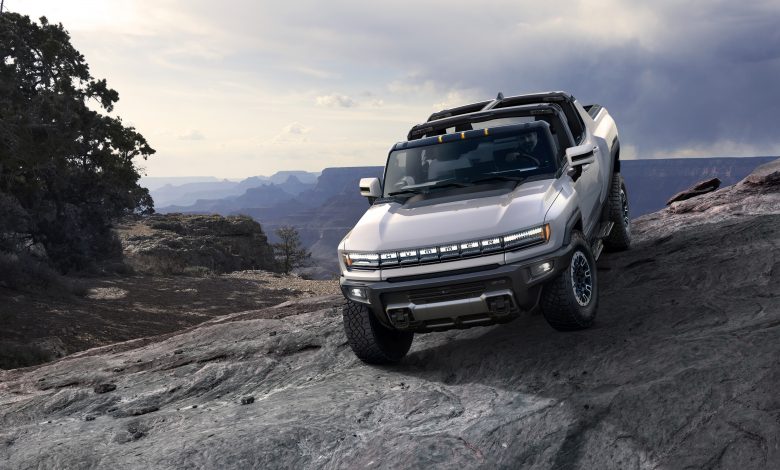 Few vehicles come close to the iconic status of the original 90s' Hummer. From high ballers looking to make a statement to offroad-enthusiasts on the market for something capable, the humongous four-door highrider caught everyone's eye. Sadly, a tanked global economic scenario and more stringent emissions norms spelt demise for the American brand in 2010.
It wasn't until last year when we first started hearing rumours about a new premium-offroader Hummer EV, which were followed by a teaser in January this year, which revealed that the new Hummer would be called the 2022 GMC Hummer EV, which makes sense since it means GMC won't have to set up another vehicle decision for one single EV.
Finally, the 2022 GMC Hummer EV has been revealed and apart from being a derivative of the iconic Hummer design it also sports GM's proprietary Ultium Battery Tech, which will give the Hummer a range of more than 350 miles.
The new Hummer EV's pays a tasteful homage to the H1, H2 and H3 models of yesteryears, with an unmistakable silhouette. Unusual H-shaped headlight elements replace the retro round designs found on its forefathers, connected via an LED light bar proudly bearing the Hummer wordmark, with "grille slats" between each letter reminiscent of the internal combustion-engined Hummers of old.
The classic Hummer shape means this EV gets a very upright windshield A high beltline and narrow side windows,  however, the angled C-pillar is distinctive to the 2022 Hummer EV and provides some sense of forward-leaning motion. Meanwhile, the wide boxy flared fenders frame the standard 35-inch Goodyear Wrangler Territory mud-terrain tires or the 37s, if big wheels swoon you.
At the back, you get a fairly humble cargo box, accessed via a MultiPro tailgate like the one found on the GMC Sierra. There's a power-operated tonneau cover to secure your cargo that also improves aerodynamics when needed.
The stiff Ultium battery structure makes it possible for the Hummer EV to have an open-air "Infinity Roof," featuring three transparent panels that can be removed and stored in the sizeable front trunk, or as the kids call it "frunk". One large panel covers the front row seating area, while two smaller ones sit above the rear seats on either side. You can also drop rear glass if you want to for a proper wind-in-hair experience.
Unlike grandpa Hummers, the cabin of 2022 Hummer EV features a lot of tech, which is essential in modern times, especially considering the premium segment the Hummer is going for. A massive 13.4-inch infotainment screen couples a 12.3-inch digital instrument cluster and offers a ton of functionality for comfort as well as offroading, including the UltraVision front and rear underbody cameras that show a live view of what's under the truck, making wheel placement (or parking) easier and more convenient, while other cameras provide up to 18 different views.
The infotainment display and instrument cluster are equipped with widgets to inform the driver of the vehicle's torque output, locking differential status, tire pressure, pitch and roll angles, torque split, and more. There's also a "drift gauge," that keeps a running tally of the Hummer's maximum drift angle.
If you're still not sure about the Hummer's offroad capabilities after seeing it's huge wheels, high ground clearance beefy skid plate, you'll be glad to know about the underbody steel plates that protect vital drivetrain components.
The tech-ed up Hummer offers four-wheel steering, as well as an already-teased CrabWalk feature that angles the rear wheels in phase with the fronts at low speeds, improving manoeuvrability in certain conditions. The Hummer EV is available with Super Cruise, a hands-off driver assistance system, the latest version of which even detects when a lane change would be optimal, initiating the manoeuvre and using the turn signal appropriately.
The adaptive air suspension can raise the Hummer up to 6 inches. Though GMC hasn't released off-road geometry figures just yet, it would be safe to assume that it will offer impressive ground clearance and approach, departure, and break-over angles, especially given the claim that it can ford through more than 2 feet of standing water. GMC does claim that the Hummer EV can scale 18-inch verticals.
If you want, you can get your new Humvee with the Watts to Freedom mode (perhaps the most American sounding name for a mode ever) which unleashes the full capability of the EV powertrain for an acceleration that can take the Hummer from 0-60mph in as few as three seconds according to GM.
At launch, the 2022 GMC Hummer EV will employ three electric motors, which according to GM will offer 1,000 horsepower (746 kilowatts) and a crazy 11,500 pound-feet of torque. However, scepticism butts in here as the torque figure likely represents torque where the tire meets the road, which is always higher than what's made by the actual powertrain. In fact, according to Car and Driver, the electric motors probably produce closer to 800 pound-feet.
The Hummer EV boasts 800-volt DC fast charging, compatible with chargers of up to 350 kilowatts, thanks to GM's Ultium batteries, which can switch from parallel to series mode while charging, adding up to 100 miles of range in 10 minutes, which is impressive, to say the least, and mind-boggling to say the lot. GMC hasn't given us a word on the battery's size yet, but the 24-module, double-stacked pack pushes this car out to 350-plus miles.
The 2022 Hummer EV will kick things off with the sole $112,595 Edition 1, arriving in fall 2021. Every Edition 1 will be identically equipped, painted white and outfitted with a rather attractive, modern Lunar Horizon interior. As expected the Edition 1 will be fully loaded with features including the Infinity Roof, Watts to Freedom drive mode, adaptive dampers, an Extreme Off-Road Package (underbody armour, rock sliders, and 35-inch tires), Super Cruise, and four-wheel steering with CrabWalk.
About a year after the edition 1 you can expect to see the one year after the $99,995 variant go on sale, called the EV3X, which will come with a three-motor powertrain, adaptive air suspension, Watts to Freedom mode, CrabWalk, and active torque vectoring. In Spring 2023, then GMC will launch the $89,995 Hummer EV2X, which offers CrabWalk, adaptive air suspension, and a two-motor electric powertrain. Finally, spring 2024 will see the two-motor EV2 base model go up for sale which will forego most of the EV2X's off-road bits and noggins to hit a base price of $79,995.