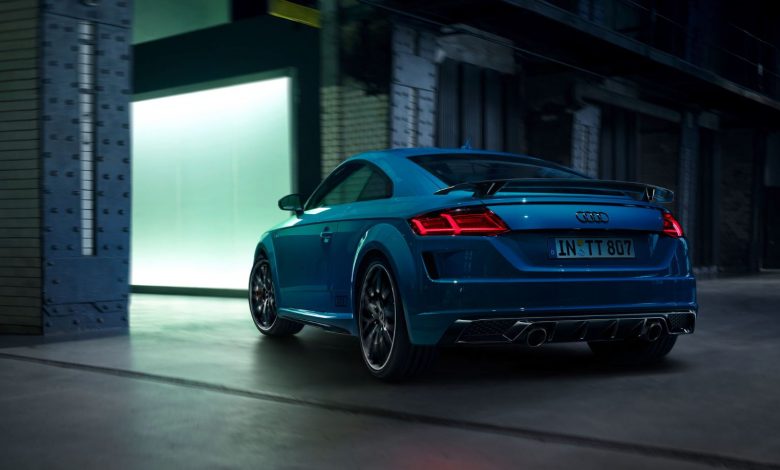 Audi is offering a special limited edition version of the Audi TT RS, called the TT RS 40 Years of quattro, officially the TT RS 40 Jahre quattro, quite fittingly since it'll be sold only in Germany.
Audi plans to build only 40 examples of this very special Audi TT RS, each to signify a year since the Ur-Quattro was first shown to the world at the 1980 Geneva Motor Show.
This special edition gets white 20-inch wheels and a more aggressive aero kit along with a new bonnet vent. Meanwhile, the retro decals pay homage to Walter Röhrl's 1987 Quattro S1.
This TT RS isn't much "special" mechanically though, the top-spec 2.5-litre turbo five-cylinder remains unchanged and still churns out 395bhp and 354lb-ft of torque, which is not bad at all really. Obviously, there's also the quattro all-wheel-drive system with torque vectoring to put the power down as well.
The seven-speed S Tronic gearbox remains unchanged as well, which means the car does the 0-62mph sprint in just 3.7 seconds, while the top speed limiter is removed for you to take this baby all the way up to 174mph.
The chosen 40 drivers who are able to grab this limited Audi TT RS will also be able to choose to replace the back seats with a carbon fibre strut brace that shaves 16kg off the kerb weight while also improving torsional rigidity. While the interior features a rather generous use of Alcantara, along with special edition embroidery and numbered badging to keep things quaint.
If you want this, first you'll have to be in Germany, second, you'll have to be ready to shell out €114,000 and hurry because only 40 of these beauties will ever be made.