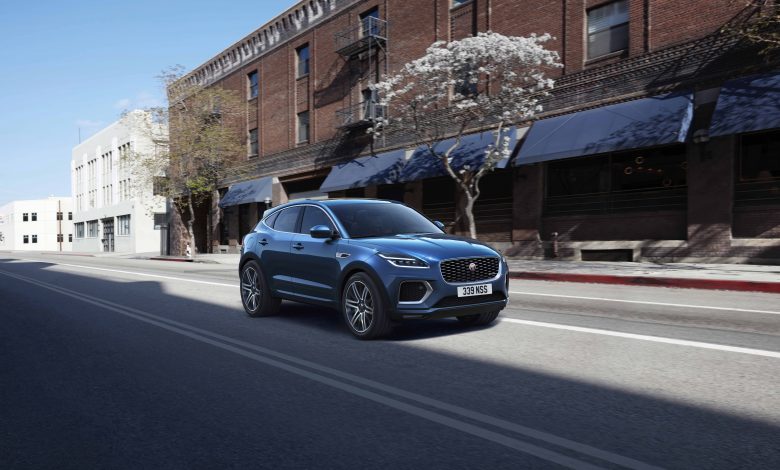 If you know Jaguar, you know it's not one those brands who like introduce complete redesigns very often, they rather prefer to stick with existing chassis with subtle refreshes sprinkled here and there; a move some call "evolution" while others call it boring. Quite in keeping with that tradition, Jaguar has just officially unveiled the 2021 Jaguar E-Pace, and it's not that different. Still, at least it helps the car stay up to date.
On the outside, the new E-Pace gets a meaner mesh-style grille complemented by larger and slightly reshaped bumper vents, both embellished with chrome surrounds. There is also an option to chose a model with the black appearance package. New headlights are also adorned by a new double J-blade LED design, while the fender vents now get an embossed Jaguar logo, which you probably won't even notice when you see the car.
The changes to the entire are more noticeable. A new centre console holds that an 11.4-inch curved-glass infotainment screen which utilises Jaguar's Pivi Pro system which comes with everything from Google and Microsoft Outlook to Apple CarPlay, Android Auto, and more. it sits above a newly updated shift stalk, and there's also a new steering wheel that isn't too different but still a refreshing design with its dual-spoke design at the base. A 12.3-inch digital instrument cluster remains optional, while dials are still a part of the standard-issue equipment.
Some other subtle changes in the cabin include sculpted knee contact areas for more comfort, and the optional ClearSight rear view mirror tech, which employs a wide-angle rear camera to display a high-definition image on the frameless rearview mirror for an unobstructed view of what's behind you. There's also a new cabin filtration system, updated engine mounts, and revised front-suspension attachment points.
The powertrain, however, remains unchanged with the turbocharged 2.0-litre engine available in either a 246 or 296 horsepower tune, sending power to all four wheels through a nine-speed automatic transmission.
Like those 'subtle' changes, there is also a subtle price increase. The 2021 E-Pace will start at $40,995, which is $1,045 more than the outgoing model. The range-topping 300 Sport will start at $49,995. All prices are for the USA.