Launch
Motorsport
News
Bugatti Bolide: Bugatti's new 311mph+ hypercar
Developed over the course of just eight months, the Bugatti Bolide seems like a marvel of engineering.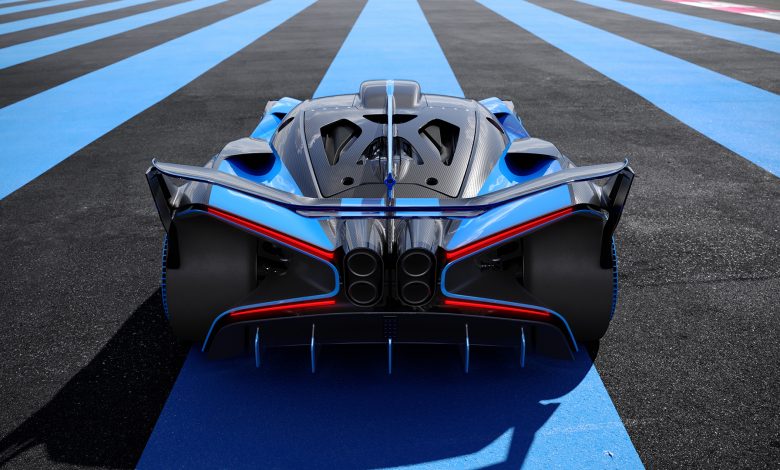 The Bugatti Chiron's chassis have spawned a number of hypercars ever since its inception, including the Vision Gran Turismo, Centodeici, and the Divo to name a few. And now Bugatti has taken that platform and turned it up another notch with the new track-focused Bolide.
The 8.0-litre W16 has been tuned up and given a newly-developed set of quad turbochargers and engineered to run on 110-octane racing fuel to unlock the power of 1,825 horses and 1,850Nm of torque. If that's not mind-numbing enough, through various weight-saving measures, the engineers from Molsheim have managed to achieve a weight-to-power ratio of just 0.67/hp by making the car's dry weight be just 1,240 kilograms, which isn't any more than that of a typical European compact car.
Want to know what all these numbers translate to in the real world? well, the Bolide can do 0-62mph in just 2.17 seconds, while 0-124mph is achieved in 4.36 seconds. Which means by the time you actually comprehend that you're accelerating in this hypercar, you'd have broken every speed limit in your country. Perhaps it's a good thing then, that this is a track-only car. 0-186 mph (0-300 km/h) takes 7.37 seconds, while 0-249 mph (0-400 km/h) is done in 12.08 seconds, which means in simple words, it's going to be a beast on the racetrack. Bugatti also says the Bolide can do 0 to 311 mph (500 km/h) time of 20.16 seconds while mentioning the Bolide would lap the Nürburgring in 5 minutes and 23.1 seconds. The top speed is said to be "Well above" 311 mph (500 km/h) and a Le Mans lap time of 3 minutes and 7.1 seconds. However, these are all simulated numbers given by Bugatti, and the tests haven't been conducted just yet.
Though you wouldn't really doubt the Bolide to be seriously fast, The design certainly gets the point across, it looks like absolutely nothing on the road, or off it, and you'd get the impression that this could be a spaceship if it had to, especially with those X-shaped taillight design. But There's actually more than meets the eye as the Bolide apparently has a "morphable outer skin" for the roof scoop to improve airflow. The surface of the scoop remains smooth and slippery when the vehicle is driven at a slow speed while a "field of bubbles bulges out" once you press harder on the accelerator pedal. The Bolide is also low, incredibly low, standing at only 995 millimeters (39.1 inches) tall, thus being about 300 mm (11.8 inches) lower than the regular Chiron.
Developed over the course of just eight months, the Bugatti Bolide seems like a marvel of engineering. Want your hands on one? sadly, the Bolide doesn't have a price tag (yet), mainly because Bugatti hasn't decided whether to put the "absolute pinnacle in terms of combustion engines" into production.