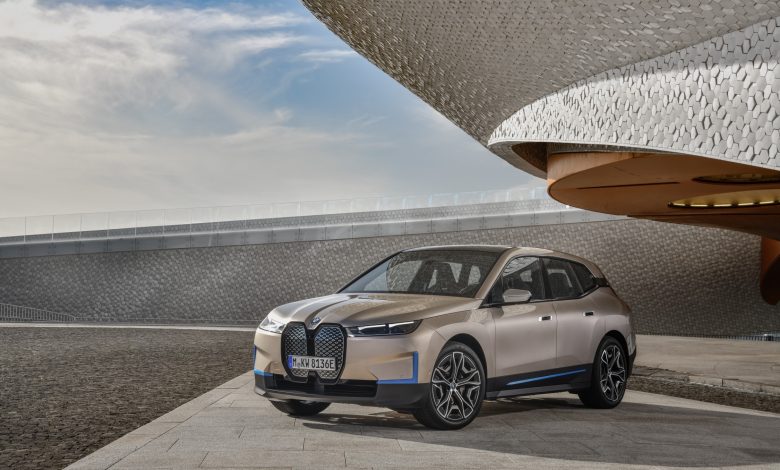 The BMW X7's grill still not big enough for you? we suggest taking a look at the new iX, it's got the German automaker's flagship tech, it's electric, it's semi-autonomous, and it has an even bigger grill, well sort of.
The iNext prototype electric SUV has finally debuted as the iX as it's reached the "series production development phase", and a lot more has been revealed than just the name.
The new iX is based on the all-new battery-power centric platform developed by BMW. While there's a lot of flagship tech on display here, BMW would like to especially bring your attention to the automated driving and digital service technologies. In fact, apparently the computing power onboard the iX is able to process 20 times more data volume than those on the previous models, and that's saying something.
The iX is pretty similar to other high-riding BMWs; it's about the same length as the X5; same height as the X6; and the same wheel size as the X7, so it's no surprise that this silent brute looks rather bulky. BMW are quick to point out though, that the minimalistic design "expresses a futuristic form of driving pleasure."
But how can we not talk about that grille? It bears a resemblance to the ones seen on the M3 and M4 which debuted earlier this year. While some hate it, some think that it works fine on the more performance-oriented models, but it's still a surprise to see it on an electric SUV, where there's practically no need for a grille, let alone something as big as that. Having said that the grille is closed off, and instead incorporates a number of sensors, cameras and radar technology for advanced driver assistance systems.
According to Adrian van Hooydonk, senior design VP at BMW, "The BMW iX shows how we can give new technologies a very modern and emotional design. The car is technologically complex, but it feels very clear and uncomplicated. The BMW iX offers a mobile living space in which people will feel at ease, where the car's intelligence is only there when you need it."
The iX also debuts a new hexagonal steering wheel for which apparently "improves ease of access and gives the driver a better view of the Information display." Which probably is for the kind of people who complain about their steering wheel getting in way of their view of the instrument cluster, yes all three of them. Also notable is the fact that the electric seat adjustment buttons are now located on the door panels, which is something you'll definitely be a fan of unless of course, you've driven a Mercedes. The iX also features the largest glass surface ever fitted in a BMW model.
The BMW iX employs two electric motors for a combined output of, well, "more than 500 horsepower", which should be enough for a 0-60mph time of under 5.0 seconds.
Powering the dual-motor setup is a 100-kWh battery pack, which should be good for juice up to 300 miles according to the EPA's FTP-75 test procedure, and 600 kilometres measured by Europe's WLTP. However, it is important to note that these numbers are in no way real word figures and are "based on the car's current stage of development."
The iX can be juiced up to 70 per cent, with DC fast charging at up to 200 kilowatts, in just 40 minutes. moreover, a quick 10-minute charge should give you and additional 75 miles of range.
There's no date regarding when the iX will go into production, but BMW says production should begin sometime in the second half of 2021 at the company's Dingolfing plant, While a proper launch is expected to be sometime in the end of 2021.