Auto Business
News
Ferrari SF90 Stradale Spider Spied Ahead of Official Debut
The official unveiling, for the rest of the world that is, will take place on November 12.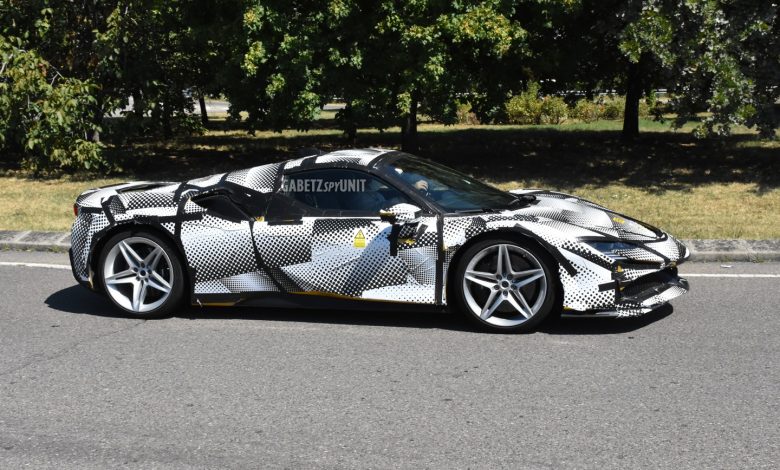 Reports say Ferrari is soon to debut the SF90 Stradale Spider. The convertible hybrid super was probably supposed to be introduced at the Finali Mondiali in the Misano Adriatico municipality in the Italian region Emilia-Romagna, the annual event which has traditionally been the place for the Maranello-marque to premiere new cars. While the reason for the delay was probably the rather frustrating COVID-19 pandemic, rumours say that a private official preview of the new Ferrari has been online for prospective customers since last Thursday.
The official unveiling, for the rest of the world that is, will take place on November 12. Meanwhile, to treat our eyes, Walter Vayr has spotted a prototype of the SF90 Stradale Spider wearing less camo than before.
According to previous reports, the car will feature a retractable hardtop design similar to the ones seen on the F8 Spider and the 812 GTS. Looking at the spy pictures, it seems that the SF90 Stradale Spider will also retain the typical mid-engined Ferrari transparent engine bay cover, as seen on the coupe version. Which means that you'll get to see that harmonious twin-turbo 4.0-litre V8 as you walk up to your prancing horse, right before you fire it up and disappear with nearly 1000hp under your foot, thanks to the aid of three electric motors.
The SF90 Stradale Spider will be Ferrari's first series production hybrid convertible, following the LaFerrari Aperta, but adding plugin capabilities. The new convertible is expected to be a bit heavier than its coupe counterpart owing to the extra bits and noggins of the roof mechanism and the extra bracing to keep the car stiff, still, you gotta give something to feel the wind in your hair, don't you?
The expected price of the SF90 Stradale is expected to be a tad more than the sky-high $625,000 starting price of the SF90 Stradale Coupe.