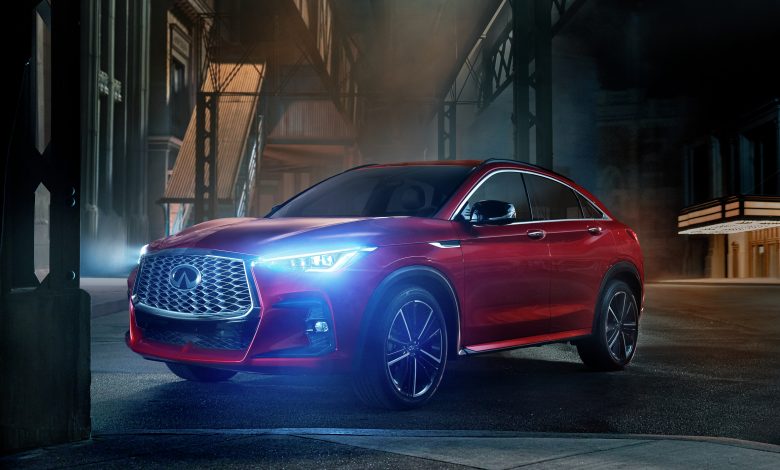 Can't have enough of coupe SUVs can you? Well, there's another one on the block, and this one really demands your attention, and possibly money too.
Infiniti has just revealed the new 2022 QX55, and it features all-new styling and a sloping roof design that is apparently a tribute to the 2003 Infiniti FX, but slopier. There are some very Dominant creases on the rather curved silhouette of the SUV, giving the whole high-rider a rather muscular look, without it being too bulbous. Two rather large lines running from the bonnet into the door panels especially give the QX55 a striking and distinctive look from the front three-quarters, aided by that massive grille (SUV grilles really never seem to stop growing these days) which apparently has a three-dimensional mesh pattern inspired by Origami.
"We set the stage nearly 20 years ago with the FX, and the all-new Infiniti QX55 brings us back, close to the soul of our brand — and it propels us forward," said Infiniti Chairman Peyman Kargar.
If you're already sold on the SUV's looks, you can get the QX55 in eight body colours, the two standard choices being the Dynamic Sunstone Red and Slate Gray. Majestic White, Liquid Platinum, Graphite Shadow, Mineral Black, Black Obsidian, and Hermosa Blue will be available as optional extras.
The QX55 is powered solely by a variable-compression 2.0-litre turbo four-cylinder coupled with a CVT gearbox that sends its 268 horsepower and 280 pound-feet of torque to an all-wheel-drive system, which usually sends all the power to the front wheels under normal driving conditions, but can send up to 50% of it to the rear wheels when you need more grip.
The latest Infiniti comes with Infiniti's latest dual-touchscreen system that has an 8-inch upper display for infotainment and a 7-inch lower monitor for controlling various things like the climate temperature, heated seats etc. Quite annoying though is the fact that the new system supports wireless Apply CarPlay but you'll have to use a cable if you want to use Android Auto, quite like the way the Neanderthals did back in the stone-age.
The QX55 will be available in three trim levels: Luxe, Essential, and Sensory. While LED headlights, a power bootlid, a power-sliding tinted sunroof, and heated front seats come as standard, The Sensory trim adds a 16-speaker Bose stereo, a heads-up display, maple open-pore wood trim, and semi-aniline leather upholstery in a Monaco Red and Graphite colour combination.
Sales for the 2022 Infiniti QX55 are set to begin in the US and Canada in Spring 2021. There's no word on pricing yet, but it is expected to be revealed as we get closer to the official launch.