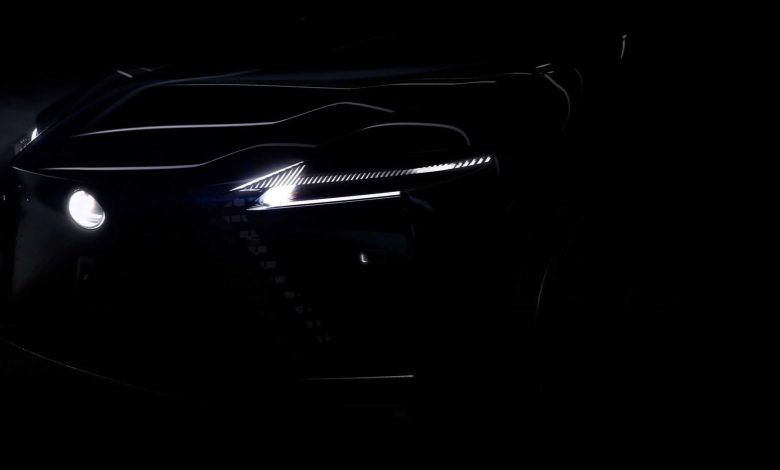 To begin with, it's a cool-looking car in the form of an EV Concept that previews Lexus' future design language. The first of the two teaser images hint at a vehicle with an updated spec of the marque's X-shaped front-fascia. With the ICE being absent here, the designers at Lexus who are no less than perfectionists, have made this Concept look even more aggressive and sharp. See for yourself.
Koichi Suga, Lead Designer, Lexus, explains how the new electrification tech makes an impact on the brand's design – "The new vehicle movements made possible by electrification are something we are now trying to express as a shape." Judging by the image, it looks the part!
And now, Lexus has planned to play with our imagination once again for it has released the second teaser image, which now has the rear-end in the shadow. Illuminated "Lexus" on the tailgate, a neatly-integrated spoiler lip, and slim LED taillights arranged horizontally, we tell you, you're free to drool over the images because the new EV Concept deserves to be drooled over every time you look at it. A masterpiece!
Although Lexus hasn't mentioned as to what definitive shape the new Concept is going to take, by guessing after reviewing the two teaser images closely, we think it might be a 'Crossover Coupe', albeit we wouldn't mind if we are proven wrong.
No matter what the shape be, it is certain to build a new direction for the luxury-arm of Toyota. The world premiere is scheduled to be in some time towards the end of this year so we might not have to wait for a long time, then. However, it's the Concept version that will break the internet (hopefully) by spring this year.
What will power this unnamed Concept would be a Direct4 electric drive control system which has been designed to precisely control the "delivery of drive torque from the front and rear electric motors and braking force to all four wheels." The system uses two electric motors, one for each axle, directly connected to the wheels for an instant operation reaction.
The new Concept and the Direct4 system are part of the Lexus Electrified strategy for electrified mobility in the future as it targets "a fundamental leap in vehicle performance, handling, control, and driver enjoyment," as per an official statement by Lexus.