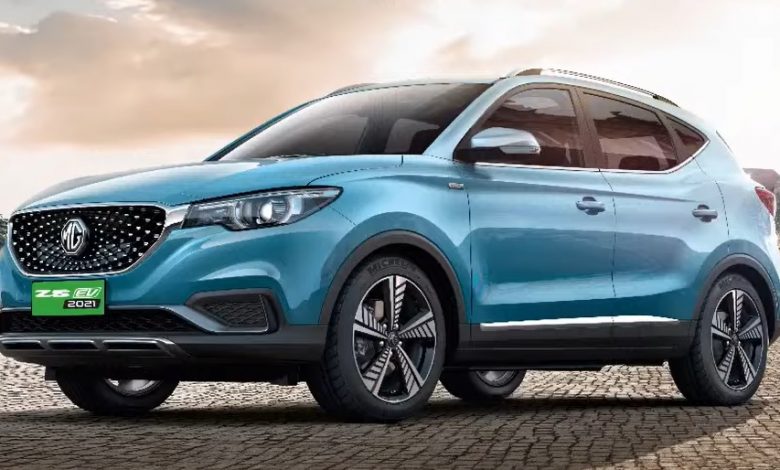 Prices begin from INR 20.99L and don't stop until they reach the INR 24.18L mark. These are the ex-showroom figures. What is important to note is that the 2021 model stays the same as its elder-version, both cosmetically and in terms of features.
Then, what does the new model offer? For starters, it costs INR 60k more than the outgoing model, however, the 2021 model comes with a better claimed-range of 419kms. Similarly, a new 44.5kWh 'Hi-tech' battery-pack makes its way into the new model which has improved the range quite significantly.
MG still says that in real-world conditions, expect the ZS EV to do 300-400kms on a single charge. The power output too stays the same at 143hp and 353Nm of torque.
The ground-clearance has seen a boost of 16mm, taking the total to 177mm over the 161mm of the previous model. The tyre aspect-ratio is also up, 215/55 R17 as of now, as opposed to the 215/50 R17 of the 2020 model.
The only addition worth pointing out in the 2021 ZS EV is the new Ecotree Challenge on the MG i-Smart 2.0 connected-car-system that allows the owners to track their car's CO2 emissions and compare that with the other owners. Competitiveness should never end.
The ZS EV is still offered with MG's e-shield package that commits to a 5-year unlimited km warranty, 5 labor-free services, 5-years road-side assistance, and 5-way charging infrastructure. The battery-pack retains the 8-year, 1.5L km warranty.
MG has also decided for the 2021 ZS EV to be available in 10 new cities of India, namely Goa, Calicut, Bhubaneshwar, Ranchi, Mysore, Trivandrum, Mangalore, Vijaywada, Puducherry, and Kolhapur.