Auto Business
Electric
Formula 1
News
Remember the Pininfarina Battista? You should, because it is on the verge of production!
Donning a face-mask (just like the car), former F1 & Formula-E driver, Nick Heidfeld takes the EV to the track.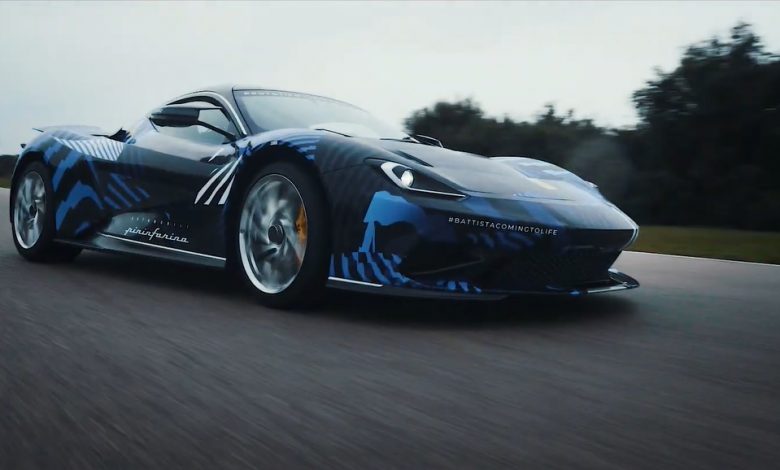 The Automobili Pininfarina Battista is undoubtedly one of the most special hyper-EVs to launch, along with the likes of the oh-so-crazy Lotus Evija. To live up to the expectations, Pininfarina is leaving no stones unturned for making the Battista a success. Well then, the all-electric hypercar is now in its final stages of testing, as the deliveries are set to begin later this year.
The Battista is Pininfarina's first in-house model, and by the power-specs it offers, it is set to become the most powerful Italian production-car ever. Sorry Ferrari, next time. 1,900hp from its electric motors, a claimed, not verified, time of a 0-100kph in 1.9secs. Horrendous, eh?
Automobili Pininfarina will produce only 150 bespoke and hand-built examples of this hooligan-EV, at Pininfarina SpA, Turin in Italy. Testing is focused on refining and modifying chassis settings, aerodynamics package, torque-vectoring, and the five different selectable driving modes.
The Indian Connection:
As we all probably know, Automobili Pininfarina is owned by Mahindra, the Indian automotive marque, with whom Nick Heidfeld has completed his stint in Formula E (Mahindra Racing) from 2015-2018.
Nick has played an integral role in shaping up the Battista, sharing his feedback with the development team, and now, testing the hyper-EV for the first time, in real life, on a track as part of the ongoing prototype development at the Nardo Technical Centre in Italy.
He shares, "What surprised me was how natural the Battista feels on the track. We are creating a hyper GT to be enjoyed at all speeds, yet here in Nardò the cornering control and speed we achieved were exceptional. Minimal traction control and torque vectoring are active at this stage of prototype development, yet there is so much grip to exploit," said Heidfeld, who also confirmed that the Battista is currently being tested at around 80 percent of its potential power. Tasty.
"It was my first time driving on the Nardò handling circuit, so I spent some time looking at films of onboard laps online to familiarize myself with the layout. I quickly realized they would be of little use because the acceleration of Battista is on another level to even the world's fastest road cars," he adds.
"I have to say, very honestly, driving the Battista prototype far exceeded my expectations. It's like nothing I have experienced ever before." Even better than an F1 car, Nick? Well, his answer could be yes considering it was driven on one of the most brutal and challenging tracks. But then again,  he drove for Williams and BMW Sauber in their prime so that is a huge compliment for Pininfarina.
How does the future hold up for Pininfarina?
Should one opt for a Battista? Well, it is likely to cost a 'mere' GBP 1.7million (INR 16.97 crores) before taxes. Following the Battista will be an all-electric luxury-SUV that is set to make its debut next year.