Auto Business
Electric
News
The 2022 Audi e-tron GT, RS e-tron GT Is Here And It Is A Stunner
Cheaper and better looking than its Porsche cousin, I'd say.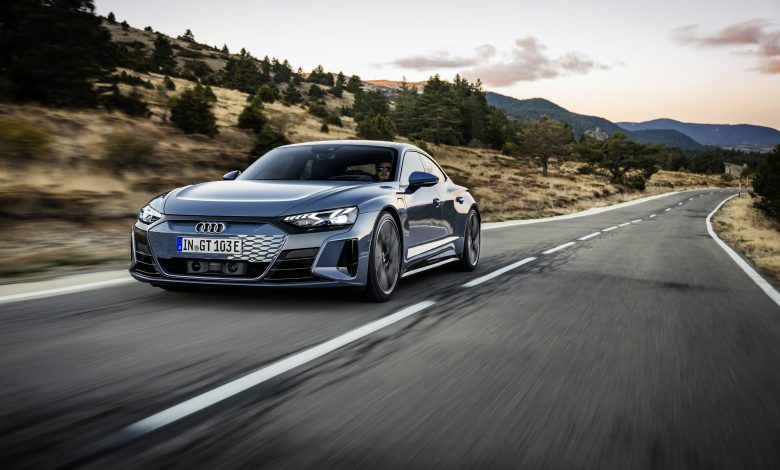 It does seem like the e-tron GT and its RS version has been in the making for ages now but, Audi has finally revealed its full-blown all-electric super-sedan making it the German carmaker's next EV. See for yourself, it packs the right looks, doesn't it? 
Exuberant Exterior
Audi has managed to make the 2022 e-tron GT (and its RS version) look as identical as possible to the concept version released in 2018. We're glad. It shares its architecture with the Porsche Taycan and is a mere 3cm longer and taller than its counterpart from Stuttgart. Intriguingly, despite the presence of a large underfloor battery, rear passengers will have "generous headroom" owing to what's dubbed as a "foot garage". Clever use of space and mind.
A good amount of focus has been put into the aerodynamics of the car as the e-tron GT will have a claimed 0.24Cd. Active aerodynamic elements include controllable cooling inlets in the grille and a rear spoiler that extends to one of two positions, depending on the driving scenario.
The exterior is mainly characterized by the large wheels (ranges from 19inchers to the 21s), a body that is almost as similar to the A7 and the Q8 but is wider and lower, instead. Speaking of its hotter RS version, there isn't much to distinguish as it is nearly identical to the 'standard' model but there is, however, a five-layer carbon fiber reinforced plastic roof as standard. And the RS badging, of course.
Fast & Practical
The e-tron GT has a combined power output from both, the front and rear electric motors of 469hp and 464 lb-ft of torque, with a 0-62mph time of 3.9secs and a top speed of 152mph. Although when the 'Overboost' mode is engaged (for launch control), power shoots up to 522hp.
On the RS side of things, 590hp and 612 lb-ft (or 637hp with Overboost) are available on the tap enabling a 0-62mph time of only 3.1secs and a limited top speed of 155mph. Quicker than the Porsche Taycan but not as quick as the Taycan Turbo.
More on this, a two-speed 'box is linked to the rear-electric motor that normally drives on the second gear but engages the first gear when Launch Control is being utilized for maximum acceleration. The infamous Quattro all-wheel-drive system is standard while the RS version gets the all-wheel steering gimmick as standard.
The battery pack that is mounted low in the car, allows for a weight distribution "very close" to 50:50, provides 85kWh (93kWh total) of usable energy. It's an 800V power system, enabling faster charging. As standard and using 11kW AC charging, the e-tron GT can be fully recharged overnight. Although the GT has a maximum charging capacity of up to 270 kW when a DC fast charging mode is used.
In this scenario, a five-minute charge is enough to add 62 miles of range, while charging from five to 80 percent can take under 23 minutes if the conditions are suitable. As per the WLTP readings, the e-tron GT has a range of around 303 miles while the RS e-tron GT has a range of just over 293 miles. Official EPA ratings haven't yet been announced, but Audi estimates 238 miles in the standard e-tron GT and 232 miles in the RS.
Typical Audi on the inside
The German marque's attention-to-detail factor is pretty evident on both, the e-tron GT and the RS e-tron GT – it has been designed to promote a sensation of space, while the low seating position and wide center console provides a sporty feel. Audi has also used sustainable materials wherever possible.
Power-adjustable seats, a flat-bottom steering wheel, and the availability of capacitive hands-on detection are some of the features you can tick on the spec-sheet. The 12.3-inch virtual cockpit is met with a center 10.1-inch MMI touch display along with a Wi-Fi hot spot, navigation, and a 16-speaker Bang & Olufsen premium sound system up for grabs.
To add, should you ever feel the need of hearing the engine roaring even though an EV can't sound like a mainstream ICE, Audi has got you covered with the optional e-tron sport sound. Engineers have composed a synthetic 'engine note' for both inside and outside the car, projected by four speakers. The pitch rises and falls depending on speed and acceleration and can be customized via driving modes. Voila!
Pricing
The range begins with the e-tron GT Quattro Premium Plus at $99,900, followed by the Prestige at $107,100. The high-performance RS e-tron GT tops the lineup with an MSRP of $139,900. To compare that with its Porsche cousin, The Taycan 4S starts from $103,800 but comes with a smaller battery, and if you want added gizmos, it is certain to cost you a lot more.