Auto Business
News
Underneath this LaFerrari hides a new Ferrari flagship
Yeaup! Folks at Maranello are readying a new hypercar. (Image courtesy: Motor1.com)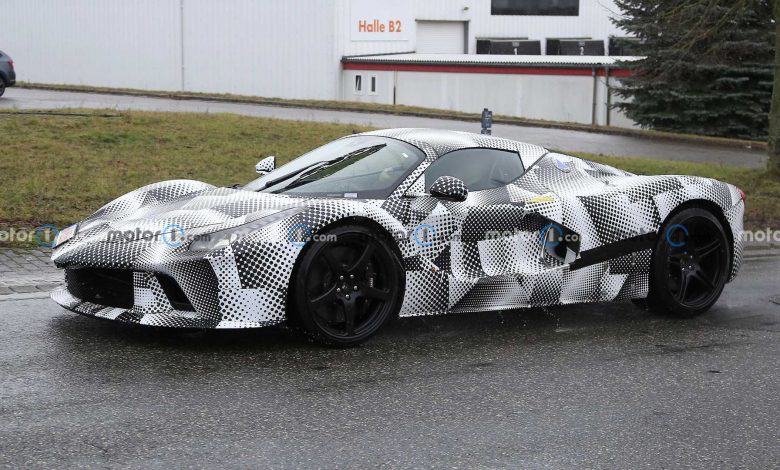 The troublemaker, LaFerrari, was launched in 2013, a decade after its predecessor, the amazingly-quick Enzo. However, with only 710 examples of the LaFerrari ever made (500 of the coupe, and 210 of the Aperta), Ferrari is quick to realize that it does need to make people love the Prancing Horse again. Enter the new flagship…
People at Motor1 have been fortunate enough to get the first look at how the new hyper car is and what changes have been made. The test mule was chosen to be a LaFerrari Aperta, and although one cannot tell all the differences, there are some which are visible to the naked eye. Beginning with the absence of the center-lock wheels.
Scenes at the front aren't too similar to the existing LaFerrari as the bumper is modified to incorporate the redesigned air intakes. There isn't a central vent on the hood, too. The air intakes on each side of the soon-to-be-revealed flagship are also a bit different. The quad-tip exhausts at the back now point in an upward direction, for some reason.
It is yet to be known that whether Ferrari chooses to mirror the LaFerrari successor (to a certain extent) to its recently-announced Le Mans hypercar entry for 2023, although it is only sane to guess that some of the race car's tech will make it to the road car. Remember KERS?
For those with eagle-eyes, the sticker on the gas door on the test mule reveals that it'll have a hybrid powertrain. Good news for all the Tifosis as the legendary Ferrari V12 doesn't seem to go away just yet. Albeit it stays attached to some hybrid tech.
As for the reveal date, one should bet on a late-2022 or early-2023 release, by which time the LaFerrari completes its ten-year cycle, Ferrari launches its SUV and a new V6 hybrid supercar.