Auto Business
News
Ford's next-gen Compact SUV projects could get delayed in India.
The Ford-Mahindra break up brings another bad news for all the Ford fans waiting for the next generation Ecosport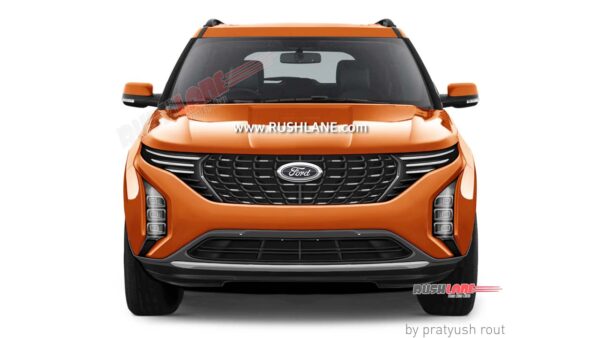 Now, before going any further, credit where credit is due. The image is from Rushlane.
Ford Automotive and Mahindra & Mahindra (M&M) announced their joint venture breaking up earlier in 2021. And now, the two auto giants have decided to call off their engine and platform sharing pacts which were going under Project Black.
The decision came up as a shock for the Blue Oval fans in India, as Mahindra was supposed to supply engines for the next-gen Ecosport (internally refereed as BX744) and the upcoming Hyundai Creta rival (BX772). The launch of these two so called SUVs could now be delayed by up to six months due to this decision (And I thought Daft Punk's break-up was bad enough!)
As per reports from ET Auto, Ford has reportedly asked his vendors to pause their work on these two projects until August 2021 while suitable powertrain options are being selected from within Ford's portfolio. As a result, Mahindra's agreement to supply its 1.2-litre direct-injection turbo-petrol engine for the upgraded Ford EcoSport SUV won't see the day's light.
Now though, Ford might plan to introduce one of their own powertrains from the international market or choose to rely on the current Ecosport engines. In the latter case, we'll see the facelift model with Ford's 1.5-litre petrol (123 PS Dragon) and 1.5 diesel (100 PS DV5) motor. Both engines generate a respective peak torque of 149 Nm and 215 Nm.
Similarly, the Blue Oval's upcoming Creta rival was supposed to have the Indian automaker's 2.0-litre petrol and 2.2 diesel engines if their JV would have continued. Now reports claim the SUV will be built on the Ford Territory platform instead of the earlier planned next-gen XUV500's platform.
There is no formal communication on the reasons for this deal-break either from Mahindra or Ford. But without any doubt, this will have a huge impact on costs, and it remains to be seen how both companies meet this challenge. For Ford, India is a key manufacturing hub for the American manufacturer's compact SUVs and is still betting big on its operations in the country to serve over 70 international markets. So it will have to revisit its cost structure and work out a Plan B where the C-SUV could roll out of its plants in Chennai or Sanand. The $800 million by Ford that was earlier part of the now-dissolved JV will now be used for its independent operation.
Meantime, Mahindra & Mahindra will be diverting its proposed JV funds into its electric vehicle (EV) projects. It also has two SUVs lined up for launch. That will kick off with its next-generation XUV500 this June, followed by a remodeled Scorpio in early 2022.