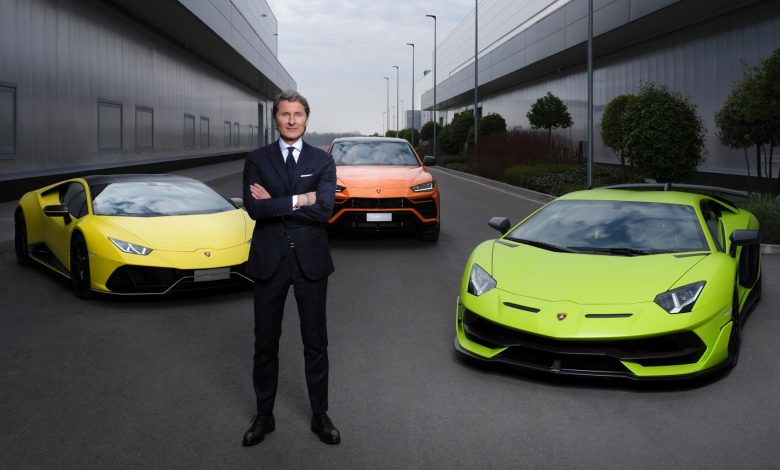 Fans of the naturally-aspirated Lamborghini engines, look away, for we hate to break it to you that as of today, Stephan Winklemann has officially confirmed that Lamborghini too, will work towards bettering the environment and follow the stringent emission regs put in place by the authorities. What this means is –
An all-hybrid range by 2024

An all-new, Battery-Electric-Vehicle to come out of Sant'Agata, Bolognese, Italy, by 2025
The "Direzione Cor Tauri" plan is said to be the biggest-ever investment into the company as the Italian carmaker will see more than $1.83 billion worth of investment over the next four years to help in electrifying its lineup. However, don't get too sad, for this is Lamborghini we are talking about. The company will not just start making a BEV, not before it gives its hugely successful models like the Huracan and the Aventador, a proper send-off first.
The mental Aventador was first launched in February 2011, to replace the then-decade-old Murciélago, as the maker's new flagship and so, if my calculations are anything to go by, the Aventador has already clocked more than a decade. As a result, it is hinted that Lamborghini will reveal one last refreshed model of the Aventador before its electrified version is unveiled.
Similarly, the company is also working to expand the Urus' range with a PHEV variant and a rumored, Sport RS variant in the pipeline. The PHEV version will derive tech and the DNA with Porsche's Cayenne Turbo S E-Hybrid SUV and will produce near to 820bhp when it arrives later this year. As for the hooligan Sport RS version, some say the power output will be around 900bhp but, we wait until we hear the confirmed figures.
With Lamborghini confirming that its first hybrid series production car will arrive in 2023, and the rest of the lineup too, going under the electrification magic by 2024, one can only expect the model, due in 2023, to be Huracan's replacement.
Stephan Winklemann also announced that the first BEV to bear the Lamborghini badge will arrive from 2025 and 'by the end of the decade.' The new BEV will serve as the fourth model line, separate from the Huracan, Aventador, and Urus. We are very limited on the details but if the potential teaser image is anything to go by, the new model could be a four-door similar to the Taycan and the e-tron GT.
Sooner or later, this move was bound to come as Lamborghini is keen on meeting tougher emissions restrictions to avoid paying hefty fines, but now that the firm has firmly promised to make performance its "absolute priority", one mustn't worry too much. More as we know it. Oh, and yes, Lamborghini will be announcing a pair of new V12-powered supercars later this year so, time to save those bucks, I say!