Auto Business
Launch
News
Want the all-new Porsche 911 GT3 bar the massive rear wing? The 2022 911 GT3 Touring is just for you
Still a GT3, but with more focus on being driven on the roads.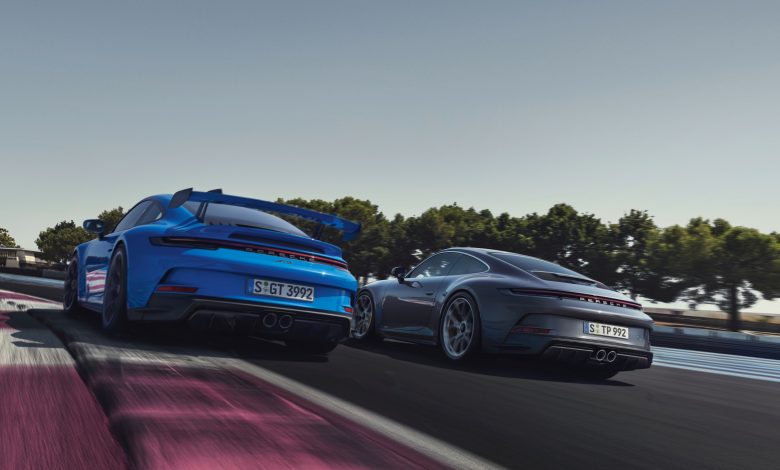 Fans of the Porsche 911, rejoice, for Stuttgart has got something special for you. The all-new 911 GT3 is a brilliant piece of machinery and nothing could ever change that. However, if, for some insane reason, you thought the GT3 is a bit too much, most likely because of that massive rear wing, you can now have it minus the wing. Enter the 2022 911 GT3 Touring.
The successor to the 991.2 generation, the 2022 model has every bit of 911 GT3 running in its veins, apart from the wings, vents, all that jazz, of course. In place of *that* wing, you now have an automatically extending rear spoiler, with even the front fascia undergoing some changes as it gets a custom grille. The rear lid grille has a 'GT3 touring' logo located over the engine, while the trim strips of the side windows and the tailpipes of the sports exhaust system are silver-colored. You can also have them in satin-gloss Black but that is optional.
On the inside, the steering wheel rim, gear lever, cover of the center console, armrests in the door panels, and the door handles are all covered in black leather. The partial leather interior features black stitching while the seat center panels are covered with black fabric, and the roof liner is also black. The door entry guards and trim elements on the dashboard and center console are made of brushed black aluminum.
The maker offers almost everything found on the 'standard' GT3 like all exterior and wheel colors, LED headlights with Porsche Dynamic Light System and Porsche Dynamic Light System Plus, various assistance systems, PCCB ceramic braking system, the lift system on the front axle, all seat variants, the Chrono Package and the audio systems.
Power comes from the same ol' 4.0L, naturally-aspirated, flat-six motor developing 503bhp. The engine can now be had with either a 6-speed MT or a 7-speed PDK 'box, although if you happen to live in California, unfortunately, you cannot have the manual GT3 Touring because it somehow doesn't meet the state noise regs. But the PDK does. Strange times.
As far as pricing is concerned, Porsche says the 2022 911 GT3 Touring will be sold for a starting price of $161,000 (excluding the $1,350 in processing fees), whereas the regular GT3 sells for $161,100. Nearly identical. Good job!