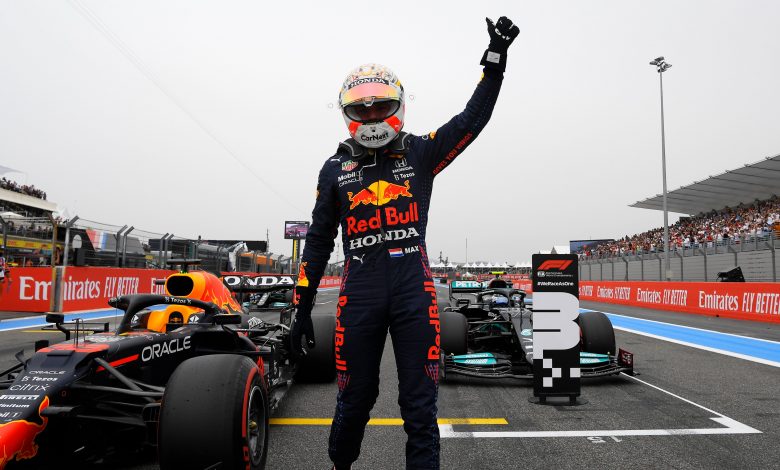 In a session where the Red Flag was brought out in just over three minutes since the start of Q1 and where the P2 slot changed thrice in not even a minute, the Circuit Paul Ricard gave us plenty to think about and be excited about, too. In case you missed the action, we have you covered!
Red Bull Racing – Max Verstappen – P1 – 1:29:990 & Sergio Perez – P4 – 1:30:445
Sure, this year being Honda's last in the sport, every bit of power has been given to Red Bull to topple the Silver Arrows, and judging by how it went in Q3, it couldn't get any better. All weekend long, Max seemed to be in control of his car, staying close to the two Mercedes drivers, and so it was only a matter of time that the Dutchman showed what he was capable of.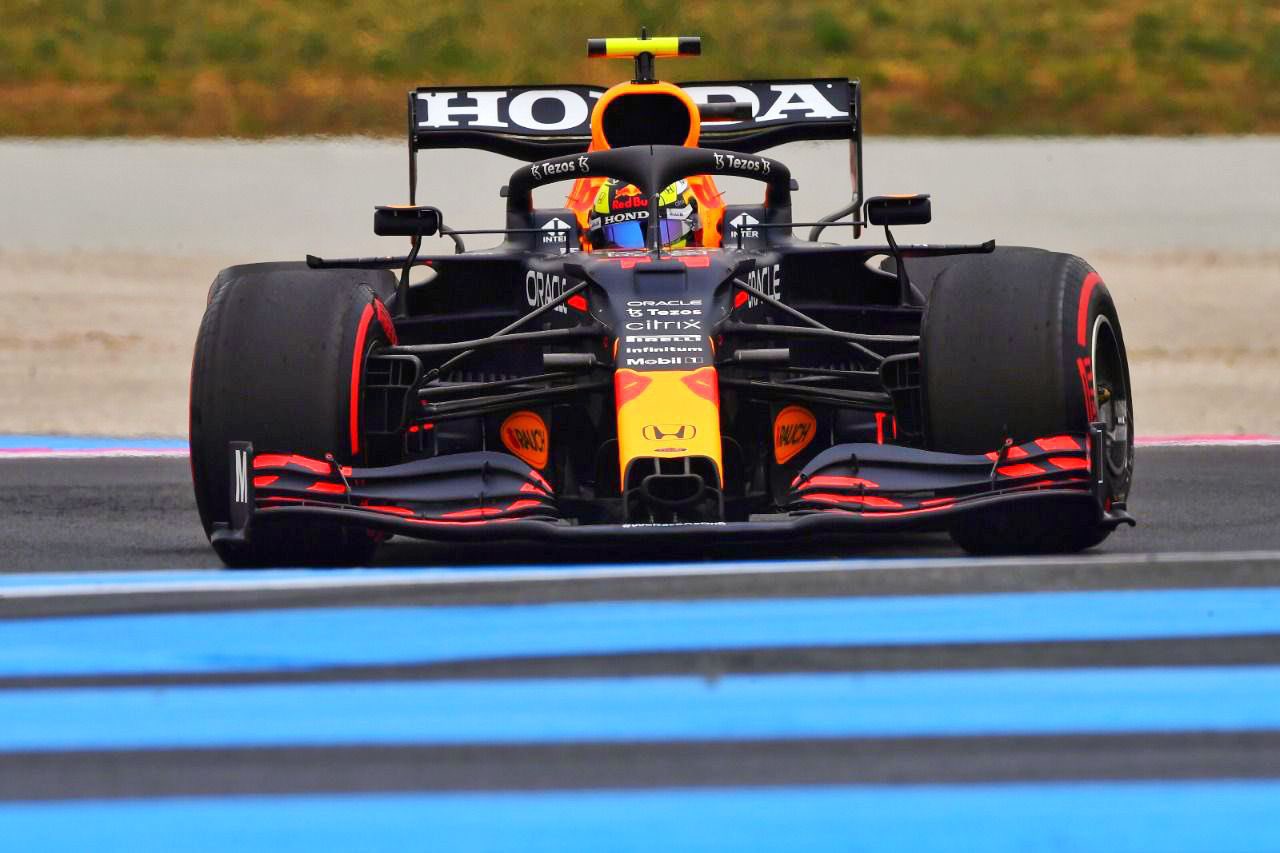 Setting a great banker lap in, he was assured of a front-row starting position but also knew that he had a bit more pace left to be unlocked. In the dying stages of Q3, Max once again set out to better his time and finished with a stonking lap of 1:29:990. His teammate, the race-winner last time out in Baku, will line up in P4, behind the two Mercedes. Red Bull would've wanted him to at least split the two but hopefully, he can do just that tomorrow.
Mercedes-AMG Petronas – Lewis Hamilton – P2 – 1:30:248 & Valtteri Bottas – P3 – 1:30:376
Mercedes came to France knowing that it was a strong track for them, but they also knew the threat of Red Bull. However, if we factor in the practice sessions, it doesn't seem that way as Brackley thinks that it is faster than Milton Keynes on race pace.
A change in the chassis for Bottas has resulted in the Finnish driver suddenly becoming quicker and match Lewis' pace. He should thank Hamilton for that. If you know, you know. Nevertheless, Lewis and Valtteri would be aiming at catching Verstappen before it is too late to put the Baku result behind them from P2 and P3, respectively.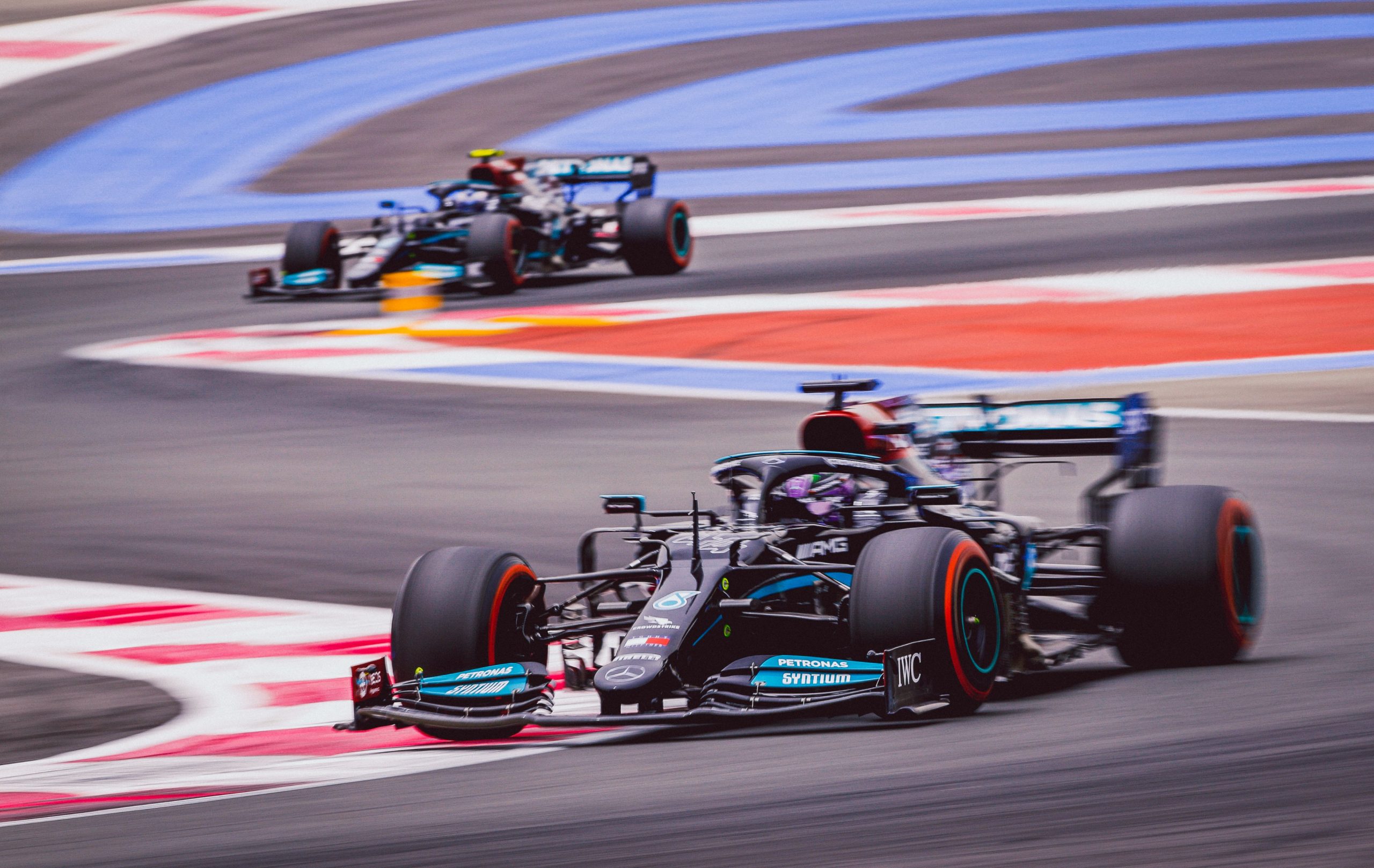 *Point worth mentioning is that since Lewis is running Bottas' chassis for this race and vice-versa, people, including myself, have always thought that the 'second chassis' has been cursed in some way. However, to Paul di Resta's and our surprise, that isn't the case. Lewis confirmed the same saying, "I saw you coming up with some myth and I was able to prove it wrong! Thanks to the quality of our engineers' work, all the cars are exactly the same."
Well then, if that is the case, why is Valtteri so slow? In a Mercedes? Suddenly?! Telling you, George is replacing Bottas. Don't quote me on that, but it would be insane to think otherwise.
Scuderia Ferrari – Carlos Sainz – P5 – 1:30:840 & Charles Leclerc – P7 – 1:30:987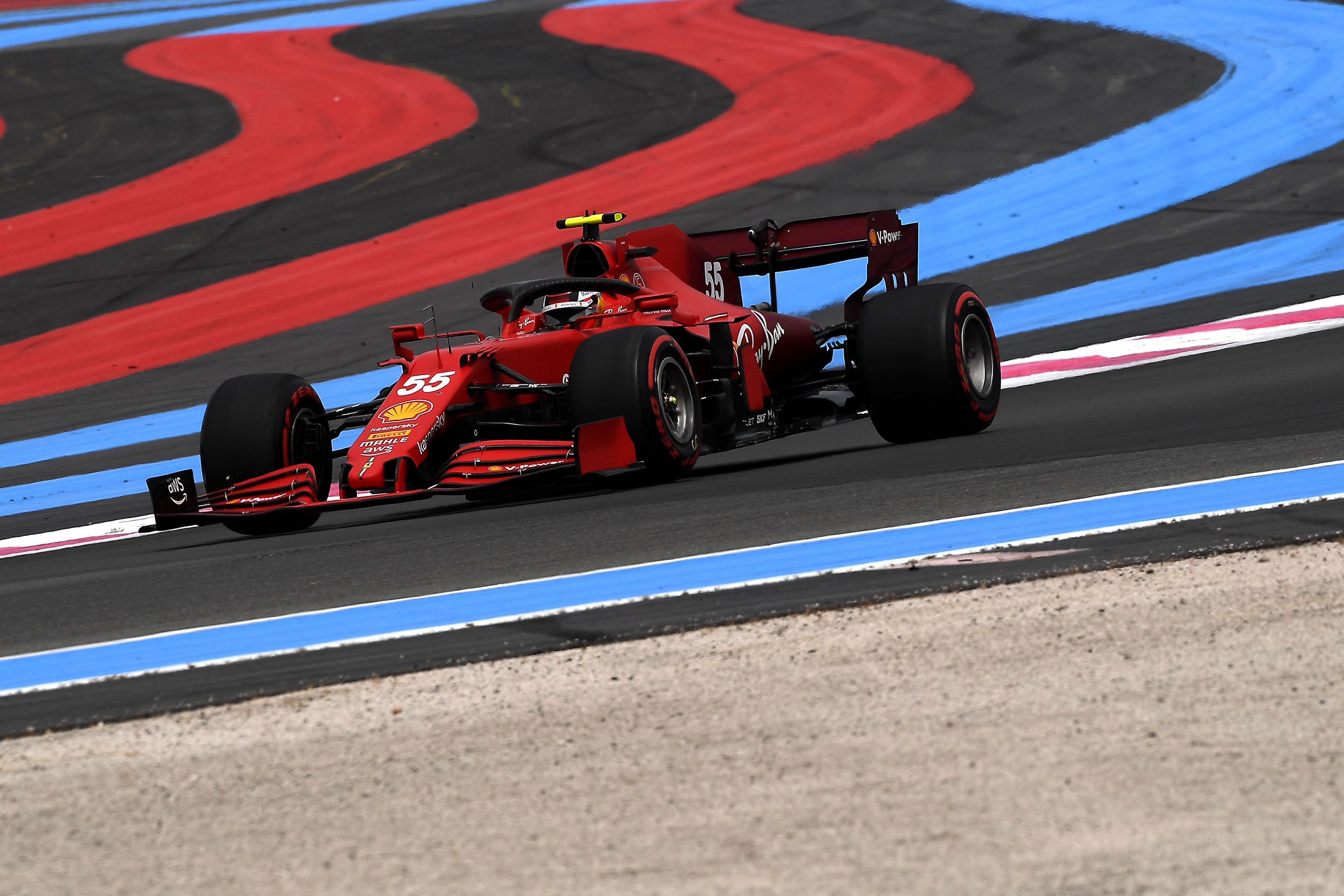 The Men in Red had a decent qualifying session, although it certainly looked like Carlos was the better driver today as he out-qualified his teammate for only the second time this season. Leclerc, on the other hand, was beaten by a teammate for the first time here at Paul Ricard since its return to the sport in 2018. Nothing much to say here, except for the fact that Charles has been struggling with the grip so, don't expect too much from the Scuderia come tomorrow.
AlphaTauri – Pierre Gasly – P6 – 1:30:868 & Yuki Tsunoda – P20 – No time set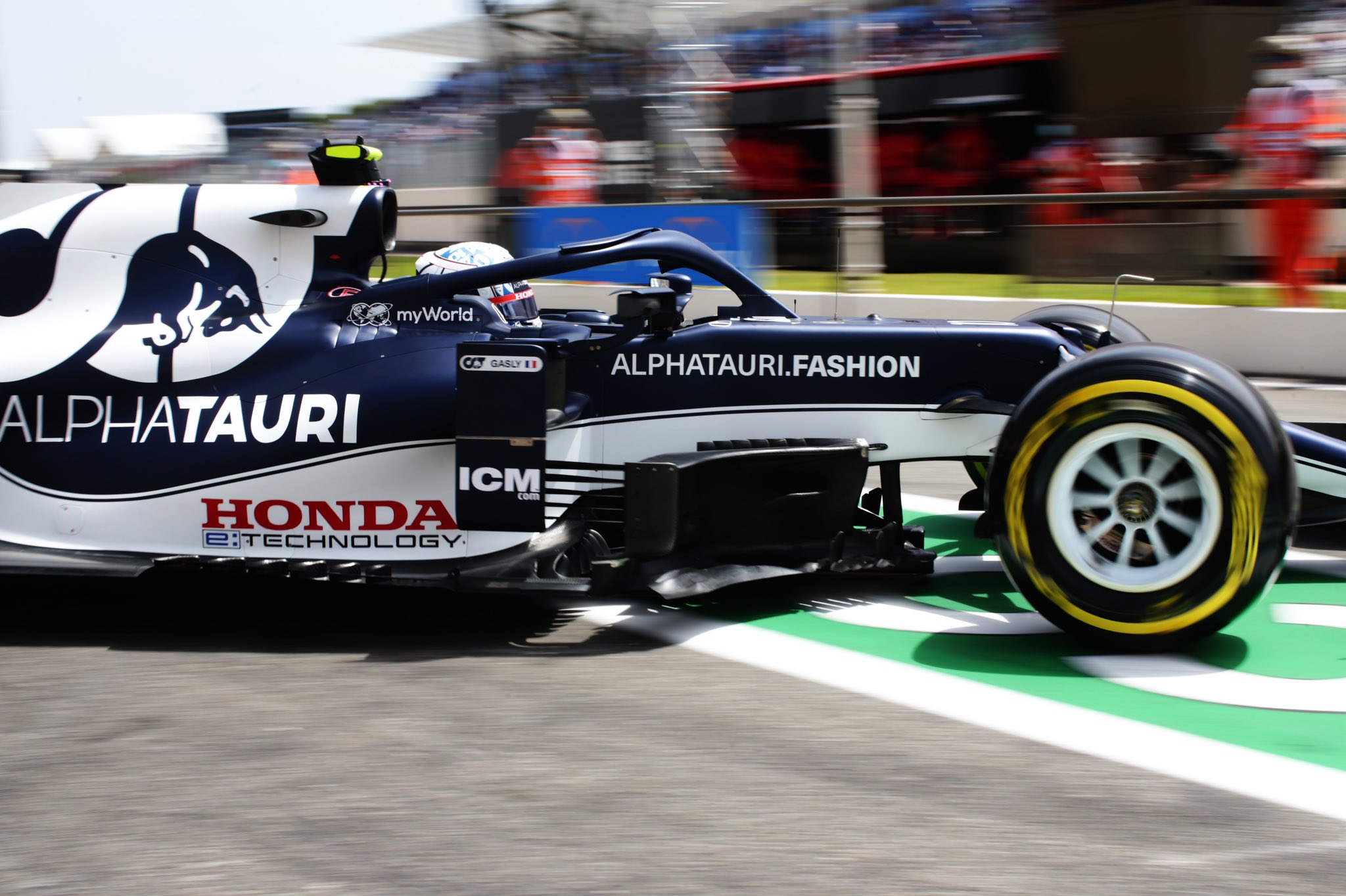 By now you would've known that it was Yuki who brought out the Red Flag after he binned it near T2 I guess. His session was over at that very moment after he failed to engage a forward gear. Troubles for the 'box? Hopefully not. Even if it is that way, wouldn't make much of a difference as he will still start dead-last. Gasly, however, kept his cool and continued with his amazing performance to start tomorrow's race in P6.
McLaren F1 – Lando Norris – P8 – 1:31:252 & Daniel Ricciardo – P10 – 1:31:382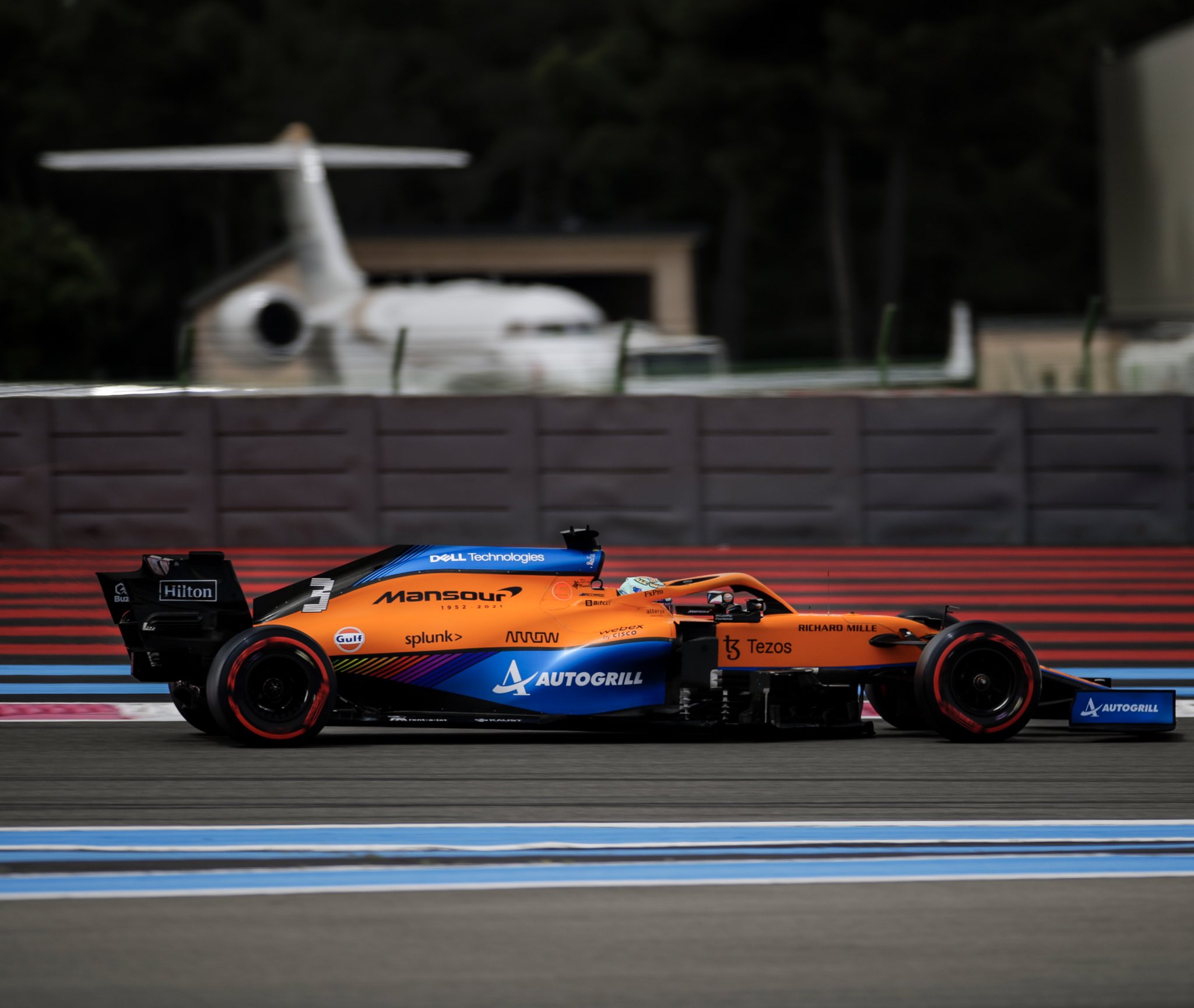 The team is running a special logo this weekend to pay respects to the late Mansour Ojjeh, former owner of the McLaren Group, so this race is an extra bit special for them. Results in the qualifying say otherwise, though. Both the drivers struggled to find that perfect window to attack and set a fast lap, but Ricciardo seemed to be more on the pace come Friday. Good to see the Australian finally settling in. Norris once again is the No.1 driver at Woking, though.
Alpine F1 – Fernando Alonso – P9 – 1:31:340 & Esteban Ocon – P11 – 1:31:736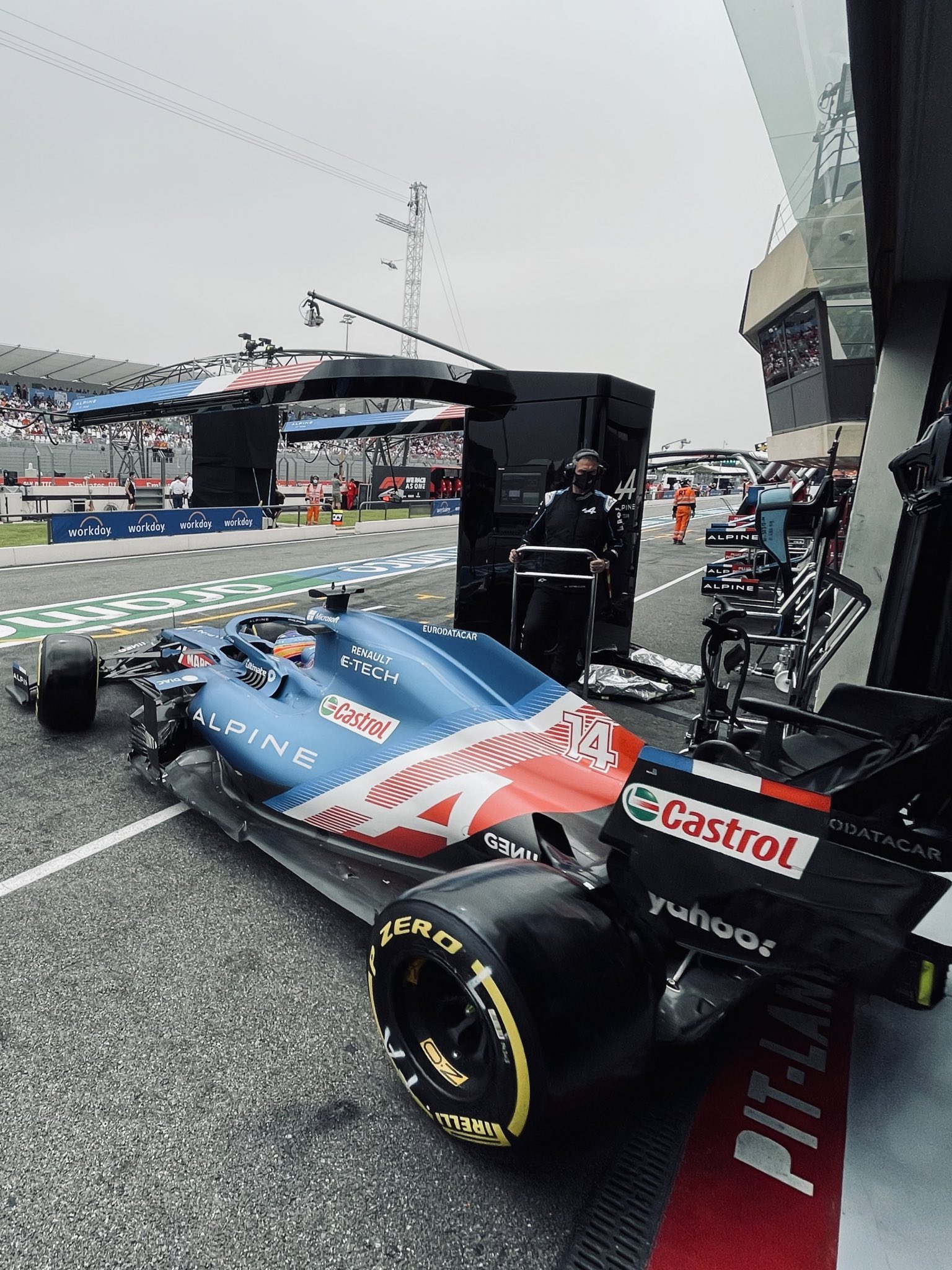 A home race for a French-owned team is on the cards tomorrow, and what better way to celebrate than to see your two drivers qualify so well! The 'rookie', Nando, outdid his rivals and certainly blew my expectations when I saw him set a series of quick laps. That man has still got it. His teammate, on the other hand, fresh off of his contract extension, missed a spot in Q3 by just over a tenth but has the strategic Pole position for tomorrow.
Aston Martin F1 – Sebastian Vettel – P12 – 1:31:767 & Lance Stroll – P19 – No time set
Coming into the French GP, the team knew it had a huge task in hand to score some respectable and valuable points. Well, if anything, their task has just gotten tougher as Vettel is in P12 and after a time deletion and crash for Mick Schumacher, Lance was unable to set a lap time meaning he will start at the last row of the grid. However, points are scored on Sunday, and if anything, both the drivers would be hungrier for some points on the board.
Alfa Romeo – Antonio Giovinazzi – P13 – 1:31:813 & Kimi Raikkonen – P17 – 1:33:354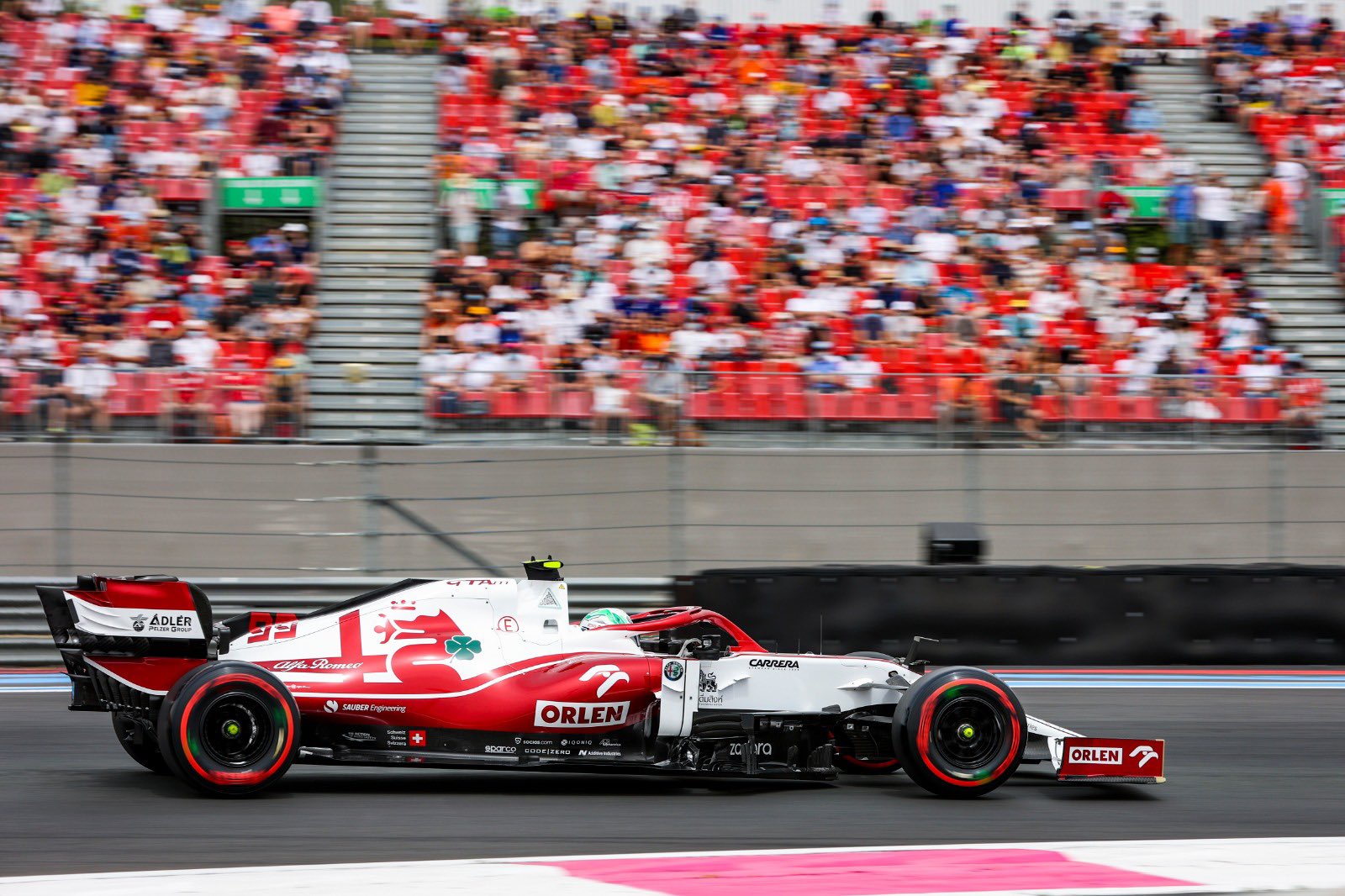 Tough day at the office for the IceMan, and an okay day for Giovinazzi means that both the drivers have a job in hand to climb up the order and try to finish in some decent positions. With overtaking being difficult at this track, don't think they are in for some points tomorrow.
Williams Racing – George Russell – P14 – 1:32:065 & Nicholas Latifi – P16 – 1:33:062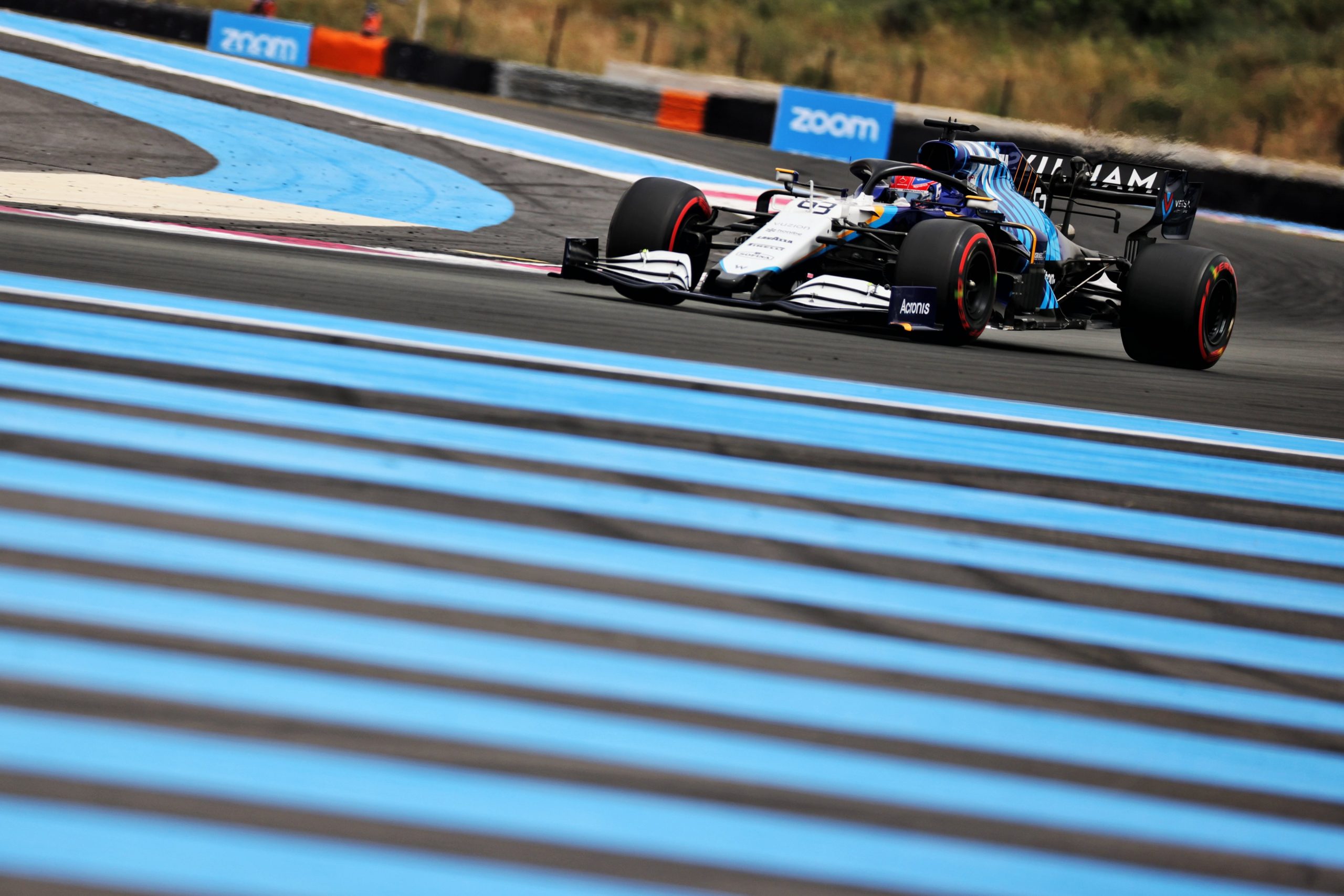 Mr. Saturday was quite relieved to make his way into Q2, but that was all he could manage. Latifi couldn't replicate his teammate's efforts and will start his race one behind Mick Schumacher in P16.
Haas F1 – Mick Schumacher – P15 – No time set & Nikita Mazepin – P18 – 1:33:554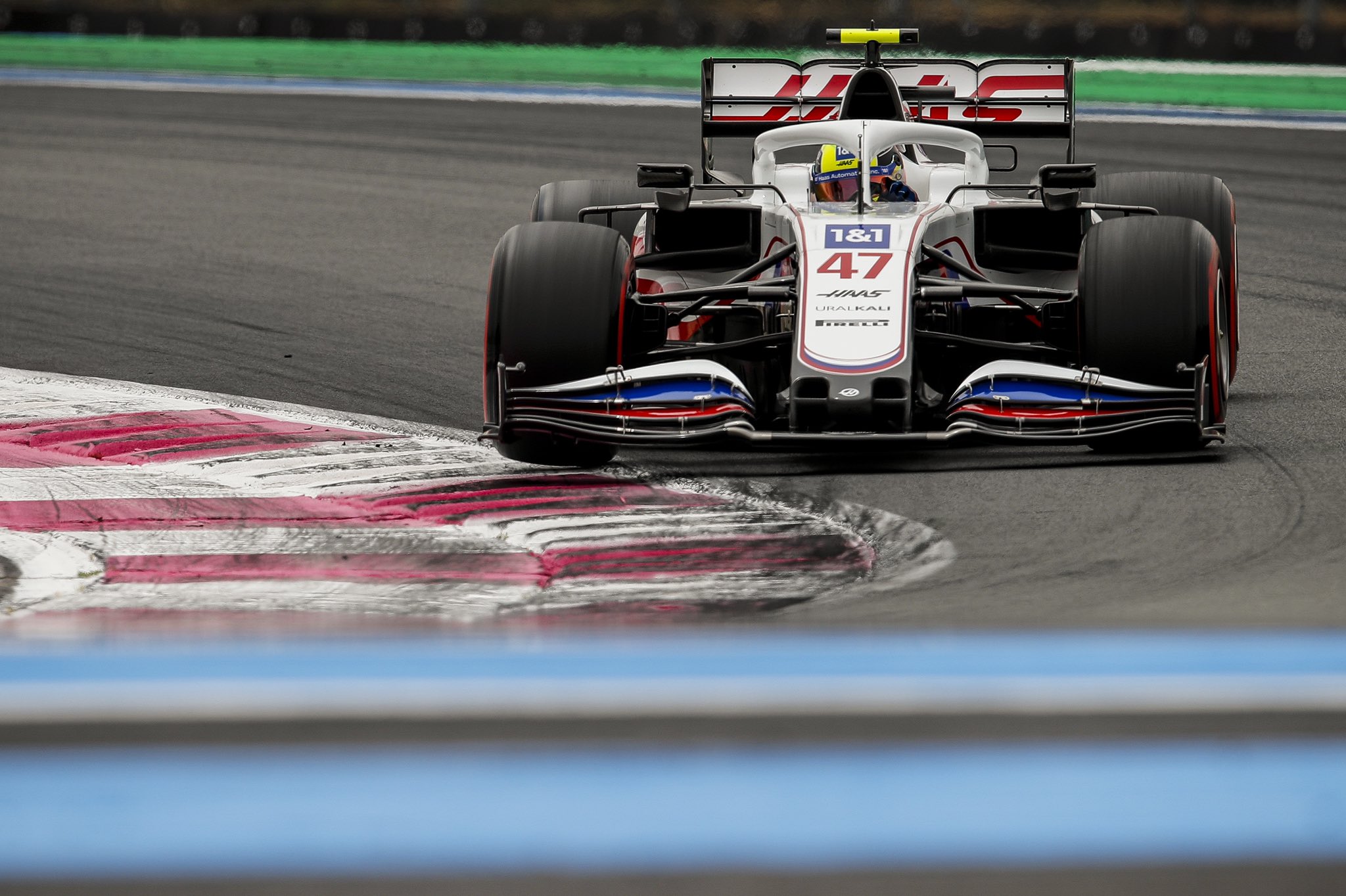 Speaking of Mick, the German did get into Q2, for the first time in his F1 career, but at a huge cost of crashing and throwing himself out of the running on the spot. I sense some great racing from him tomorrow. Mazepin will start in P18. Would've been in the last place had it not been for Yuki and Lance. Unfortunate.
The Paul Ricard circuit offers 167 possible different configurations for racing ranging from .826km to the full, 5.861km layout, and with 53 laps to come tomorrow, this year, the racing looks set to be exciting and intriguing as the grid is evenly spread, at least till the mid-field it is. We all know that T1 can provide us with some horrendous shenanigans so, don't forget to tune into the race. Wouldn't want to miss this one.