Auto Business
News
The Porsche 911 GT2 RS is the new King of the 'Ring'
With a time of 6:43:30, the GT2 RS has become the fastest road-legal production car to lap the Green Hell.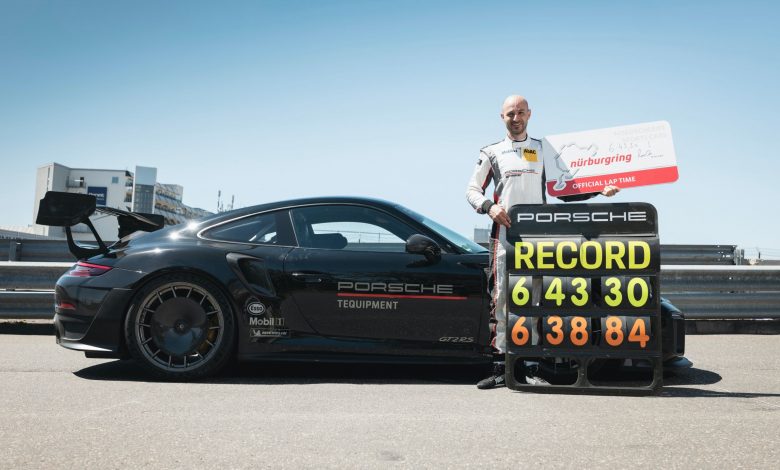 I have always adored the 911 GT2 RS, mainly because of its looks, capabilities, and *that* engine. I had the golden opportunity to drive it too, in the virtual world, of course. It felt planted through every corner, the brakes were amazing, and I knew I could abuse every corner without risking any damage. Back to the real world, what is better than a 'standard' 911 GT2 RS? A 911 GT2 RS fitted with the Manthey Performance Kit!
The folks at Porsche decided to take the said GT2 RS at a 'local' track, along with Porsche development driver Lars Kern at the wheel, and decided to thrash the car in a bid to set a record which they did. Hooray! The 911 GT2 RS set a lap of 6:43:30 on the 14th of June, beating the previous record by nearly 4.8secs. For those who don't know, it was Mercedes' AMG GT Black Series that held the older record.
The car was fitted with road-legal Michelin Pilot Cup Sport 2 R rubber, and with a not-so-ideal ideal track temperature of 41 degrees, achieved an average speed of 185.87 km/h over the 20.8km course. "The engineers at Manthey and Porsche have together developed a perfectly tuned package that allows the 911 GT2 RS to deliver even higher performance", says Frank-Steffen Walliser, VP, Model Lines, 911.
The Manthey Performance Kit from Porsche Tequipment allowed for chassis, aero, and brake components improvement while also including the Weissach Package's light magnesium alloy wheels. "The 911 GT2 RS sticks to the track like glue with the Manthey Performance Kit – you feel as if you're in a racing car, especially on faster corners. It is truly breathtaking how the car puts its 700 PS down, and how incredibly well it brakes while always remaining easy to control," says Kern.
Additional flaps on the front spoiler increase downforce from 49 to 70kg at 200 km/h, and on the rear axle from 93 to 200kg at the same speed. To remind you of the 911 GT2 RS' capabilities, its power comes from a 3.8L, turbocharged, flat-six sending out a mammoth, 700hp, and 750Nm of torque to the rear wheels via a 7-speed DCT 'box.
Nowadays, setting a lap record at the Nürburgring is trickier than it may seem as it is governed by a strict set of rules to keep everyone on a level playing field – vehicles and tyres are inspected "with regard to their series-production state", sophisticated timing equipment is to be used and an independent notary has to be present to verify that manufacturers aren't just saying things that aren't true. Much like the SSC Tuatara.
Moreover, some manufacturers, like Mercedes, quote times for the shorter, 20.6km circuit and not the complete 20.8km layout because they say it "has been the measure of all things" for years. However, the shorted route has different start and finish lines, so that's not how it should be, yeah? Nevertheless, the second time you see in the picture is of the 20.6km layout because, why not!
Say what you may, the 911 GT2 RS is a mighty beast, and even more so with the Manthey Performance Kit, which, by the way, is available to order now from Porsche Centers for customers in Europe.